quote:

Originally posted by YellowJacket:
I would presume that if you think of film noir as a style (I agree with you by the way) that you would think that any film from any year could be filmed in the noir style?
No.
Why is it called "film noir"? This stylistic movement has a French name because it is an
ex-post facto
classification for films that were already being made.
Because of WWII, the French did not see American films for about 5 years. It's just as with not seeing a friend for a long time; gradual, day-to-day changes are not apparent, but if you don't see your friend for 5 years, then any changes to their appearance or their character are immediately apparent. In the summer of 1946, films from Hollywood began being shown in France.
In short order, French film critics viewed
The Maltese Falcon, Double Indemnity, The Woman in the Window, Laura, Murder My Sweet
and
The Lost Weekend
. These critics noted what Borde and Chaumeton referred to as an "unusual and cruel atmosphere". What they were noticing was the maturation of film in the post-silent film, post-economic depression era.
These films were already being made when the French gave this stylistic movement its fancy name.
Were there no films bearing noir characteristics before 1940? Of course there were. For example, a Warner Brothers film from 1932(!) called
Two Seconds
. Were there no films bearing noir characteristics being made after 1959? Of course there were. For example,
Cape Fear
in 1962.
But...
After the publication of
Panorama du Film Noir Americain
in the 1950s, directors became aware of what they had been doing unconsciously, and once this happened, the style became stilted, self-conscious, and parodied and as a result, the style became cliched and began to fade. All the elements which can comprise film noir existed before film noir and continued to exist after film noir.
Films made after 1959 in the style of film noir are referred to as neo-noir.
The end marker for film noir is specified as Robert Wise's
Odds Against Tomorrow
from 1959, or Welles'
Touch of Evil
from 1958. Looking at Welles film, one can easily see the self-consciousness of the style. Wise's film? Well, look at that opening title sequence. That Saul Bass title sequence belongs to the next decade- the 1960s, and not the 1950s.
Witness the preoccupation of the film with race relations. 1959 was on the cusp of "The New Frontier". Film noir did not disappear, but it either morphed into something else (
Odds Against Tomorrow
) , or it became self-parody (
Touch of Evil
).
Here's director Robert Aldrich (
Kiss Me Deadly
) on the set of
Attack!
in early 1956 with his copy of Panorama du Film Noir Americain. Take a look at
Kiss Me Deadly
and tell me that the makers of that film were not aware of a thing called "Film Noir". Self-awareness killed film noir.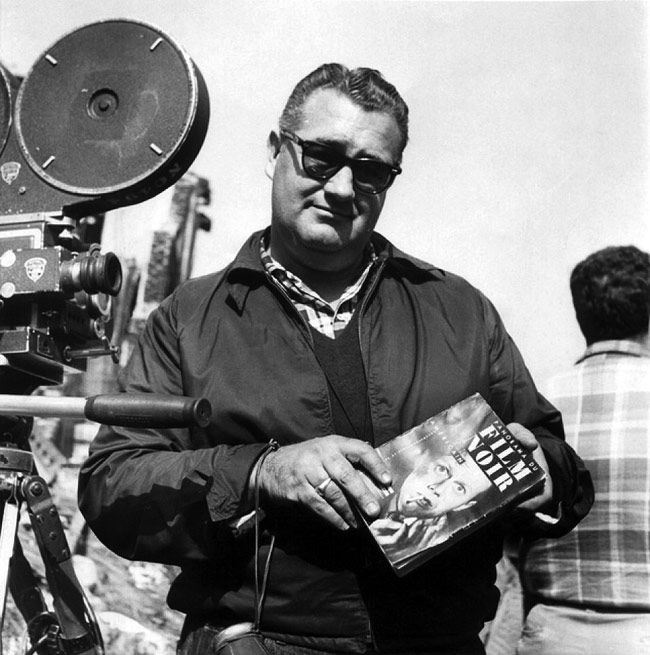 BTW, the dust cover of Aldrich's copy of that book shows Richard Widmark in Dassin's
Night and the City
, which is just about the bleakest of the bleak in all of film noir.
This message has been edited. Last edited by: parabellum,


____________________________________________________

"The fact of the matter is that in waging a scorched earth, no-holds barred war of 'resistance' against this administration, it is the Left that is engaged in a systematic shredding of norms and undermining the rule of law" - US Attorney General William Barr, November 15, 2019