SIGforum
License Plate of the Day Nominations
May 31, 2019, 01:42 PM
StarTraveler
License Plate of the Day Nominations
Personalized license plates are quite common but some are uncommonly creative. This thread is intended to recognize some of those creative efforts that we see on the road without identifying the driver or owner.
To do this, there are a few rules that should be followed:
1. Don't identify the driver or owner.
2. Don't identify the state that the plate is from.
3. Don't identify the make and model of the vehicle UNLESS that information is needed to help make the plate make sense (such as the nomination below).
4. Each person should only make one nomination per day.
5. No political comments (other than any short statements made by the license plates themselves).
Nomination:
BEONLY1
(on a Toyota Highlander)
P.S. If there's another thread like this, I apologize. I searched and found nothing similar.


***

"Aut viam inveniam aut faciam (I will either find a way or make one)." -- Hannibal Barca
May 31, 2019, 01:58 PM
pbramlett
SUMBISH
---

Regards,

P.


May 31, 2019, 02:51 PM

rsbolo

URAPNS



____________________________
Yes, Para does appreciate humor.

May 31, 2019, 02:57 PM

ZSMICHAEL

I see that there is a lady in Alabama who screens every vanity plate for hidden messages. She finds stuff that no one else would consider profane. A few years ago some redneck with a pickup got a very obviously profane plate. The state sued to make the guy change it. It was a pretty big deal, but it was Alabama.

May 31, 2019, 03:09 PM

Ryanp225

On a Corvette:

GETRWET

May 31, 2019, 03:17 PM

DSgrouse

SUX2BU ford escort

PDMYPNTS Porsche 911 turbo

May 31, 2019, 03:23 PM

fpuhan

One of my favorites is a blue pickup truck that drives around northern Virginia with personalized Washington Redskins plates. His "message?"

F U DAN




---

You can't truly call yourself "peaceful" unless you are capable of great violence. If you're not capable of great violence, you're not peaceful, you're harmless.

NRA Benefactor/Patriot Member

May 31, 2019, 03:35 PM

2BobTanner

On a Volkswagen Beetle: HUMBUG



---------------------
"Sometimes I wonder whether the world is being run by smart people who are putting us on, or by imbeciles who really mean it." — Mark Twain

"Every normal man must be tempted, at times, to spit on his hands, hoist the black flag, and begin slitting throats." — H. L. Mencken

May 31, 2019, 04:25 PM

LS1 GTO

INEXCES (with a larger INXS sticker on the rear window)

EXF14AE (retired sailor)

H2O MOM (my mom's when she was driving me to swimming and water polo all the time)

CVNCAPT (and a CVN O6) - both at NAS North Island







---



Only in an insane world are the sane considered insane.




May 31, 2019, 04:32 PM

K0ZZZ

I used to have NIL8 on my Mustang

May 31, 2019, 04:41 PM

ss9961

Many years ago I saw a Le Car and tag was LEPLATE

May 31, 2019, 05:36 PM

GWbiker

I had AZ plate "OIL-MTR" on my VW TDI.



*********
"You plugged in that expensive piece of radio gear and now you smell smoke? Sorry about that." - Reddy Kilowatt.

May 31, 2019, 05:57 PM

Hunthelp

Saw a white van earlier this week with VANNA WHT.

My wife drives a blue Hyundai Sonata with MOON LT.




---

"I don't shoot well, but I shoot often." - Pres. T. Roosevelt

May 31, 2019, 06:11 PM

.38supersig

I saw a red Jeep once. I knew it was a red Jeep because the tag said RED JEEP on it.

It was being towed by an RV that was plated as OUR HOME.

Guess it would be hard to get the two confused.




My other Sig is a Steyr...

May 31, 2019, 06:43 PM

cas

Kind of have to ID the state. lol I know someone who used to have this.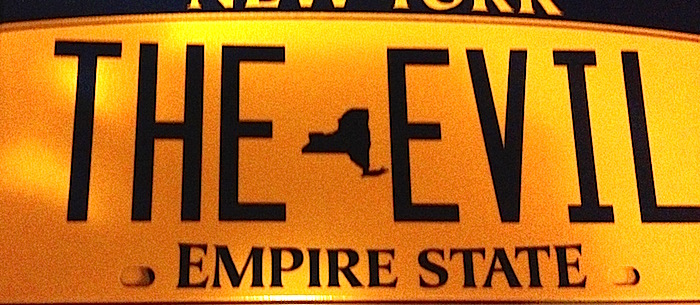 _____________________________________________________
Sliced bread, the greatest thing since the 1911.


May 31, 2019, 07:02 PM
urbanwarrior238
RTRMAUI (Retire Maui)


'I am the danger'...Hiesenberg
NRA Certified Pistol Instructor
NRA Certified Rifle Instructor
NRA Life Member
May 31, 2019, 07:04 PM
rexles
Got a buddy who's initials as B S and last name is King hence his plate BS KING.


NRA Life member
NRA Certified Instructor
"Our duty is to serve the mission, and if we're not doing that, then we have no right to call what we do service" Marcus Luttrell

May 31, 2019, 07:51 PM
henryaz
Seen years ago when I lived back East. The state required a front plate. 
From the back:
MOMMI 
As seen in your rear view mirror, the front plate:
IMMOM
---
all your sig are belong to us
May 31, 2019, 08:01 PM
GroundedCLK
UCUM1ST
May 31, 2019, 08:19 PM
Floyd D. Barber
Back in the early 80s saw a sports car with a very attractive woman driving. The plate was AU DIGR.
Twenty something years later I saw the same plate, the sports car was replaced with an SUV, but the lady was still very attractive.


__________________________________________________________________________________
----------------------------------------------------------------------------------------------------------
Always remember that others may hate you but those who hate you don't win unless you hate them. And then you destroy yourself.
Richard M Nixon

It's nice to be important, it's more important to be nice.
Billy Joe Shaver

NRA Life Member