SIGforum
Any 556 Owners Still Around
April 22, 2020, 09:03 PM
hrcjon
Any 556 Owners Still Around
If someone will send me that crate I can fill it with 556's and we can lose it in a lake.


"So in war, the way is to avoid what is strong, and strike at what is weak."
April 26, 2020, 08:16 PM
Accomplice
I have an unfired 556 pistol headed my way. Love the 556's.


Signature: Dads should enforce family law reform in their communities. Stop asking nicely for decency. Require it.
April 27, 2020, 03:10 PM
Slippery Pete
Friend of mine bought a NIB 556 pistol a couple months ago. They can still be had, and there are a lot of cannabalized guns and parts out there last I looked. I think Sig got it right with the pistol/SBRs. Mine has been excellent. Overbuilt for sure. Wouldn't mind Full Auto for that heavy of a barrel though.
April 27, 2020, 04:20 PM
nhtagmember
I still have mine. Low serial number - 2 digits
Shoots fine.


Signature: Dads should enforce family law reform in their communities. Stop asking nicely for decency. Require it.
May 12, 2020, 08:59 AM
bdickers
Just purchased a 5.56 Sig pistol.
May 15, 2020, 11:08 PM
sealusn50cal
556ER Love it
its a tac driver

May 16, 2020, 10:15 PM
SigCarolina
I have a couple pistols one is SBR. Just don't mess with the top rail or put anything heavy optics cause those screws and nuts will break and not go back on. Ask me how I know.
January 29, 2021, 05:06 AM
EUROFAN
I hope this isn't a highjack, but I'm looking at an early JT series...triple digit serial. Shows normal wear for a gun that was enjoyed. Any advice or suggestions are appreciated. Quad rail/folding stock. Thanks in advance.


NRA Life Member/GOA Life Member
February 09, 2021, 08:11 PM
SigFan
I have a 556ER (SN JS006XXX) that I bought new in 2007; it came with an EOTech 512 and the Sig forward vertical grip and STL 100 light. I replaced the Sig forward grip with a Magpul AFG. I haven't shot it since probably 2008, but I did put a Nikon M-223 1-4X scope on it and a Magpul bipod with the intention of taking it out to the range one of these days. It's a heavy beast, but the last time I shot it, it did great. One of many projects that work, family, and now the pandemic and crazy ammo prices have put a damper on.


Regards From Sunny Tucson,
SigFan

"Faith isn't believing that God can; it's knowing that He will." (From a sign on a church in Nicholasville, Kentucky)
February 10, 2021, 12:34 PM
gw3971
Yep mine is a JS0035XX serial number. It has been pretty damn good. I shoot it occasionally and have been looking at all my black guns and thinking the Sig 556 needs a winter paint job.
February 14, 2021, 12:05 PM
kimberkid
My Pistol/SBR 556 is my favorite and has been through many configuration changes since about 2009 sn is TP0035XX ... currently and so far my favorite is with the Xi lower with trigger upgrade and SiG collapsible stock ... the plastic forend is a bit lighter than the tactical (quad-rail) pictured on page 4 ... not a great picture, poor lighting and iPhone7 has definite limitations.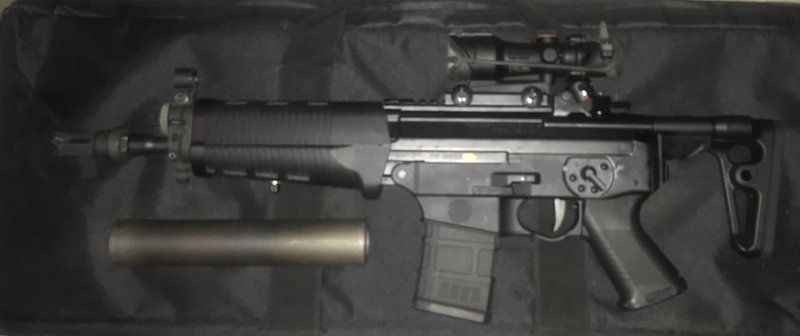 If you really want something you'll find a way ...
... if you don't you'll find an excuse.

I'm really not a "kid" anymore ... but I haven't grown up yet either

February 14, 2021, 03:01 PM
wreckdiver
Still have mine, still love it, but don't shoot it much anymore due to lack of repair parts available. Purchased from a member here, but I don't remember who it was



_________________________________________________

"Once abolish the God, and the Government becomes the God." --- G.K. Chesterton
February 15, 2021, 02:02 AM
newmexican
I have an old one with green furniture, I must have gotten it in ~ 2009.
February 15, 2021, 02:28 AM
gw3971
quote:
February 15, 2021, 07:45 AM
PGT
I did a winter pattern on mine. Only 556 left....all my others are real swiss and I moved out any US-made except this one. I used an ambi lower, real Swiss furniture and a welded rear diopter with Swiss N+ front sight and gas block.
February 15, 2021, 04:59 PM
hrcjon
I'm very impressed with that PGT. what was your technique?


"So in war, the way is to avoid what is strong, and strike at what is weak."
February 15, 2021, 05:17 PM
PGT
for the camo? Hand to my buddy who owns HiCaliber in Ashland VA and say "alpenflage, please" and wait two years while he tried to figure out how to get a six color camo cerakote to work on plastic.
And then say ok when he asks "how about winter camo instead?" when the alpenflage kept peeling off the waxy Swiss plastic. He gave it back to me disassembled because he was backed up with work and his main help quit to go back to college so I got to reassamble everything myself.
I scored the top-rail and HG off Gunbroker and cut them apart so I can use the winter camo three hole Swiss HG or the shaved quad-rail. I did have to buy a P522 Swat I found locally to source the missing lug off the HG to add to this to allow the stock to lock folded.
It's been a L O N G journey to get here. Years long lol.
February 15, 2021, 05:30 PM
hrcjon
haha. Well I'm going to hand your picture and a 556 rifle to my finish guy and say 'make it so' but including the handguard. We shall see what happens...


"So in war, the way is to avoid what is strong, and strike at what is weak."