So, photos and a review, as promised.
First, let me start off by saying that I owe Fritz HUGE. He's a GREAT guy, I don't care what you guys say about him!

I drove in, got in the afternoon before. Had some dinner, called it a relatively early night at the hotel.
Woke up at 0600, packed, grabbed a coffee and fuel, and headed off to the range. It's deep in the heart of the middle of nowhere. Nothing but dirt roads, tumbleweeds, cacti, cattle, fences, and powerlines. And rattlesnakes too, or so I'm told (didn't see any, thankfully).
We were able to sight in ahead of time, thankfully. Since we were at 6500DA (when we started), my dope was WAY off from the 2000DA I normally shoot at.
Offgrid spotted for me at the 910 target, and then I just plugged that dope into Applied Ballistics and let it regenerate my dope chart. It adjusted my velocity to 2848, which is much more realistic (compared to what I was seeing locally, as some of you may recall from my thread of puzzlement). My elevation was spot on all day, including the 1251 yd target where I scored a first round hit!
Signed the waiver, filled out my scorecard, had the safety briefing, and we're off!
When we started, the temps were in the upper 60s at 0900. Our squad started on station 5. Fritz went first, and cleaned it. Next guy went, and didn't hit anything. I expected to be like that guy, but much to my surprise, I was like Fritz, and cleaned it! w00t!
It was getting warmer. I drank some water from my Eberlestock hydration pack as we walked to the next stage. It was so nice and cold still (I filled it with hotel ice and bottled water).
We walked to station 6. Station 6 was interesting. There was a haybale laying on it's side, lengthwise away from you. Targets were on T posts, large targets on the left, small targets on the right. You had 4 minutes to engage the large 4 targets from the haybale kneeling, and then grab your rifle, get down prone, shoot through a "window" in some haybales in front of you about 3" wide and engage the small 4 targets. I ran out of time, but hit all 6 that I shot at. Time was wasted trying to line myself up through the window in the bales, and then trying to get my bipod legs adjusted on the super uneven ground (left leg fully extended, right leg up 2 notches).
Grabbed all the gear again, started walking to station 7. It's really getting hot now. Drank more water from my pack, it was cool.
The walk to station 7 was a little longer. By the time we got there, between my out of shape ass, the elevation, and the fact that I was wearing a BLACK long sleeved shirt (the elbow pads worked GREAT for those three stations!) I was pretty hot. It was my turn to be wind bitch, so I did. The heat was beginning to get to me. I dialed my 467 dope when I took the 421 shot. I can't remember how I scored on that station, but I know for sure I missed at least that one that I misdialed. Why can't I remember? I was ROASTING. My brain was just cooking in my skull. Took off my shirt (had an UnderArmor HeatGear shirt underneath), and sat there. Drank more water. It was sort of cool. Sun was way up high now, relentlessly beating me as though I was a rented mule. As I sat there, I got into a HUGE fight with myself in my head. I was beginning to get dizzy, felt like I had the beginnings of heatstroke. Got out my Enduracool towel, moistened it, and WOW! That thing actually DOES get cold! LOL
It helped marginally.
Continued to fight with myself. "I should probably DNF myself and go sit in the truck in the air conditioning before this gets worse". "No, dumbass, quit being a panzy, you drove 15 hours and paid $100 to shoot in this thing, not to mention the fuel and hotel. This is the first of many, if you fuck it up now you'll never get back on the horse." "But I'm dizzy! And hot! And tired, dammit!"
As I sat there fighting amongst myself, the other guys finished up, and it was time to move. Somewhat reluctantly, I stood up, grabbed my bag, and went to grab my rifle. Fritz must have seen the look on my face (I can only imagine what fresh hell I must have looked like), and stepped in, saying: "No, you're not going to carry this. I'll take care of it." I was so hot and dizzy that I couldn't even object, much as I wanted to.
Off to station 8 we go. When we get there, he hands me an insulated container. "Drink this. As much as you want." It was frozen Gatorade.
Station 8 was the shoot house. Because of that, there was some shade (As you can see in the pics). I crawled into that shade like an injured puppy and sat there for a good 3 or 4 minutes while the rest of the squad identified the targets and readied themselves. I crawled out just in time to not be pummeled by the brake of the number 4 shooter's 300 WinMag.
I continued to drink the Gatorade, and started feeling MUCH better.
That station was shot starting from the roof, engage the center 3 targets, then climb down, prone through the bottom right window, engage 3 targets, then move to the left window and engage those 3 targets weak-handed.
Well, Fritz shot off the front target at the bottom right shooting position, so I had to shoot the middle one, then the far one, then the middle one again.
In any event, I climbed up there, missed the first shot, hit the next two, climbed down, hit all three on the right, then slid over for the weak handed shot. I had never even TRIED this before. Heart pounding, mind racing, trying to even locate the eye box. "30 seconds!" came the call. "Ok, I'm ready. -- Hey, why isn't anything happening? Oh, shit, I forgot to close the bolt!" <close the bolt, hunt for the eye box again> "TIME!!" "I want to take this shot, I'm set up, I've never tried this before" "OK" "IMPACT!" That was cool.
Everyone finished up, and once again, Fritz grabbed my rifle. He would continue to do this for the remainder of the match, by the way.
The walk from station 8 to station 1 felt like it was 20 miles long. Roughly halfway, there was an ATV parked. I sat down on it for what only felt like a second, but it must've been at least 5 minutes. Fritz stayed and talked to me, the other 2 guys continued on to station 1. Eventually I got up and we finished walking.
Station 1 was the long range station. Adjusted my DA to 8200, as per the reading on a Kestrel one of the guys in the squad had. I don't recall all of the hits I got, but I remember my score was a 6, and that I got a first round hit on the 1251. I missed the follow-up shot because right as I broke the first one at 1251 the call came "15 seconds!", so I rushed it and broke it low. As we were grabbing our gear, I expressed my gratitude to Fritz yet again, and professed how indebtted to him I was. I insisted that he let me buy him dinner and drinks afterwards. He agreed.
Sidenote: See, where I come from, someone says they'll buy you dinner and drinks after doing a huge favor for them, it usually means steaks or something pretty nice like that.
I don't recall my score on station 2, but mostly because I thought I was dying. I finished that frozen Gatorade on station 1. Paul, the owner of TriggerTime, brough from fresh bottled water down from his truck for us (he was riding around on a quad). I drank that bottle so fast it seemed like it was empty when he handed it to me.
Station 3 was a pain in the ass, but only because it took us 10 minutes to figure out what to shoot at. Since we were the last squad of the day to shoot that station, it had already been beat up by the other guys. Paul had told us that only 2 of the 4 hostage targets (IPSC steel with a flapper) were standing, but when we got there, you could only see 1. The far right one. The left-most one someone must've shot the post, because it was leaning right at a 45 degree angle, and the flapper was hidden behind a tree. So we had to shoot the right target twice, then the center "sniper headshot" target, then back to the right flapper for the last 2 shots. I cleaned it. Fritz scored a 3.
As we were walking to station 4, Offgrid passed us with a couple guys from his squad and said something about how it was unfair that Fritz got to shoot two rifles. Some other conversation that I don't remember, but I remember saying something to the effect of "he's carrying it because I'm beating him." Offgrid laughed. Then I said to him "No, I don't think I'm beating him, I was just joking." Fritz said something about having trouble on the last stage, to which I absent-mindedly replied "that stage was easy" "Well I didn't clean it". I felt the fool, as he carried my 20 pound rifle for me through the 93 degree, cactus-infested hillside.
Station 4 was the mover. I scored 5/10 there. I don't recall what the other guys did, I was just so happy I finished the course and wasn't dead or DNF'd or medevac'd out.
As we began walking back to the trucks, which were up over the hill and out of sight, I asked Fritz how far the walk was. The reply came "30 or 40....Miles." "Nice to see you haven't lost your sense of humor." He laughed. I then told him "If it really was 30 or 40 miles, I'd just as soon turn around and go find one of those rattlesnakes I keep hearing about and end this faster!"
Halfway back to the truck, Paul comes down on a quad. There's another quad parked about 100 yards away, it's been sitting there all match long. It must've been pretty common knowledge that I was having some heat issues, as he pulled up and said "Here, you take this back up to the top. I'm going to go grab that other one."
As I ride up, I pass Fritz carrying my rifle. Once again, I felt the fool.
I get to the top, we walk down to my truck. I start it, turn on the AC, roll down all the windows, open the gate. Throw the rifle in the case, and take off my boots, socks, and pants. Throw on shorts and sneakers, grab a bottle of water from the back of Paul's truck and dump it on my head.
"There's no way I won anything, I don't want to walk the 100 yards to where they are all standing to discuss scores."
But I did it anyway. At that point, I was feeling SO horrible about my physical shortcomings that I wasn't sure I'd ever attempt this again, so I figured I'd make the most of it, heat be damned, and go see who won, and say goodbye to people.
Get up there, Paul is tallying scores. He announced Offgrid the winner, with a score of 56 (of a possible 63). WOW! Offgrid graciously accepts his winnings.
Then, Paul says that there was a 3-way tie for second. So, they pooled the money from second and third, and split it three ways. The score was 44. I complimented Offgrid again, since he clearly WALKED AWAY with it, 12 points ahead of the second place guys!!
Paul says the first two guys names, then the third guy (I'm barely even paying attention because I didn't feel I'd done that well), he says "And some new guy from Wisconsin." I was astounded, but graciously accepted.
I invited Offgrid to join Fritz and I for dinner. He declined, stating "I have a 2.5 hour drive home." "I have a FIFTEEN HOUR drive home!" Everyone laughed. He recanted, and came with.
Now - for the dinner part? I had no idea where anything was, where to eat, was was good or what wasn't. I told Fritz to just pick the place, I'd follow him. Where did we go? Subway. That's right, his reward for caddying my rifle for more than half the match was a stinkin 6" sub, a bag of chips, and a soda. I Was flabbergasted. I still don't feel that was adequate, and need to dream up some way to repay his kindness.
I greatly enjoyed the match, even though I nearly passed out. I need to be better prepared to deal with that heat. I picked up LOTS of tips from everyone there on how to do so, and plan to be MUCH better prepared next time. Yes, there will be a next time. No, it won't be in July again. Or August. But perhaps in October. We'll see, I need to research what the weather looks like that time of year.
Some pics and descriptions below.
The first three pictures below are my scrawled notes & dope (MOA) for the 8 stages.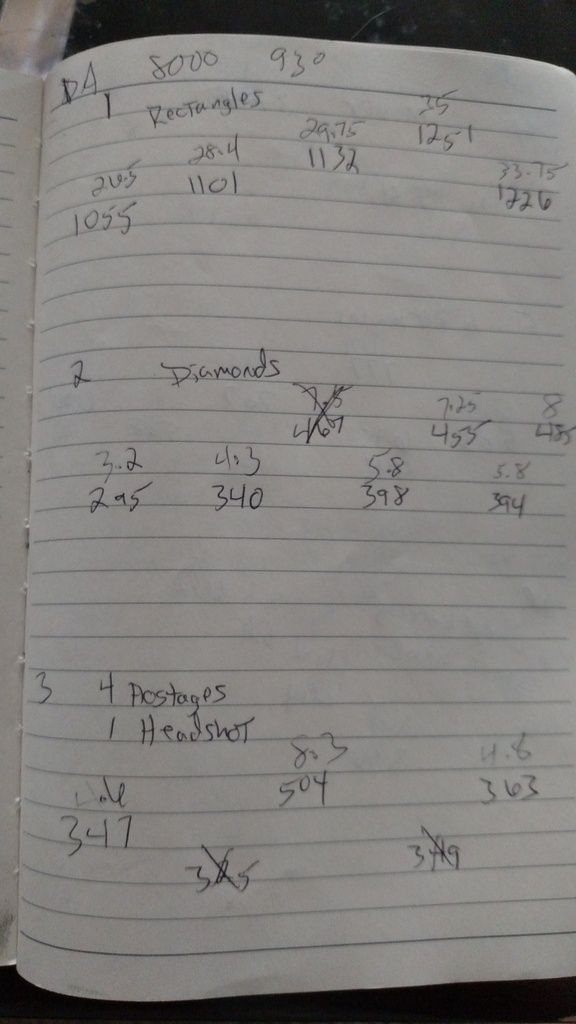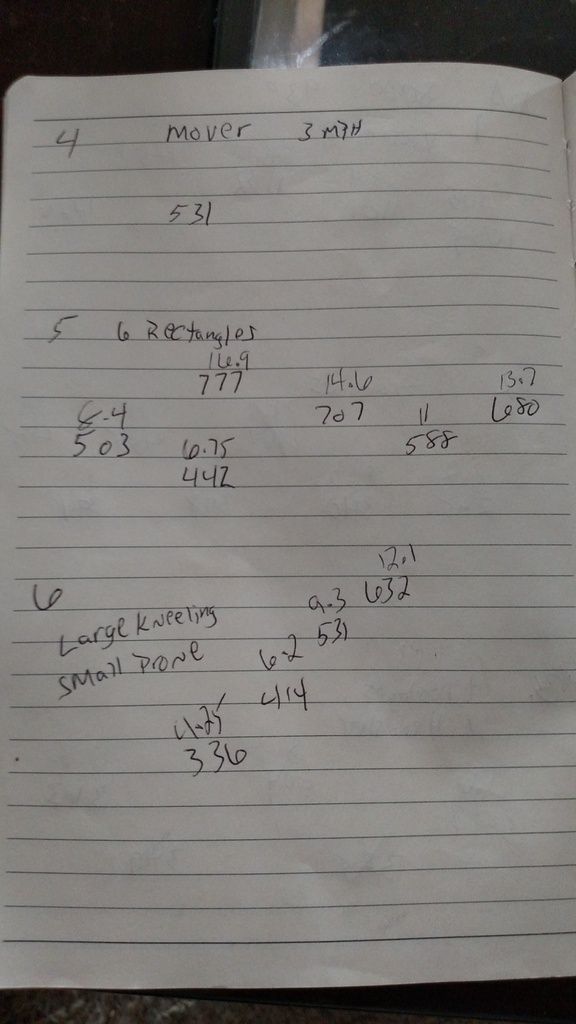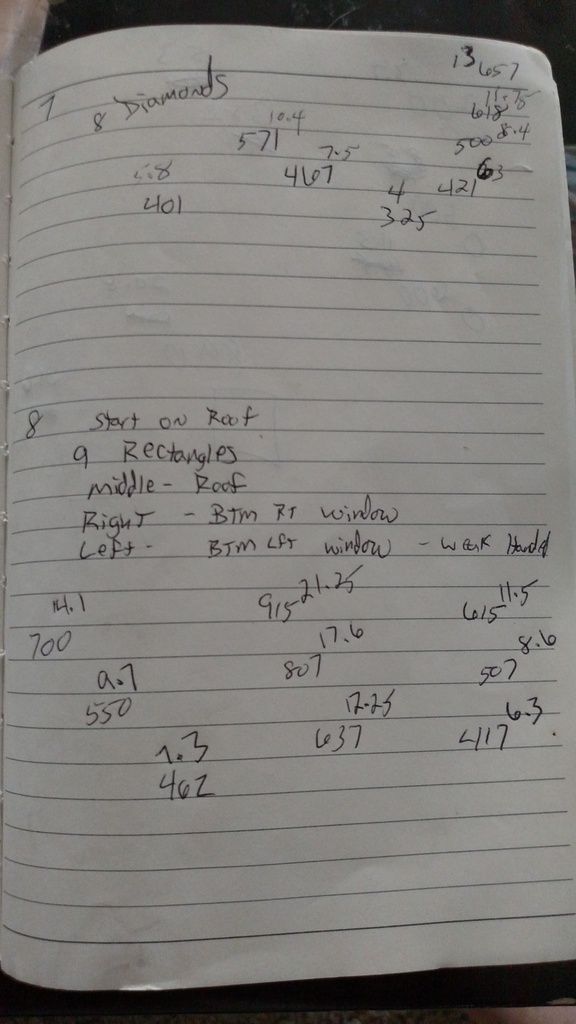 Getting ready to head into the range.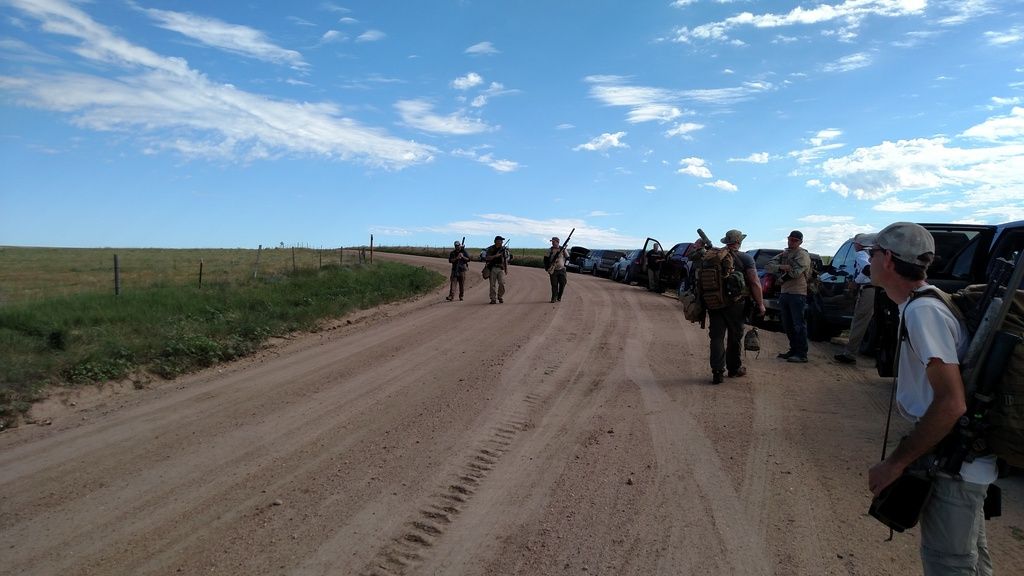 Our starting station.
Random pic. The headshot targets were hidden in that fenced in area with the trees in the right-most portion of the shot.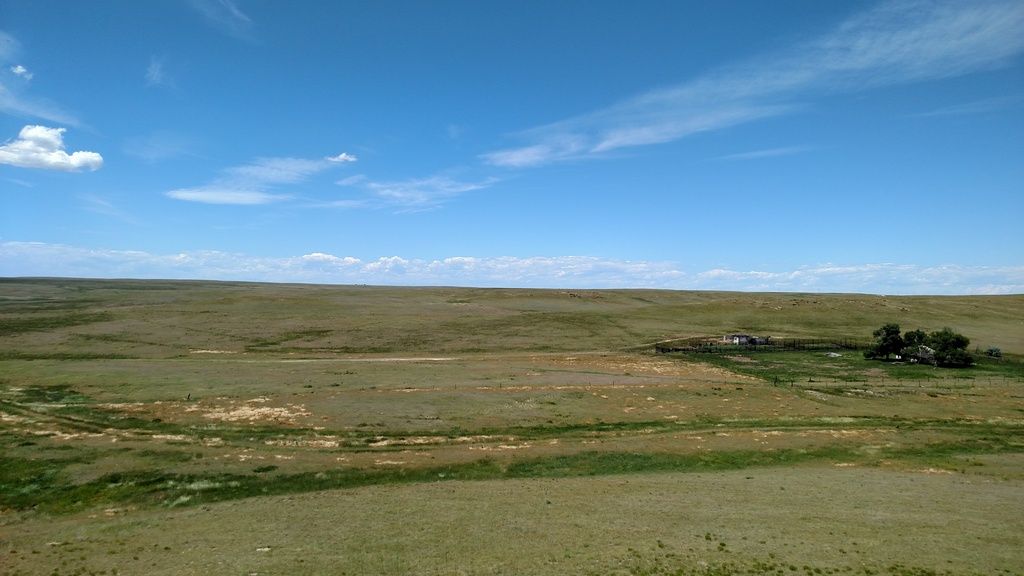 Random picture of the valley.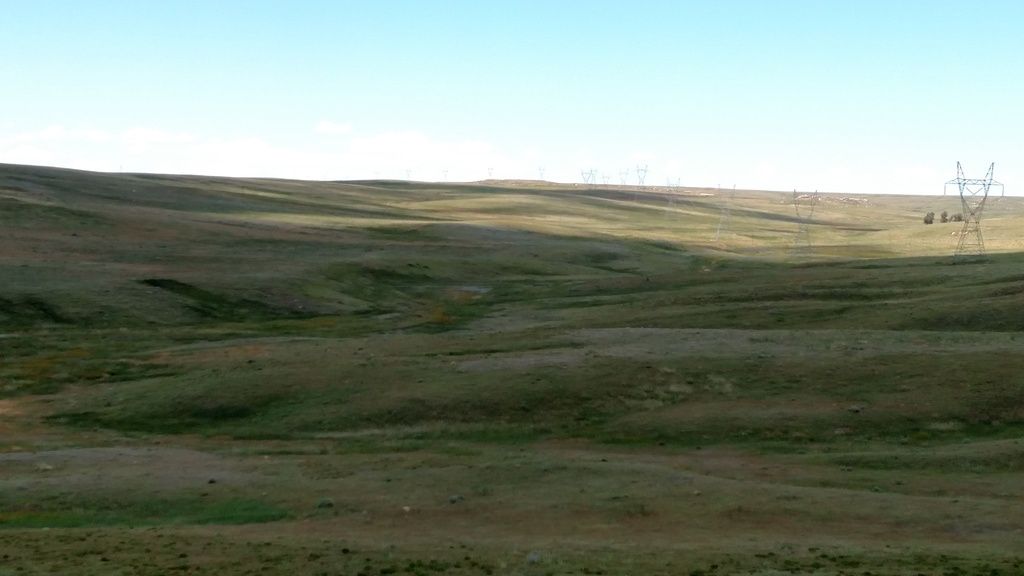 Random shot.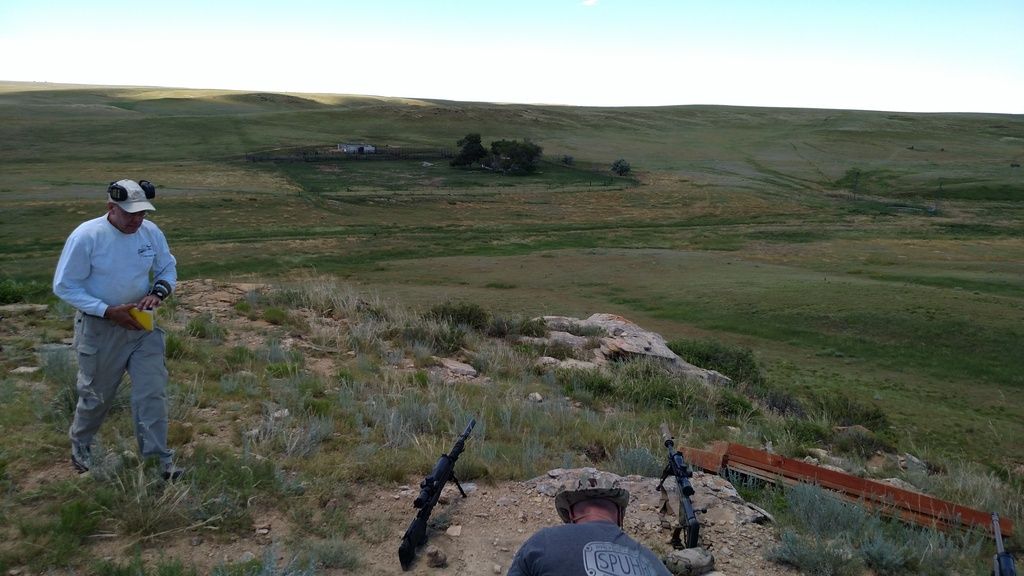 The shoot house.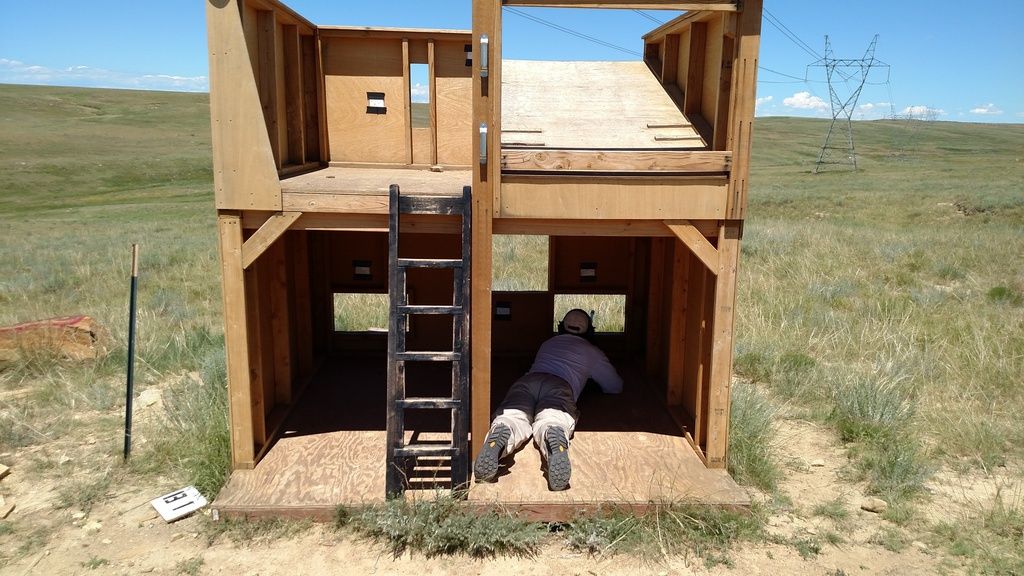 This message has been edited. Last edited by: exx1976,
---

Every time you make a typo, the errorists win.