Here's the latest AR-15 toy -- over 2.5 years in the making. Things started when Colorado's and DC's
finest
made waves about EBRs. I bought the receiver set just before the panic, then s-l-o-w-l-y picked up parts as availability, prices, and budget allowed. I still want to upgrade bolt gun glass and hand-me-down those optics to this AR, however that's currently not in the budget.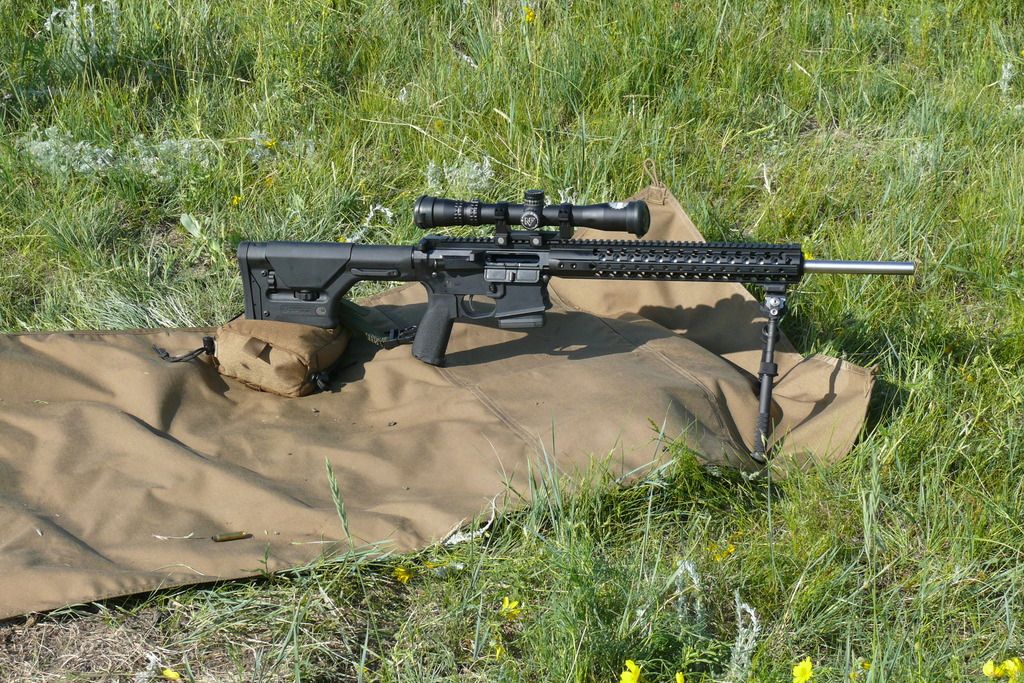 SI Defense matched billet upper & lower, Krieger 1/7.7 twist 20" barrel, threaded and capped, Wilson NPC coated BCG, Wilson single stage TTU trigger, Wilson rail, Magpul PRS stock, BCM grip, Atlas bipod, (currently) NF NSX 2.5-10x compact, and NF unimount.
Most of my emphasis yesterday was chrono testing various ammo, but I also recorded 5-round groups. The Krieger barrel seems fast -- producing MVs way faster than my 18" Wilson and pretty darn close to my 24" (don't recall that barrel maker). Given the emphasis on chrono recording and shooting at a 12"x12" black-with-green grid shoot-n-see target, I figured groups wouldn't be stellar. Six hours of digging weeds and chopping yucca earlier in the day didn't help. But groups were acceptable, 14 separate groups from .8" to 1.2" -- FGMM 69 the best and Hornady Vmax 55 the worst. The 75 and 77 grain pills (Hornady, Federal, Fiocchi) were all right around an inch.
The rifle shot well on steel out to 500 yards, although the 12-15 mph winds from my 3 o'clock didn't make for optimal conditions. This is definitely an easier gun to shoot than my 16" and 18" ARs. It is uber smooth. In less windy conditions, with arms that aren't dead tired, this rifle should shoot well beyond 500 yards, even with the current 10x glass.
Kudos to TJ's Gunsmithing in the Denver area to putting together yet another great firearm.