Posted this picture a couple pages back. Atlas at lowest setting, Ckye-Pod about 2" from lowest.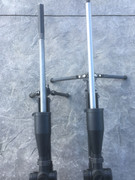 What I like about the Ckye-Pod over the Atlas
-wider stance/more stable. Easy to see the difference through the scope by simply holding on a very small target, how little movement with the Ckye-Pod.
-finer height adjustment. Now using a heavy fill Game Changer for a rear bag. The GC is much more stable over the lightweight bag I've used for several years. The lightweight bag has more range of height by squeezing which I needed with the coarser Atlas leg adjustment. Probably going to fill my lightweight bag with heavy fill.
-how low/high it will go at 90.
-adapts better to uneven terrain with the 170 degree cant angle/leg adjustment.
-built in barricade stop.
-rotating it 180 for a shorter set up shooting off a large rock/boulder....
https://406bullets.com/pages/c...instructional-videos
Shot this at the 2000rd mark on the other 6BRA barrel, 500yds. A little more vertical then the new barrel! Haven't change the load other then chase the lands a little.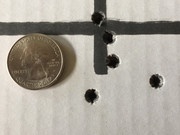 Interesting to compare the 6BRA to my previous 6BR and Dasher's as well as other 6BR's/Dasher's around me. My 28" 6BR 29.8/4895/105/2870, that's a common load/velocity for a 28" 6BR. With .2 less grains of powder and 2" less barrel length 6BRA/105 zipping along at 2935. Dasher's I shot out 31.6/4895/105/2930-2970. 6BRA is efficient little case for sure. No perceivable accuracy difference between the three calibers, comes down to the barrel. Also interesting how the 6BR, 6BRA, Dasher has changed what I expect/accept for accuracy. In the next month going to have jelrod1 chamber a MTU contour 22" 6BRA. There's two 600yd max local PRS type matches I'll shoot suppressed, a little handier with the 22". Guessing will be in 2850-2880fps range, plenty for 600yds.