I bought a Ruger No 1 in 7mm-08, and as you may all know No 1s are known to be difficult regarding scope mounting due to the location of the 'rib'. This typically results in the use offset scope rings or rails, bringing the scope back far enough to be usable with typical eye relief of under 4 inches. This places the scope completely over the action, making it inconvenient to load/unload cartridges. (so I've been told)
I bought a Leupold VXR Scout scope, which has long eye relief (6 inches), so I could mount more forward. It's a 1-5 X 33, and on paper I thought it was a great solution. But in practice I have no way to mount it where it needs to be using the Ruger factory rib and ring locations. I bought a picatinny rail from EGW, to allow me more flexibility in positioning the scope. It will take some work to use this rail, as it will need to be bedded for proper fitting.
It will do what I need, but now I'm looking at a picatinny rail that is larger than the Ruger factory rib, and a scope with a 30mm tube that just looks large to me on the rifle. The scope is fantastic, but I'm having second thoughts. Am I putting a monstrosity on an elegant rifle?
Here's a photo of the rifle below a No 3 with a VarX III on it. The No 3 is in 7mm Krag and is a larger rifle: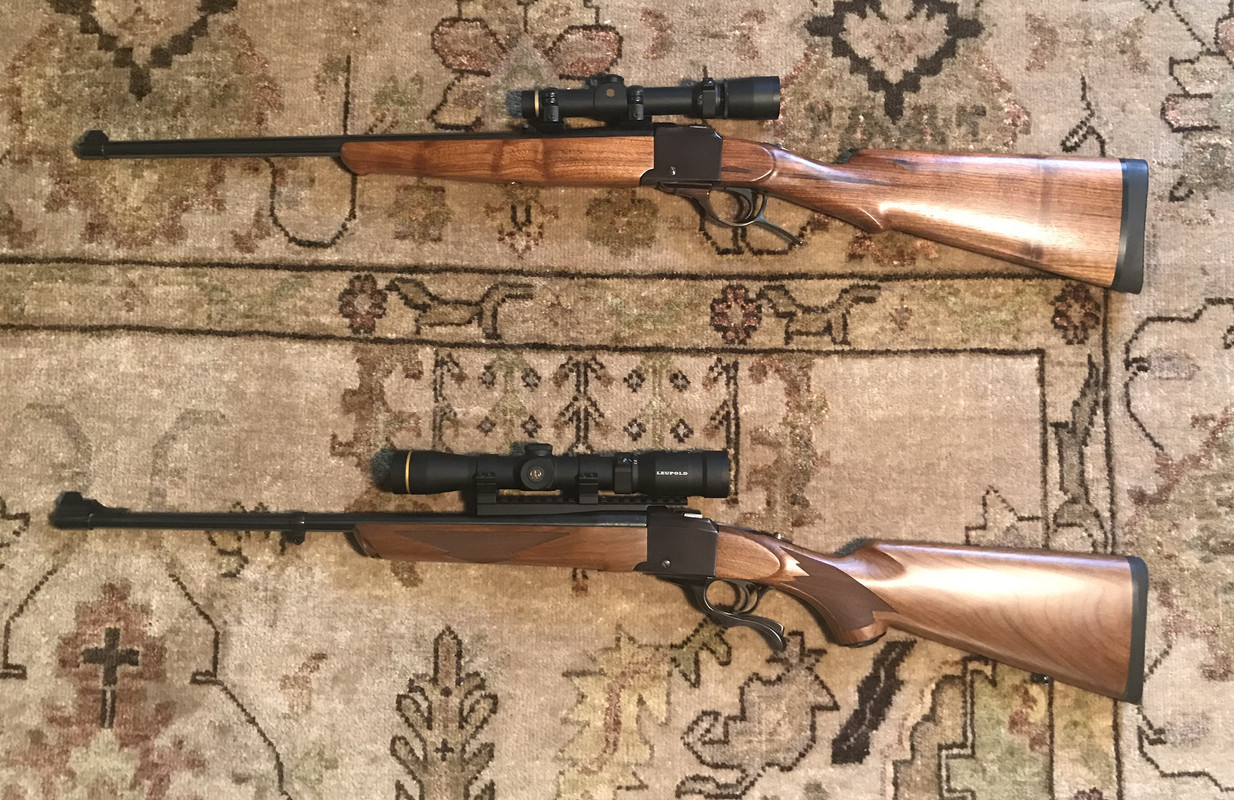 The No 3 is a new acquisition, and I have no experience shooting these rifles with scopes. For those of you who have used No 1s with a scope, is it a pain in the butt to have the scope over the action? If it's not really a big deal I think I'd like to use a smaller scope on this one, and just deal with it.
What do y'all think? Does it look okay with the Scout scope? Is it not that big a deal and I should just use a smaller scope?
Any feedback would be greatly appreciated.