I started out with a EVO Pistol and mostly shoot suppressed, so when the carbine came available I started checking the CZ website and jumped on it as soon as it was available.
I looked at a couple different grips but didn't see any significant benefit ... I look at it like, it was made to fit the the typical guy and it has a reasonably good texture, and I particularly like the flare at the bottom ... I considered getting an aftermarket grip my thought was about what was I really going to gain with the aftermarket grip, it's actually the same diameter as a stock AR grip ... Since I just shoot for fun and don't compete I decided the factory grip was fine for me.
The factory charge handle is another story ... I always thought the one on my MP5 was small, the the EVO handle seems even smaller, but I didn't want something just bigger, which was all any of the aftermarket companies were making were just bigger. I kept hearing rumors of a folding handle like an HK-9x and Manticore finally came through with what they call their "Switchback" it's exactly what I was looking for and I ordered it instantly ... My only problem with it is that it's not spring loaded to close kike the HK, it relys on inerita to swing the handle closed and about 1/2 the time it does fold, the rest of the time it just sticks about up 2" from the handguard ... I wish it had a spring, but I think if it had just a bit more weight it would work reliably evert time. One of these days I may drill about a 1/8" hole near the end and put in a lead weight ... But for now it is what it is.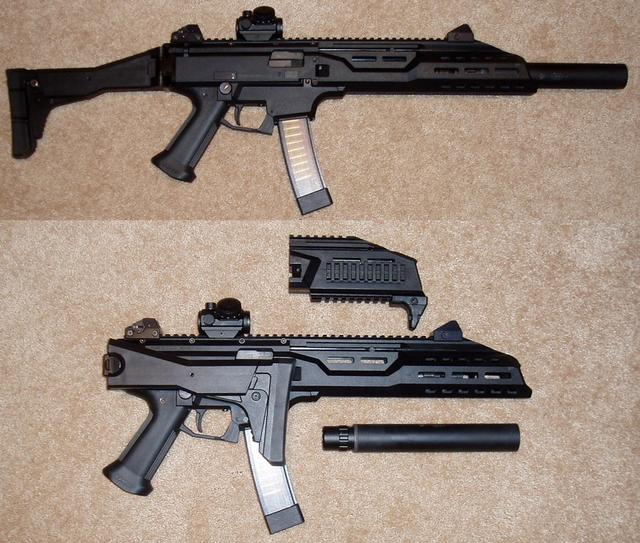 Oh yeah,
as Rolan pointed out, you will want the Safety Delete for the right side, unless you're a lefty! Personally the factory mag release works fine for me and when I installed the 922r parts, the trigger pull was about 1.5 to 2 pounds lighter ... While I do like a flat bow trigger I haven't changed mine and probably won't unless I get into competition.
If you really want something you'll find a way ...
... if you don't you'll find an excuse.

I'm really not a "kid" anymore ... but I haven't grown up yet either