quote:

Originally posted by benny6:
I don't care about subsonic ammo, but I do have a 22lr can. I just care about shooting reliably, fairly accurate and something that we can practice shooting tactical targets out to 50 yards and practice magazine changes.

Something to develop the motor skills and muscle memory to prepare for a match.

Faster magazine changes are rarely a significant difference maker in practical rifle competitions.
The amount of time it takes to change a magazine is insignificant compared to the amount of time that I see people burn on the clock because they do not understand, or forget how, to build a good rifle shooting position.
Learning how to shoot prone, off of every kind of improved rest you can think of, and offhand, are skills that you certainly can build with a 22lr upper.
At the match that I shot on Friday, I used the following things to help stabilize my rifle:
A large dump truck tire, the roof of a truck while I was kneeling in the bed, a metal gate, a large plastic culvert, the wooden frame of an open door, a deck railing on top of a tower, the top of a fabricated climbing wall.
Also a lot of offhand as well. I often utilize a technique called approach shooting for offhand shooting. Patrick Kelley has a great video on youtube that illustrates the technique of approach shooting.
In many circumstances, utilizing a technique called reverse kneeling will help immensely if you are behind something that is an appropriate height to brace your rifle on/against.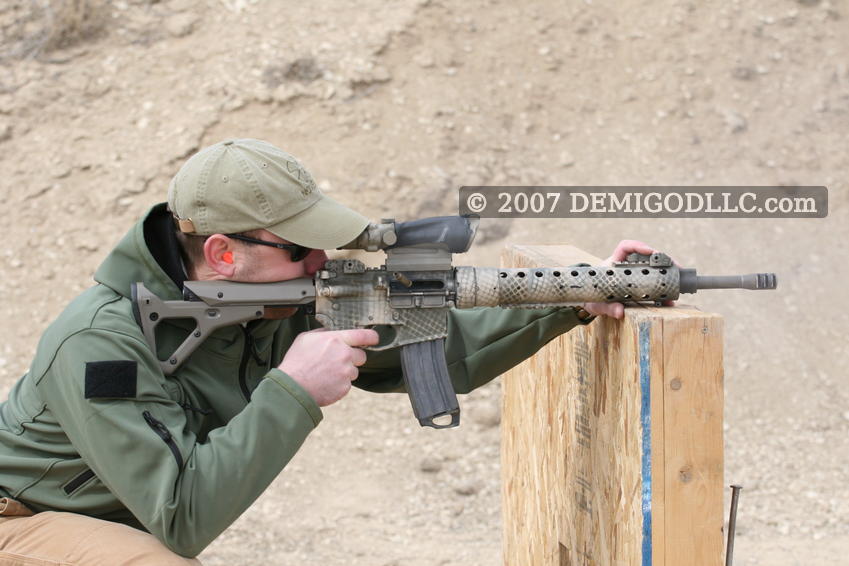 Long winded version of this:
Don't worry too much about magazine changes in the grand scheme of things. Breaking clean shots is where time is made or lost.
The match I shot on Friday is called Rock Hard and is part of a series of "Hard as Hell' multigun matches.
Rough idea: Par times of 5 minutes on every stage, slung rifles and holstered handguns carried to the end of each stage and never abandoned, huge round counts and lots of strenuous movement over and through terrain and obstacles. Lots of people time out and don't make it to the end of stages.
If you go back and review videos, the people who do the best are people who cleanly and efficiently knock down targets with their guns, not the people who can sprint the fastest. It's why Jerry Miculek is still competitive in the sport of 3-gun which many people might consider a young man's game. He is so damned fast at shooting stuff that it isn't particularly relevant that he might lose a few steps to a 25 year old.
The fundamentals of shooting a handgun translate very well to shooting a rifle, although there are many rifle positions that are very useful which have no analog in the handgun world. It still all boils down to breaking a clean shot when your sight is on the target.
Regretfully I don't have any video of my own performance at the match because the task of shooting the entire match in one day didn't allow me the time to mess with getting a camera set up. If I did you would see some rifle shooting that I was very proud of, some mediocre work with the shotgun, and some damn pitiful pistol shooting.