And boy, am I excited!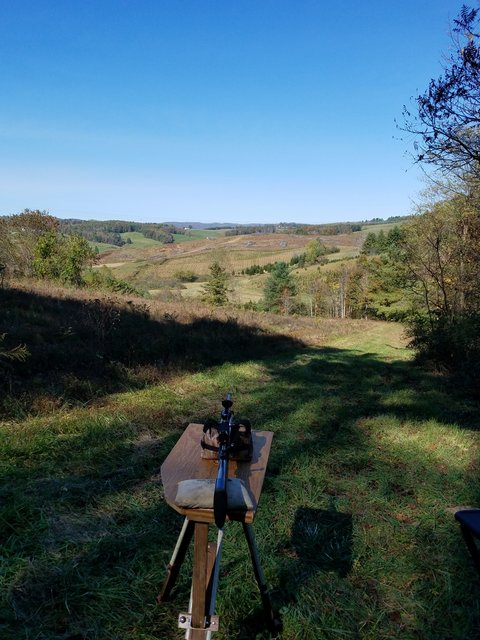 This pic above is resized so as to be device-friendly, but that was my view this afternoon.
See that row of trees heading up and to the right, just above the center line of the pic? See that little short one, second one from the left in the row? Well, put your Imagination Hat on, and look straight up from the tip of that tree. The 16" gong sat there.
Prior to this past summer, I had never shot at any range over 100 yards. I got a little 200-yard time with an AR last summer (thank you, jljones and OpSpec!) and had a great time of it. Last week one of my coworkers texted me a date, a time, and grid coordinates.
This morning was beautiful, though it was only about 40 degrees when I left the house. I dressed for it and hit the road (and the off-road), meeting my friend and some of his family and friends for a little 100- and 200- yard time, plus some 25-yard work for a young nephew with a three-times handed-down single shot .22 rifle. The young fella did well!
At 200 yards, I was consistent left-to-right, within about a 3" span, and about 4" low. I can work with / adjust for that. When we moved to the longer range, there was a 5" steel disc at about 375 yards, plus two more of those and a 16" at 500. I couldn't see the 375, thanks to shadow, but I had a clear view of that 16. First couple of shots were (expectedly) low, but after some adjusting I was watching the big white disc dance.

I couldn't hit it
every
time, most often sliding in right beneath it. But good grief is it satisfying to watch that gong bounce around and hear that "clank!" just a moment later!
I know y'all are gonna ask, so here it is:
McMillan .308, wearing a Leupold 4-10.
Hornady "American Gunner" factory ammo, 155-grain (
this
).
- - - - - -
Edited for poor spelling. Oops.
This message has been edited. Last edited by: vthoky,
---

God bless America.