quote:

Originally posted by Andyb:

10X: Absolutely!

Kimber: I like. Just needs an SD suppressor. You just thought you were done stamp collecting
With the registered sear I don't have to SBR this one and because the only time I'm going to shoot it is for f/a fun, I'm not going to bother SBR-ing this one ... That's one stamp I don't have to get ... Besides, all the other hosts are already SBR'd so if I do want to switch hosts it's easy-peazy
For part II, I've Actually come up with a "work around" for the suppressor that works pretty well ...
I removed the shoulder stop on the Silencerco 18x1 direct thread adapter for my Octane 45 that I'd bought for the Skorpion EVO; then I made a barrel support that sits on the front of the barrel against the barrel shoulder and ported it to allow gas to bleed through to the baffles, took out 1/2 the baffles and bought a spring to put between the barrel support and baffles to keep the baffles forward in the tube.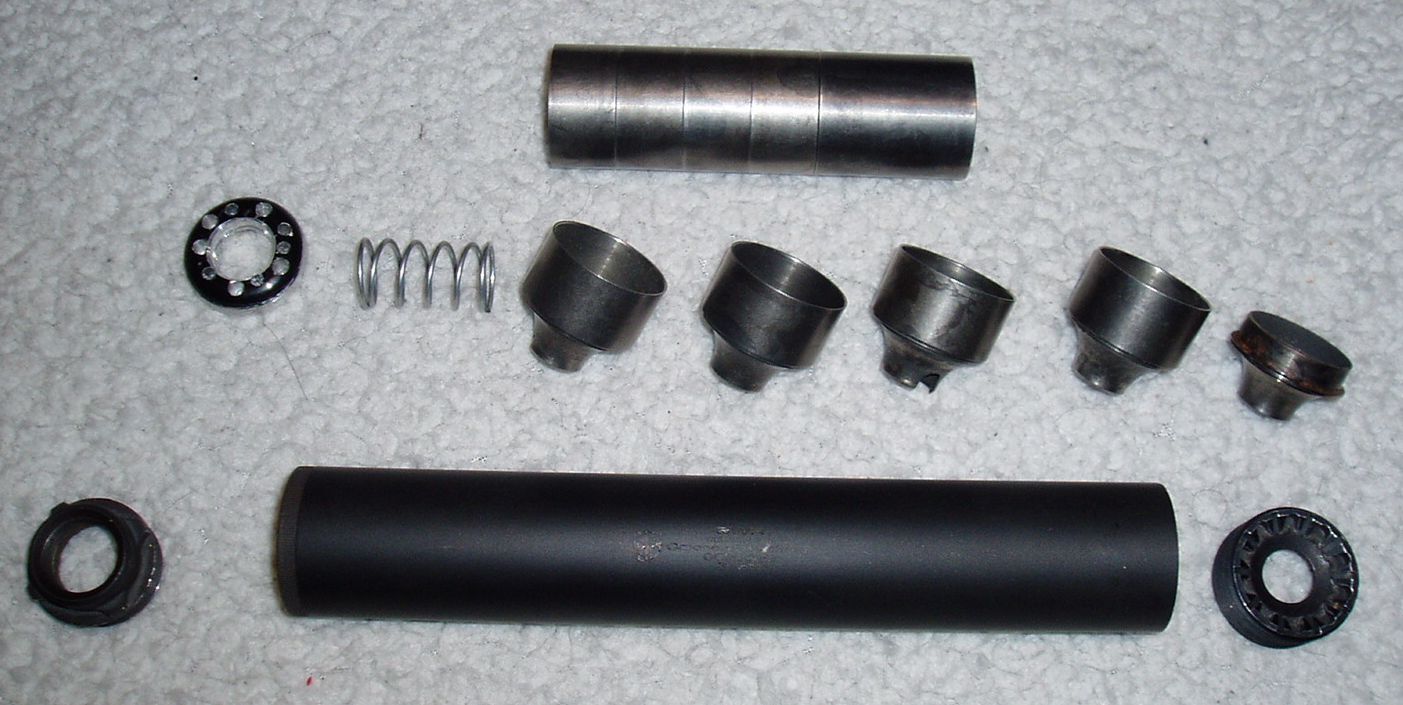 I took it out and shot a couple mags on my lunch hour earlier this week (which actually turned into 2 hours) It works pretty well, I get 120-140 db with my meter, even in F/A ... and it will break down to fit in my lap-top bag

Right now, the SD, shooting full power 124 grain Fiocchi with the above pictured modification, the sound level is about the same as my MP5 shooting subsonic with all the baffles in the same Octane 45. I wish I knew someone arount here that had as SD to compare to, because I just dont trust the Hollywood sound effect guys idea of what ant suppressed weapon sounds like!
A friend that has a machine shop is taking my idea and making an SD adapter for my Octane so I can use all the baffles ... I know it won't be twice as quiet but I'm very excited to see what it does for suppression.
If the HPA passes I'll probably get an SD suppressor, but if it doesn't ... I still might, but it's nice having options
If you really want something you'll find a way ...
... if you don't you'll find an excuse.

I'm really not a "kid" anymore ... but I haven't grown up yet either