(Work in progress)
I see the question asked all the time, wanting to know what 9mm "Subgun" on the market currently is the one to get. Well?
This isn't meant to be an in-depth review, more of a comparison between what is available out there. I have also SBR'd all of these. If you don't want to go through that hassle, I would consider them fairly pointless in any other form. Braced is acceptable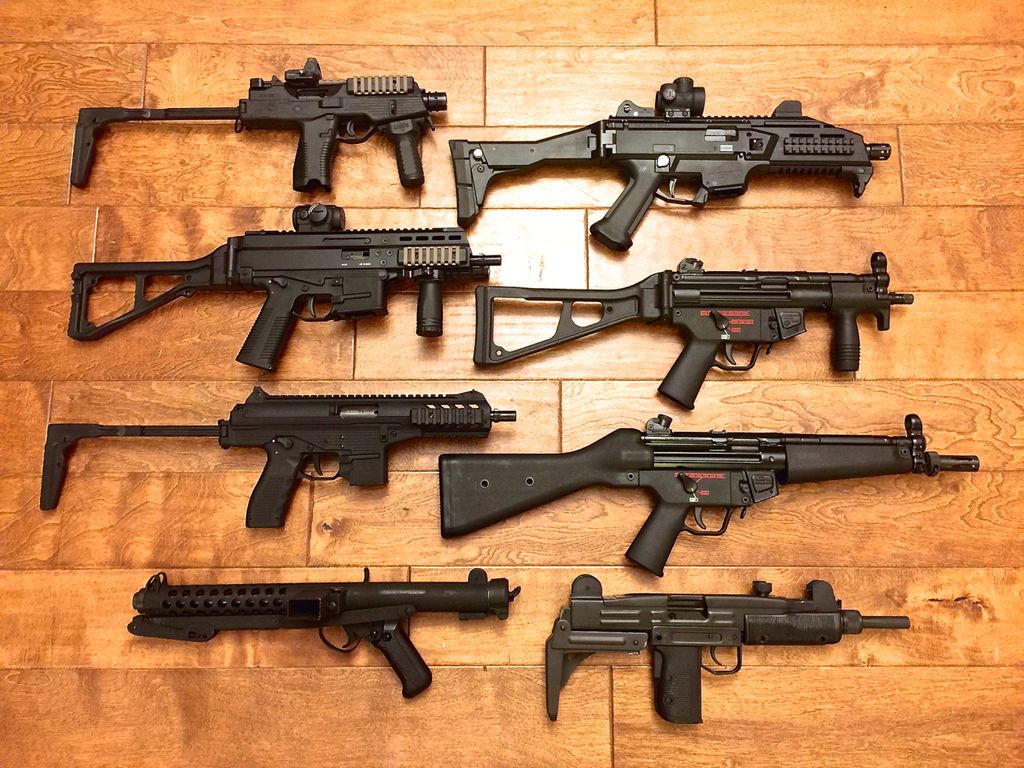 First lets talk price. You can get a CZ Scorpion EVO for around $800 in pistol form where as an MP5 clone pretty much starts at $1500 and goes up from there. A semi UZI or Sterling can be had for around $900. Want even more of an oddball firearm? B&T has the APC9, P26, and TP9 on the market currently. These will range from $1200(P26) to $2100 (APC9) with the TP9 falling the middle around $1700.
Scorpion EVO
I'll say it. If you want just one 9mm rifle of this type, get the EVO. It is flat out the best bang for your buck out there. By far. Yes its direct blowback. Yes its not as fancy as some of the other guns here, but you know what? It works. I have more than 2000 rounds through mine and it hasn't hiccuped. Ive shot it suppressed/unsuppressed and tried it with just about every type of ammo I have. It just runs. Trigger is decent. Mags/parts are cheap and the aftermarket support for it is excellent. Everyone needs an EVO.
So now thats out of the way what about the others with price tags that make you sniffle a little?
MP5
We'll start with the MP5 and it's roller delayed blowback. So you want an MP5? The clones on the market are plentiful currently. My full-size was built by Dave Getz who unfortunately is no longer building them. Thankfully MKE/Zenith have entered the market with their Z5 series guns. The K in the photo is an MKE gun. HK has also come back to the market with it's SP5K.
Naturally you would get the HK right? Wrong. It is missing several features that are standard on others I would consider necessities. For example the SP5k does not have a 3 lug/threaded barrel or a paddle mag release and also costs considerably more. If you MUST have HK on your gun go for it, if not, read on.
MKE/Zenith is the best value on the market currently for an MP5 clone. They are built on HK tooling and have all the features they should. They come with 3 mags, a cleaning kit, and a nice hard case. They also use true two push pin trigger housings.
The roller delayed blowback of the MP5 makes it an absolute sweetheart to shoot. You could shoot it all day and not be any worse for wear. The recoil is softer than the Scorpion. Does it make the MP5 superior? Not really. Especially when the MP5 costs twice as much as the EVO. As a note, I do think the MP5's suppress extremely well. Mags are relatively expensive ranging from $30-$80. Replacement parts and accessories tend to carry a premium as well but hey, it's an MP5, man.
UZI
What about an UZI? They are available and still not crazy expensive (not counting the Mini UZI). Mine is built by Vector and runs like a top. Had some teething pains but it now runs 100% after a couple hundred rounds. Magazines and spare parts are plentiful and cheap. Built and handles like a brick. Way too heavy. Ergonomics suck and the grip feels like a 2x4. I love the UZI.
Sterling
If you've seen Star Wars you've seen a Sterling, but before it was the Empire's blaster of choice it was a British SMG that was used into the 90's. Mine was manufactured by Wiselite years ago. They are not very common but are out there. Heavier than it needs to be and folding/unfolding the stock is a pain. Simple design which I like. No support for them so if something goes wrong you're sorta SOL. They are cool though and a piece of history.
Kriss Vector
How about a gun that looks like you went forward in time and brought back a downward recoiling Glock mag taking future gun? Look no further. They recently released the Gen 2 with a better trigger and safety throw along with a few other enhancements. Has a threaded barrel from the factory. Available in 9mm, .45 (my version) and 10mm
P26
B&T is an OEM manufacture for HK if you've never heard of them, but they also produce several weapons of their own.
First up is the B&T P26. A direct blowback, AR trigger using, Swiss Tec-9 with a 3 lug barrel. They are only importing 400 of these so they are not as readily available as the other guns mentioned but can still be found. They use the same magazine as the B&T APC and TP-9 which was my reasoning when I purchased it

I got my Form 1 back a few weeks ago and have not had a chance to shoot it with the stock on. Will update once that happens, but shooting it in pistol form it was a smooth shooting gun. Military Arms Channel just uploaded a video on it that is done well if you'd like to see it in operation. Suppresses well. Value wise it is edged out by the Scorpion due to cost but I would place it as a solid second. The more recent imports have a threaded 3 lug barrel. Mags are expensive at $75 per and there aren't any aftermarket accessories specifically made for the gun.
TP9
Next is the TP9, the semi version of the MP9. These are based on the Steyr TMP whom B&T purchased the design from in 2001. It is a compact PDW type weapon that uses a rotating barrel design. Whats that?
"When fired, recoil causes both the steel bolt and steel barrel to move rearward for a short distance. During this movement, a locking pin located in the upper section of the bushing-like barrel guide at the muzzle end of the pistol engages a control cam cut into the barrel. This cam causes the eight-lug barrel to rotate clockwise, unlocking it from the bolt assembly and allowing the bolt to continue rearward to cycle the action."
The TP9 is a cool little gun, but with expensive mags, proprietary suppressor mount, and so-so trigger I would only purchase one if you already have another 9mm gun of the type. Sort of like the guy that owns a yellow Ferrari, it means he already has a red one.
APC9
Last but not least is the most expensive gun here and that is the B&T APC9. If these were all watches the APC-9 would be the Rolex and I say that confidently. If you get the chance to hold one/take it apart, do it. They are so finely machined on the inside its almost a piece of art. They use AR triggers and have a hydraulic buffer in the back. Something I've noticed in my reading on them is people really take issue with the direct blowback mode of operation for these. I'm not sure if that is so much from an operational standpoint as it is that these things cost mega bucks and it works the same way as a Scorpion. Then again a Casio still tells the time same as the Rolex. I have 1150 rounds through this gun and it works well. Also available in .45
9mm "Subguns" are my favorite type of gun to shoot and I really enjoy all the different offerings on the market currently. This is only a sampling. Honorable mention to the MPX.
All of that said, this is written from the perspective of a collector/shooter. I'm not doing anything serious with these and if SHTF id be reaching for a rifle caliber gun. Hopefully this is helpful to someone out there!
This message has been edited. Last edited by: Andyb,
---
"Pickin' stones and pullin' teats is a hard way to make a living. But, sure as God's got sandals, it beats fightin' dudes with treasure trails."

"We've been tricked, we've been backstabbed, and we've been quite possibly, bamboozled."