quote:

Originally posted by WARPIG602:
After handling this rifle I can say it's probably my favorite rifle of the era that I own so far.
As far as bolt action rifles go, I concur.
Nice peep sight (especially the original milled ladder version), fast and slick action, and 10 rounds on tap.
Tough to beat.
While K98ks and SMLEs hold a special place in my collector's heart, and I'm a bit fan of the M1903 and M1917 as well, if I had to choose a WW2-era bolt action rifle to carry into battle it would almost certainly be the No. 4 Enfield.
quote:

Originally posted by 357fuzz:
The older adjustable milled rear sights for the No.4 are nice w/ some decent adjustments. There is a stamped one that I believe was for possibly the "Jungle" carbine or so I have heard. Or it is a later war stamped cheaper and faster get them out the door adjustable rear sight.
The stamped Mk. 3 and Mk. 4 ladder sights weren't created for the No. 5 Mk. 1 "Jungle Carbine". They were a mid-wartime expediency designed for the No. 4 Enfield in late 1942, intended as being better than the basic stopgap Mk. 2 flip sight but still simpler and cheaper to produce than the original milled Mk. 1 ladder sight with its fancy micrometer screw adjustment.
Most Jungle Carbines use a milled and micrometer adjustable ladder rear sight, similar to the original Mk. 1 rear for the No. 4, just graduated to 800 yards instead of 1300.
There are some Jungle Carbines with stamped rear sights, similar to the Mk. 3/4 rear but again graduated to 800 instead of 1300 yards, but those are less common. And this stamped rear ladder had already been around on the No. 4 for over 2 years by the time they started being used on some Jungle Carbines in ~1945.
No. 5 Mk. 1 rear sights: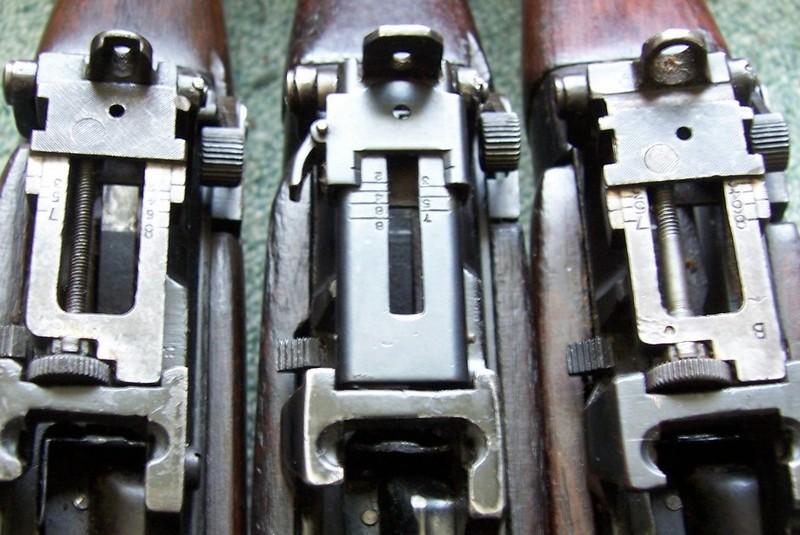 Here's a good ~7 minute overview of the various No. 4 rear sight iterations:
https://www.forgottenweapons.c...-enfield-rear-sight/