quote:

Originally posted by nhracecraft:

kimberkid - How satisfied are you with this telescoping stock on your 556? I purchased the adapter referenced in the thread primarily because it was still available, but haven't purchased the stock yet. I also have a ACR folding stock adapter for my 556, but I'm on the fence about the SIG telescoping stock, which seems REALLY cool as well!

Any feedback you can share would be much appreciated. Also what is the LOP with the stock fully extended? That might help in my decision as well... Thx.
nhracecraft ... well, just to clear up any misconception, it is cool! AND it's more comfortable than any wire or collapsible stock I've ever shot; Daewoo AR110C, HK93, VZ58, AK AMD65 are the ones I've owned and have firsthand experience with … and the other best thing about it is that unlike most folding stocks, like the SiG and ACR, it doesn't make the rifle noticeably wider.
BTW I like the SiG factory stock but I am also a huge fan of the ACR stock, not only on my ACR but I also bought an adapter from "the lucky Irishman" but it was for my CZ Bren 805 SBR'd pistol.
I really think if SiG had released the 556Xi line with this or a similar collapsing stock it would have been a huge success. I would like to be able to adjust the stock down another notch or two but the design of the 556 receiver won't accommodate it … with this stock I can put it behind the back seat of my truck and someone can sit there and not even notice it, no so with the original folding stock … its too bulky.
While I was measuring it I took some new pictures, as I understand it the LOP is measured from the trigger to the stock (about 12") but just in case I included a picture from the front of the receiver to the end of the extended stock(17.5") or by doing a little math you can get approximate any measurement you need.
I'm about 5'6" and it fits me just right for the eye relief with my ACOG; but I wouldn't want it any shorter either. I'm using the MPX stock, you shouldn't shoot it with the stock completely closed as the MPX stock is in line with the charging handle while cycling/ejecting
If you needed a bit more length you could get the MCX ... If you do have any other questions just ask or email me!
BTW ... if anyone knows of a 4 position gas valve for using a suppressor, info or a link would be greatly appreciated!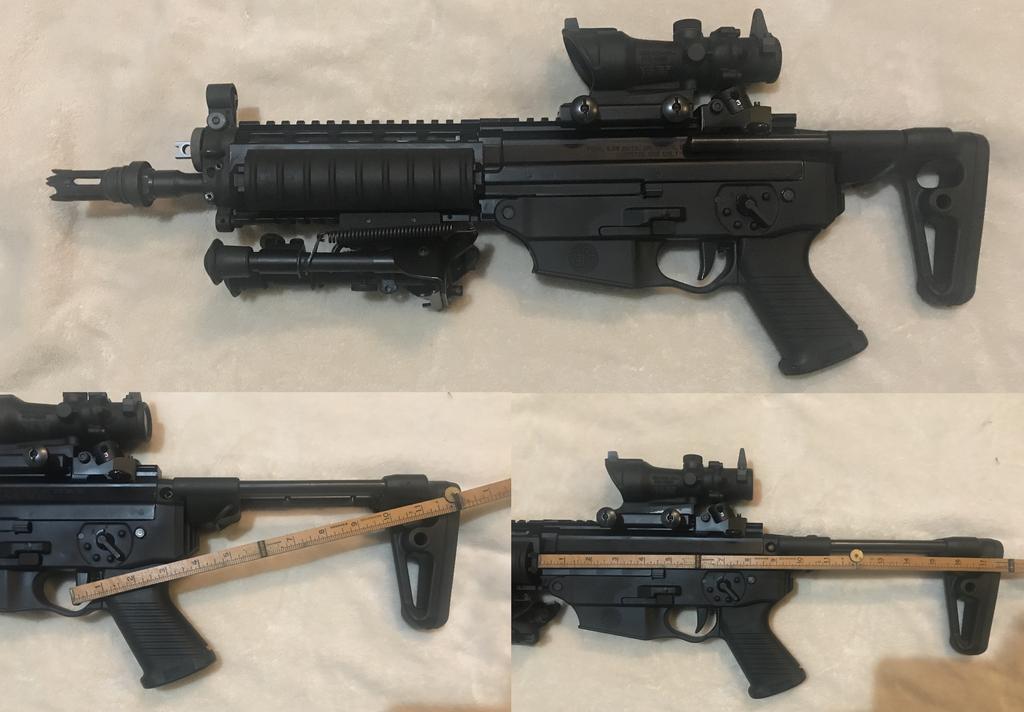 If you really want something you'll find a way ...
... if you don't you'll find an excuse.

I'm really not a "kid" anymore ... but I haven't grown up yet either