It looks good, but it needs a straight grip,without the finger grove, and a straight handguard retainer ring ... I like its original look, but it's your gun, so it should be whatever makes you happy!
My M16 came from a California prison, I think it was produced around 1967.

However I immediately reconfigured it with a 11.5" Colt Commando de-mille parts kit and MagPul furniture: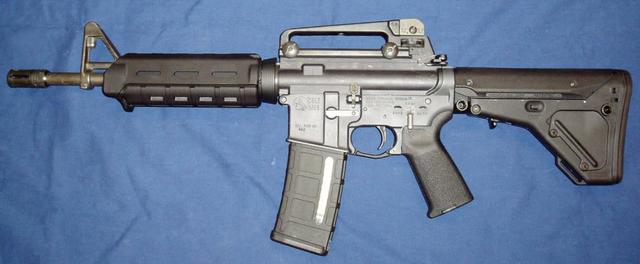 Then, I bought all the "Barbie accessories" starting with a Colt LMG kit, but I ended up putting it on a preban AR15 A2 lower ... the kit was still new in box and I couldn't bring myself to shoot it, so it's still unfired.
Also a Colt 9mm SMG parts kit with the 3rnd burst trigger, a CMMG 22 kit, 7.62x39 kit, a 5.7 upper and after searching a couple years found a f/a bolt for the 5.7 upper & cut the 16" barrel down to 8"; lastly I convinced myself I needed a belt-fed and bought a Ares Defence MCR.
They're all fun, But for the most part, I shoot it with the above pictured 11.5" barrel on it ... and all the original parts are safely tucked away.
This message has been edited. Last edited by: kimberkid,
If you really want something you'll find a way ...
... if you don't you'll find an excuse.

I'm really not a "kid" anymore ... but I haven't grown up yet either