Ruger GP 100, 4 inch, stainless.
Absolutely the perfect revolver for utility use. It's a bit big to conceal, but that isn't an issue for your intended use.
No need to worry about hammerless with a modern DA revolver. The S&W have a hammer block, and the Ruger's have a transfer bar. There is no need to carry hammer down on an empty chamber or anything like that. They simply wont fire unless the trigger is pulled all the way to the rear, either removing the hammer block or engaging the transfer bar. The nice thing about this is you always have all chambers loaded, you can thumb cock the hammer for careful aimed fire, or pull the trigger through for quicker action.
I have a GP 100 and a Smith 19. The Smith is a "finer" gun. Smaller, lighter, more refined design, only slightly better trigger. The Ruger is tougher, larger, heavier and simply all around more rugged. I take the Smith to the range. I take the Ruger to the woods.
I also find that with heavy loads, the Ruger grip shape is more comfortable in my hands than the Smith shape. This holds true for my .44 revolvers as well. I have a Redhawk from Ruger and a 629 from Smith. The Ruger is more comfortable with heavy loads.
Either a Smith 686 or a Ruger GP 100 will serve you well, but for utility and price, I think the Ruger is by far the better deal. If you would ever want pocket carry, drop down to the Smith 60 / Ruger SP 101; both are 5 shot in .357 magnum, and both are nice revolvers. I have big hands, and prefer the larger frames, however.
Ruger GP 100: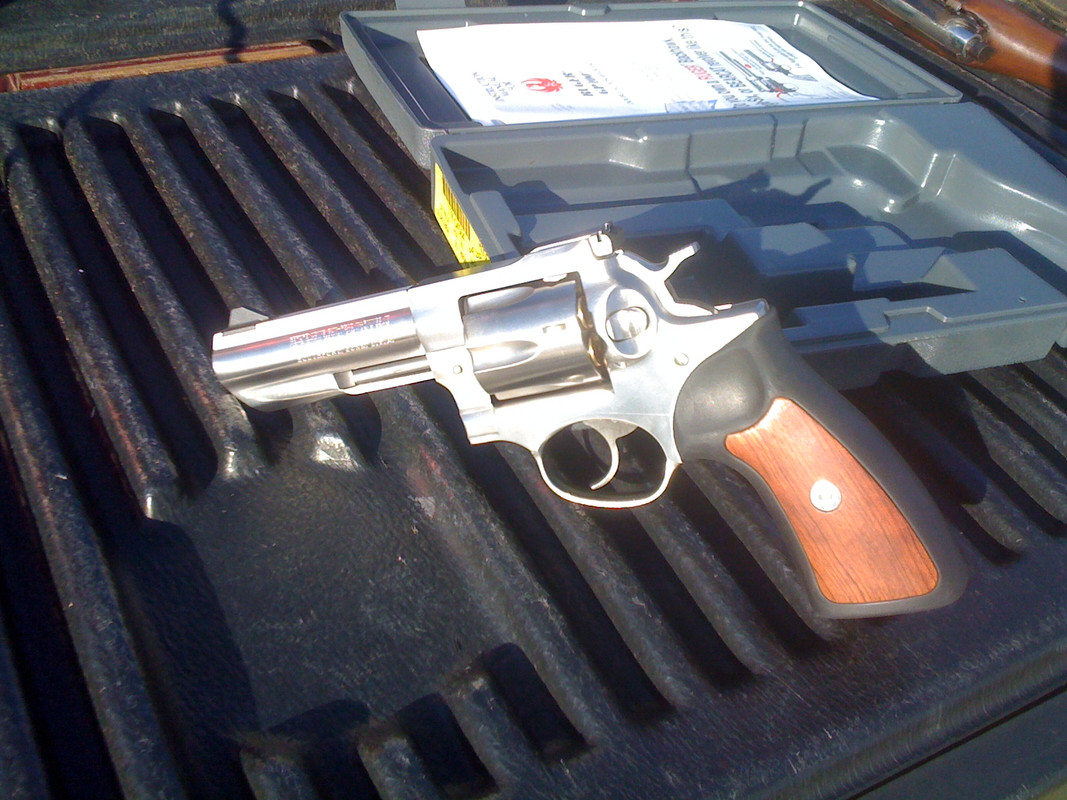 ---
"We may consent to be governed, but we will not be ruled." - Kevin D. Williamson, 2012

"All the citizens of this land are of right freemen; they owe no allegiance to any class and should recognize no task-masters. Under the chart of their liberties, under the law of high heaven, they are free and without shackles on their limbs nor mortgages upon the fruits of their brain or muscles; they bow down before no prince, potentate, or sovereign, nor kiss the royal robes of any crowned head; they render homage only to their God and should pay tribute only to their Government. Such at least is the spirit of our institutions, the character of our written national compact."

Charles Triplett O'Ferrall of Virginia - In Congress, May 1, 1888