First stop on today's set of interviews was with someone who has become an industry hero of sorts for me. The quality and thoughtfulness machined into Bill Geissele's products is only outshone by his sense of ethics and integrity. It's for these reasons that Geissele Automatics is always my first stop at SHOT.
This year, Geissele debuted their "Super Charging Handle." Ok, the name is still a work in progress, but the charging handle itself is a thing of beauty. I talked to Bill himself about the design. For inspiration, he went back to the M14/M1 Garand—a gun he fondly remembers as having a very comfortable charging handle grip. The "SCH" (as we'll call it for now) features a complex concave—like the M14 CH, it curves in two dimensions, forming somewhat of a bowl. This naturally catches your fingers or palm, unlike the rather flat, if corrugated face of the SCH's nearest competitors. The SCH will be offered in black and DDC (desert dirt color), both in type 3 anodizing. The DDC color must be hand-anodized, so it will be $10 more, but the base black SCH price will be ~$85.00. The SCH also has a high lip at the back for gas deflection, something else some of Geissele's nearest competitors lack. While this feature by itself might not completely block squirt-eye it does facilitate the application of RTV which can significantly mitigate errant gas from the charging handle port. And it looks like there's enough of surface area to try RTV if it becomes necessary.
With its ergonomics, quality, features, and Geissele branding, the SCH will become
the
high end charging handle to have when it releases later this year.
It's at this point that I spotted a product I never thought I'd see Geissele Automatics make: a single stage trigger. I've been a fan of the S3G and SD3G ever since I found them—and I always thought "this is as close to a single-stage as I'll ever get from Geissele." Well, wrong LDD. The SSP, Super Speed Precision, is Geissele Automatic's first entry into the single-stage market and it's a sweet 3.5 lbs with a reset even shorter than that on the S3/SD3G triggers. Projected price is mid-$200. And there will be both a flat bow and curved bow option once the trigger debuts, probably early Q3 of 2016. The model on the floor was a handmade prototype and they didn't let me open to gun to see what it looked like on the inside, but it felt plenty good for the outside.
So, uh, SSP + MPX? No. Bill wasn't willing to say that it would work in the MPX (I would have given him money right there for the first production SSP if he could have promised full functionality). I did speak with Bill about Geissele triggers and the MPX. He stated that there is no "engagement" difference between the SSA and S3G models relative to the MPX. Bolt velocity is the issue—and Geissele is looking at the platform, but Bill wasn't willing to say more than that in terms of development. I did report to him that my S3G was working beautifully and his caution was this: grease the trigger, particularly where the disconnector and hammer meet. While this applies to ARs, it is particularly the case on guns with high bolt velocity like the MPX (and frankly, it's a point where I've been remiss to lube in the past). When Bruce Gray talks about pistol triggers you shut up and listen. When Bill Geissele talks about AR triggers, you shut up and listen.
Knowing how Bill feels about single-stage triggers and I asked him about his finally having made one. His answer was that Geissele Automatics is responding to market demand. Bill has an articulate response for why two-stage triggers, or even roll triggers like the S3 and SD3G are preferable, but I'm absolutely certain that when the SSP makes it to market bearing the Geissele Automatics badge, it will be an excellent trigger and the top of its class. And I'll be getting one.
ALG, Geissele Automatic's sister company, had its own booth this year, across the aisle. I've been a fan of the ALG ACT since I first installed one, and I keep two to three around just in case I want to build a gun with an economical, but better-than-stock single-stage trigger. New from ALG this year is a magwell for Gen4 Glocks, and an optics bridge mount for the Trijicon RMR.
But the real show-stealer from ALG was the AKT-E for the AK platform. The AKT has been out for a while now, in fact it debuted at last year's SHOT. The ALG AKT-E is an improved AKT, but will supplement, not replace the existing AKT offering. The –E uses a "multilayer part-carbon-based-plasma coating" to increase surface hardness and lubricity. The standard AKT can already reach 3.5 lbs single-stage pull weight. The AKT-E doesn't promise a lighter weight, but does yield a smoother pull and significantly shorter reset. You can easily tell the difference between the two triggers. And while ALG did say they're keeping the AKT, if I was an AK owner, I'd wonder why? Planned retail for the AKT-E is $75, for only $26 more you can have a much smoother pull and about 50% the reset travel. Unfortunately for those AK operators out there, ALG hasn't perfected the recipe for the AKT-E's coating so there is no hard release date yet.
Next stop was SIG SAUER for a run-through of this year's new offerings with Director of Engineering Operations, Jon Brasseur. First up was the P320RX. The RX answers today's trend of adding MRDS to "combat" pistols. But unlike, say the Glock 17/19 MOS, the RX does come with tall suppressor sights.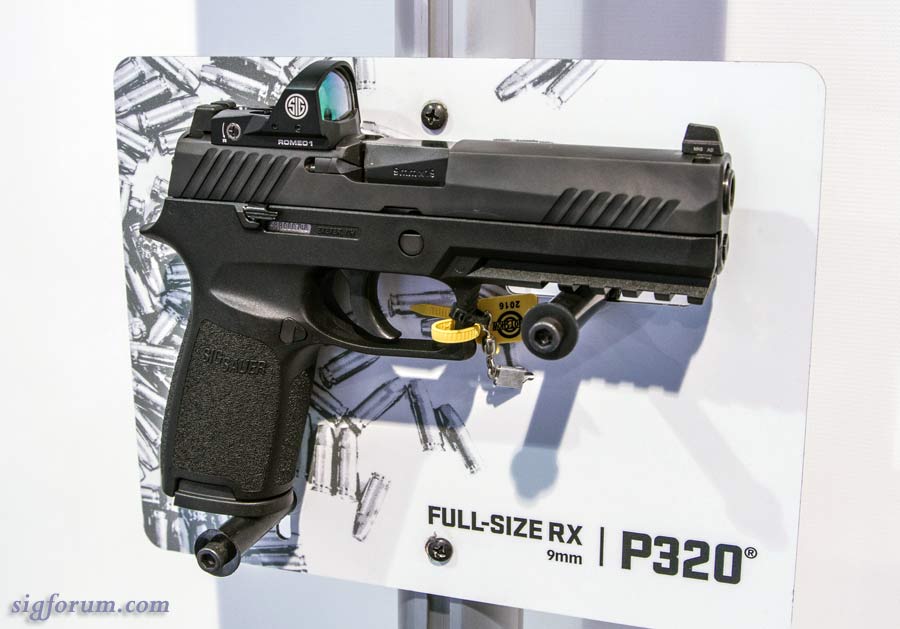 2016 will also see the introduction of the M400 Scorpion with SBX brace, ALG EMR keymod rail, and stubby narrow G10 pistol grips from Hogue in 11.5" bbl chambered in 5.56 and 9" bbl chambered in 300 BLK.
While today's interview focused mostly on pistols, the updated 716 was also in the same section so I'll speak to it here. This is the new 716 Patrol—with short keymod rail over a profiled bbl and new, skeletonized 2 position (suppressed, unsuppressed) gas block.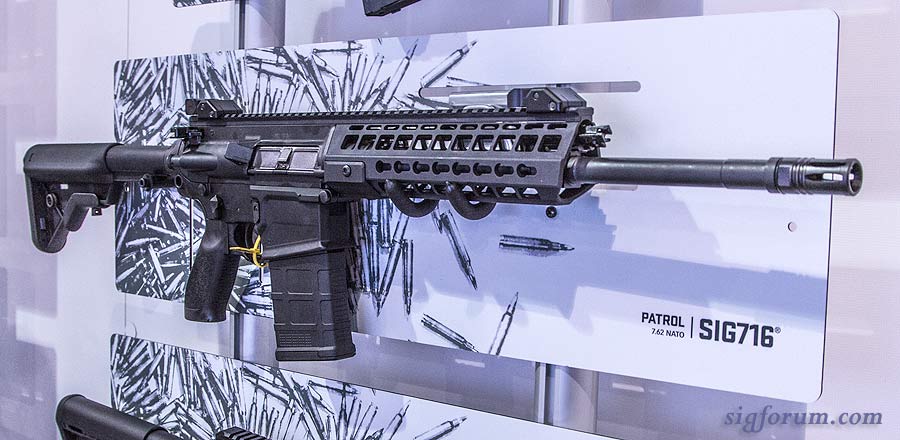 While both the upper and lower remain forged, the new 716 lowers will feature an enlarged and more radically flared magazine will to aide in magazine insertion. The new lower also changes the shape of the magazine release to that of the MCX (something that might not be as welcome to AR owners who are used to customizing/oversizing their magazine releases). The 716 P will come with a B5 SOPMOD stock.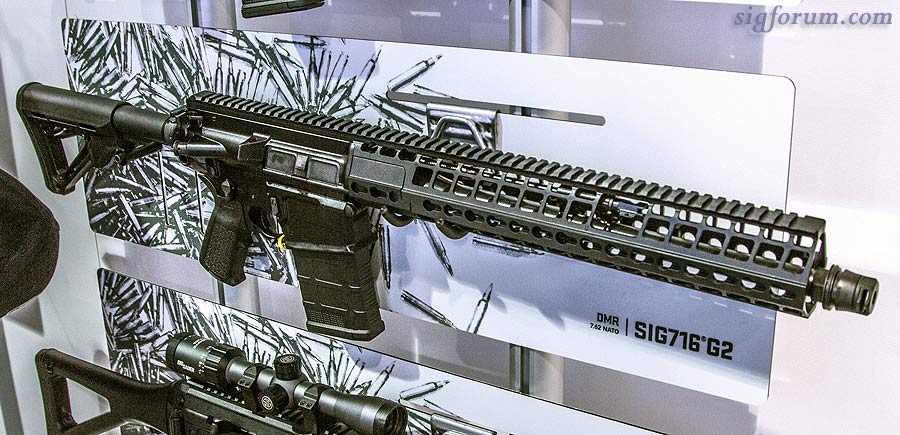 The 716 G2 in some ways takes over from the 716 DMR, only with a sub-moa 16" heavy barrel. But don't let the HBAR moniker fool you, this is a 9lb rifle—svelte for a .308. Both the new 716 Patrol and 716 G2 feature a more CASV-ish handguard that 1-piece rails over the top of the upper receiver (no more cutout on the top of the upper receiver for anti-rotation tooth). The 716 G2's handguard does feature a 20 MOA cant to it (unlike that on the P). And if you're wondering, yes, you can put the G2's full length handguard on the 716 Patrol. I asked Jon if SIG was planning to make a full-length handguard without the 20 MOA cant—he said he would if he could get an order of 5000 units or more. It's probably not going to happen in the near future, but I think a lot of folks are going to want their 716 Patrols with a longer handguard (as of yet, the option to buy a 716P with the G2's handguard doesn't exist), maybe just not one with a 20 MOA cant. The 716 G2 will also feature a CTR stock, SIG SRD fast attach muzzle base with brake fixture (interchangeable with Flash hider fixture when available), and a SIG SAUER 2 stage trigger with ~5.5lbs total weight.
Both the updated 716 Patrol and new-for-2016 716 G2 will come with ambi-charging handles as standard. But if you want to use a BCM or other aftermarket CH, you still can. Both 2016 716s will also come with stainless steel insert flush cups instead of having cups milled directly into the aluminum receiver and use a standard AR15 CAR milspec buffer tube (still uses .308 CAR buffer). Additionally, the BCGs have not changed between older 716s and 2016's offerings. Finally, the brass deflectors have changed from earlier models to be easily removed and replaced (held in by a roll pin).
The 522 line also diversifies with the addition of some polymer-receivered models. The issue was price and competitiveness. The new 522 Target features a 20" unthreaded bbl, polymer receiver, and extruded aluminum handguard. The 522 SWAT will remain as an Al framed, Al handguard offering, and the 522 Classic will retain a polymer handguard, but transition to a polymer receiver.
And now we come to the P320 Target 5" –officially anyways. Part of me really wants to call this gun the P330. The definition of a P320 is (from SIG's site):
quote:

Introducing the P320, a polymer-framed service pistol designed from the ground up with the input of law enforcement officers...Featuring a modular grip frame and removable fire control assembly pioneered by SIG SAUER, the P320 is customizable to any hand size or duty requirement...Whatever the requirement, patrol duty, competition, time at the shooting range, or concealed carry, the P320 brings SIG SAUER legendary reliability, durability, and quality to the polymer-framed, striker-fired duty pistol.
http://www.sigsauer.com/Catalo...st/pistols-p320.aspx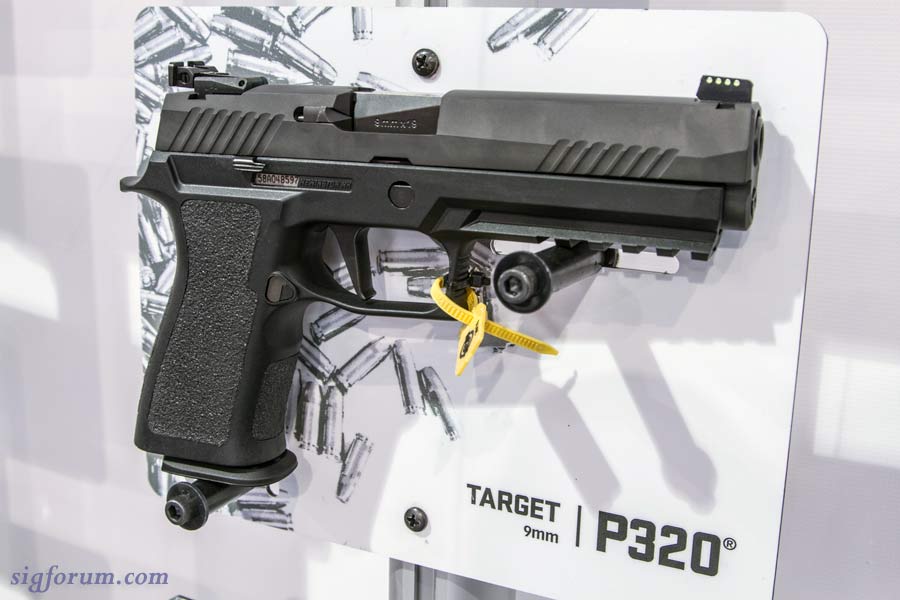 This "P320 Target" was designed from the ground up as a competition gun. It has an adjustable trigger, a longer barrel, a new and improved grip angle, and comes with various grip tape decals so the owner can customize the tactility to his or her liking. The gripframe even comes with a weight that can be removed and modified to further customize the balance of the gun.
But it also comes with a new and unique trigger group, and different sear location that is not compatible with any previous permutation of P320. The promise of the P320 system was that all the parts would interchange, you could pull this trigger group (the gun itself, in fact as it's the serialized portion) in that grip frame, etc. But the only thing on the "P320 Target" that works with other P320s is the new grip frame. It looks like a P320 on the outside, but it's hard for me to make the case that it's still a P320.
If the interchangeable FCU is the heart/soul/essence of the P320, then this gun doesn't have one.
IMO, if this "P320 Target" ships to market as-is, SIG is setting themselves up for another MPX Gen1/Gen2 situation. [As probably the most avid MPX amateur historian in the world and certified, ordained MPX-vangelist] I wouldn't call the MPX release a debacle, but even I have ot admit that consumer confusion surrounding that product's release hasn't helped SIG's brand image. "Et tu P330?"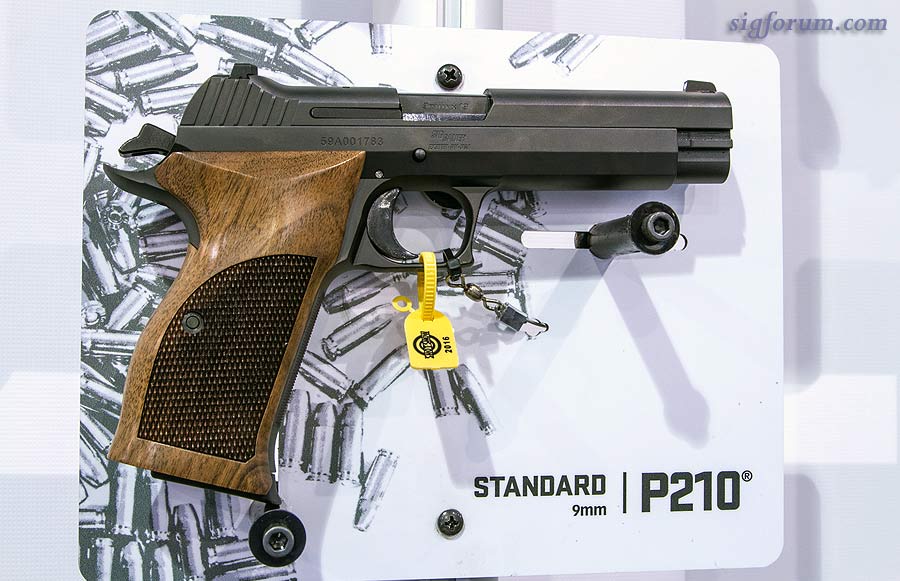 Up next, the P210 American. Jon assured me that while the gun was made to the same European specs, the final aesthetics had not be nailed down. As it is, there will be four variations, Classic (5" bbl, wooden trips, standard sights, no forward grip serrations), Target (5" bbl, competition wood grips, adjustable sights, forward cocking serrations), Super Target (6" bbl, competition wood grips, adjustable sights, forward cocking serrations), and Carry (4.4" bbl, G10 grips, standard sights, no forward cocking serrations). The bbl length figure for the Carry is correct in this article—earlier I reported a tentative figure of 4.25", but 4.4" is the correct length for the P210 Carry bbl. The magazines in the P210 American will interchange with those of European P210s, but those that ship with the P210 American will be from Mecgar so they will have a different part number.
The P210 American's bbls are cold-hammer-forged and the slides are heat treated first, then machined, thereby accounting for any warping heat treating may have had on the metal.
Next up, the Emperor Scorpion series. There was a previous 1911 Emperor Scorpion featuring a brown-ish PVD finish, this a continuation of the line.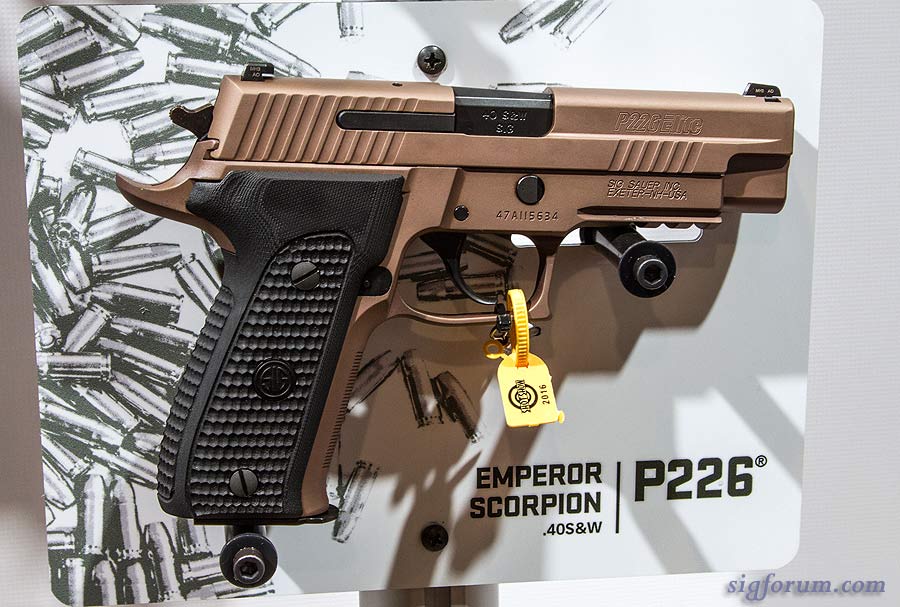 Also PVD, but perhaps more exciting (and also confusing) is the ASE series, also known as the Stainless Alloy. This is going to be confusing for a lot people, but "Stainless" is not an adjective for "Alloy" in this case. Instead of thinking of it as "Stainless Alloy" it might be better to understand it as "Stainless/Alloy."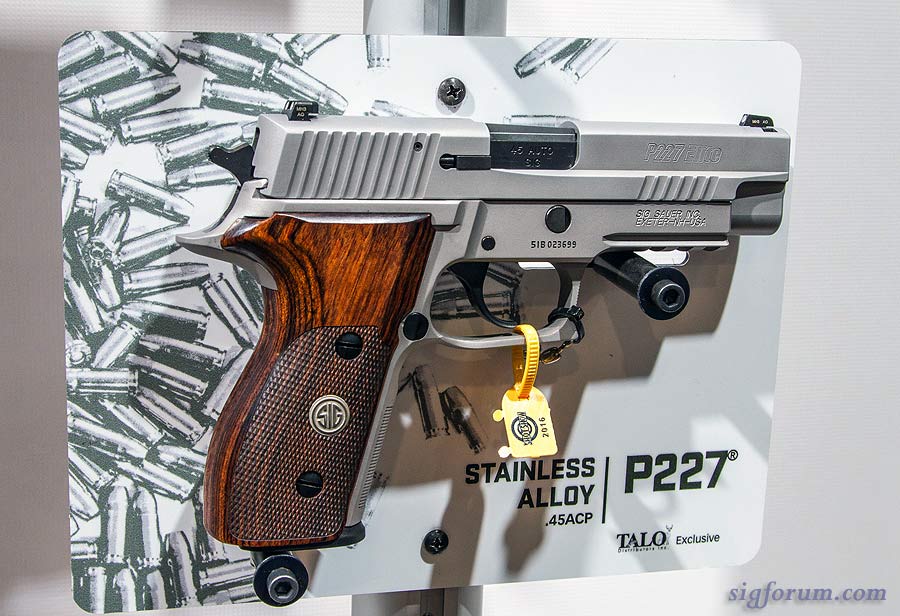 These guns feature a stainless slide on top of an anodized aluminum frame. Both parts are finished in a faux-stainless PVD to give the appearance of a completely stainless gun while maintaining the weight and price of a stainless-slide-aluminum-framed gun. SIG plans to fill the series out with a 238, 226, 227, 220, 229, and probably 225A, but no 239. They not currently offering the PVD treatment as a refinish option for alloy frames.
SIG also had on display various P225As including a two-tone version, one with G10 grips, one with wood grips, and this P225A1 with threaded bbl.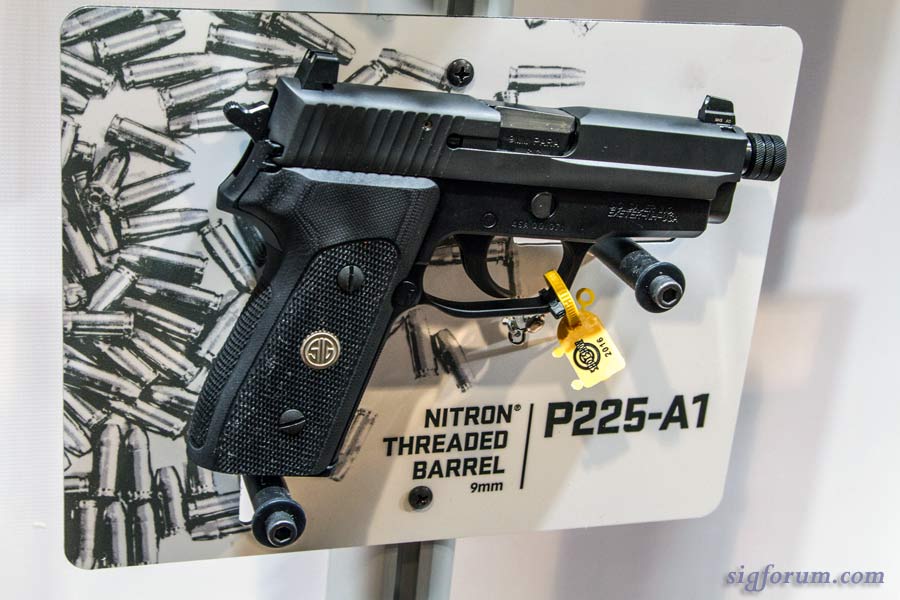 I did have some more questions related to pistols, but ran out of time, and have an appointment to be back in the booth first thing tomorrow.
Ruger was my next stop. Frankly I've never been interested in a single Ruger centerfire semi-auto, until now. The aesthetics of their older guns were horrible, and ergonomics not much better (slide-mounted safety?). The Beretta 92, with its sleek lines and graceful curves
might
have been inspired by an African Big Cat, the Glock
might
have been inspired by a square, yet functional sledge hammer…Ruger's P-series? Sperm Whale. No doubt in my mind. Somebody at Ruger saw Moby Dick and said: "You know what this world really needs? A pistol that looks like a whale, and we're the ones to make it happen!"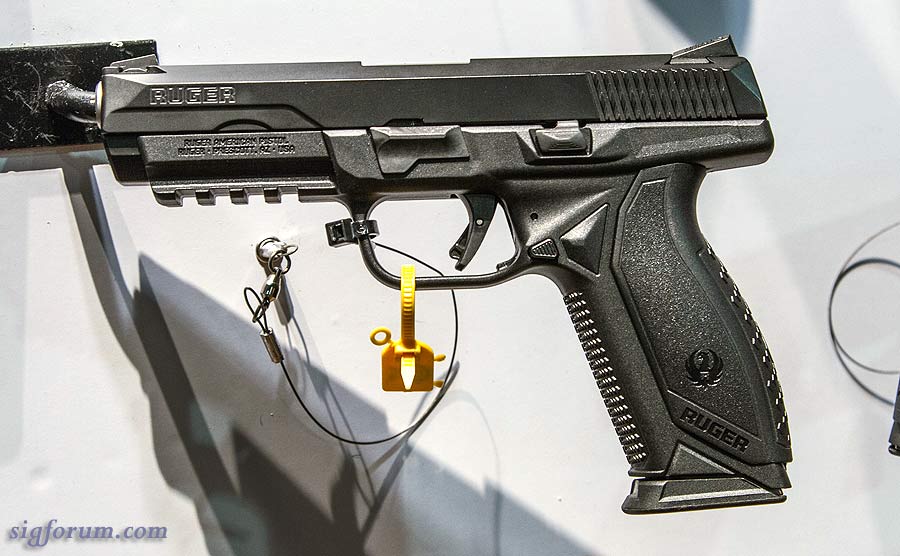 Ruger's SR/AR series rifles, along with their Ruger Precision guns really show how far the company has come. The American Pistol follows in that trend. It's a starting point, but one that makes sense market-wise.
Engineering wise? Well, smarter people will have to make the call on that one. Ruger's Chief Pistol Engineer Joe Zajk attempted to explain to my pea brain how the camming function of the American Pistol slows down slide velocity and also absorbs that initial recoil impulse that comes from the downward unlocking of the barrel. More educated minds will have to judge from the photos.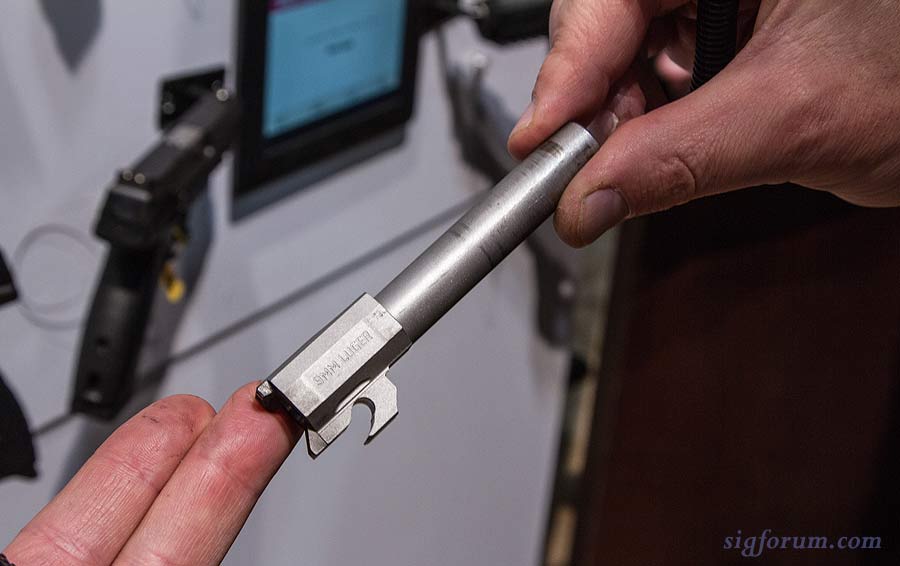 The Ruger American features a 5.5lb standard trigger (with a Glock-like finger safety). The bbl is investment caste (still), and the magazine is unique to the gun (following the grip' 20 degree angle, i.e. can't use mags from previous models in the American). Also unique to the gun: an over-travel stop molded into the frame (I do wonder if this will be an issue for potential after-market trigger plans). I did find the magazine release oddly small. This is in opposition to the trend that seems to be toward increasing the size of the magazine release (e.g. Glock Gen4 vs Glock Gen3). The gun will be initially offered in 9mm and .45 at ~$579.
Glock. Well no R. Lee Ermey this time. Sometimes I'm not sure Glock even tries anymore. Their booth is the same every year, black and grey, bland as hospital food. But then, do they really need to do anything special to sell guns? Glock has found a way to market mundane, and boring has never been more lucrative than the Austrian Brick.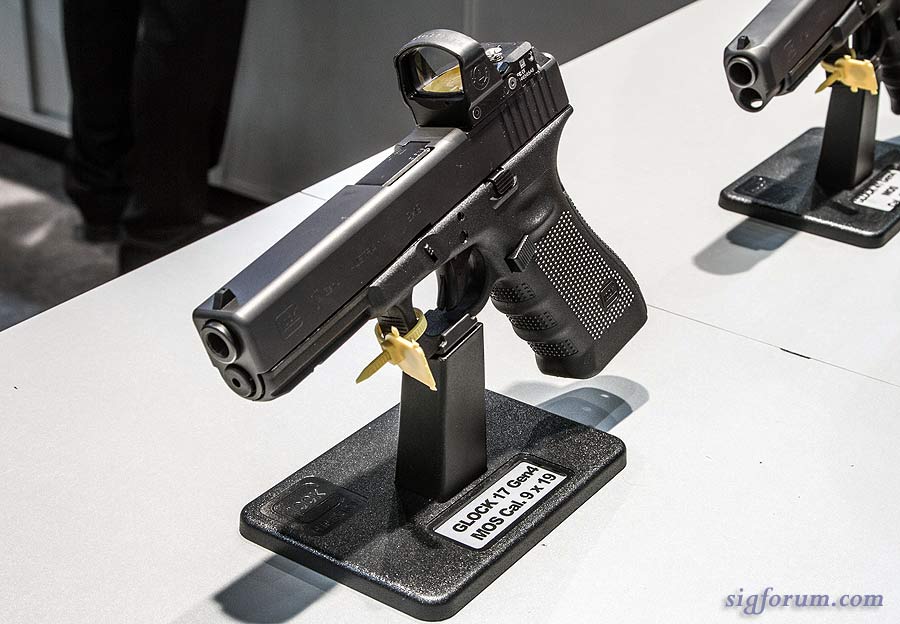 New this year, the Glock 17 and Glock 19 MOS—optics ready platforms. I asked Public Relations and Communications Manager Kie Wagner, "why not the subcompacts which would most benefit from MRDS since they have the shortest sight radius to begin with?" The answer was that Glock is implementing the addition of MOS models based on their most popular offerings. So the more popular the standard model is, the more likely it will get the MOS makeover. The only other addition was an in-line change to the Glock 36 with the addition of a rail on the dustcover. I did ask Kie why the MOS models didn't come with suppressor sights like FN, SIG and S&W does with their optics-ready guns. Her answer was that Glock does sell tall night sights that can be used with suppressors.
Glock is notoriously tight lipped about future projects and my experience today was no exception. If there is something neat-o going on a Glock this year, no one at the booth is talking about it.
Magpul had their typical booth up as well as what appeared to be a soft goods (hats, shirts) display behind the normal tactical stuff. The soft goods area had a vintage feel to it. I know they're good at cashing in on their brand, but it seemed out of place when juxtaposed with their other offerings.
Magpul is upping producting of their D60 drums to meet demand. The engineer I talked to wouldn't speculate on a 75 or 100 round drum, or drums in different calibers. Seems like either .308 or 7.62x39 would be next, but there are plenty of cheap AK drums out there already. He did hint at a magazine pouch that had a lanyard for the dust cover (the magazine would be inserted tower-down so pulling the magazine would strip the dust cover off). Magpul is also releasing AK74 magazines in Q3, as well as 9mm extended Glock magazines (21 round and 27 round). These Glock magazines were intended for competition guns which needed to fit in boxes (size limitations when inserted). Normally this role is filled with add-on modules—the Magpul extended Glock magazines do away with this necessity.
Magpul is also updating the venerable PRS to gen 3 and UBR to gen 2. The new PRS3 will have greater length of pull by 3/8", a larger buttpad that can be "strafed" left and right, shifted up and down, and also canted. Most welcome will be the sling loop with built in QD—something the PRS has needed for some time. Interestingly enough, the new PRS3 will be able to accept tubes other than the fixed stock tube, including Vltor's A5.
The UBR2 will be lighter, less expensive, and feature a QD mount built into the included endplate—so users will no longer have to choose which side to mount their QD flush cup.
Rounding out Magpul's stock additions will be the SLS, which takes the current SL stock and adds cheek compartment storage, a la, the STR and ACS stocks.
I had a brief discussion with Guy Tal at Maglula about a LULA style MPX magazine loader. He said he was interested in making one, but needed measurements for the latest generation of MPX magazines. I'm hoping someone at SIG will let me borrow a magazine and take it over to him—can't see how this would hurt either company—it'd definitely be appreciated on the consumer side.
An interesting side note, I spoke with Alexandria Maltezo at Styer, who hinted at a Steyr-manufactured AR. There was none on display. I guess the whole world is making them now.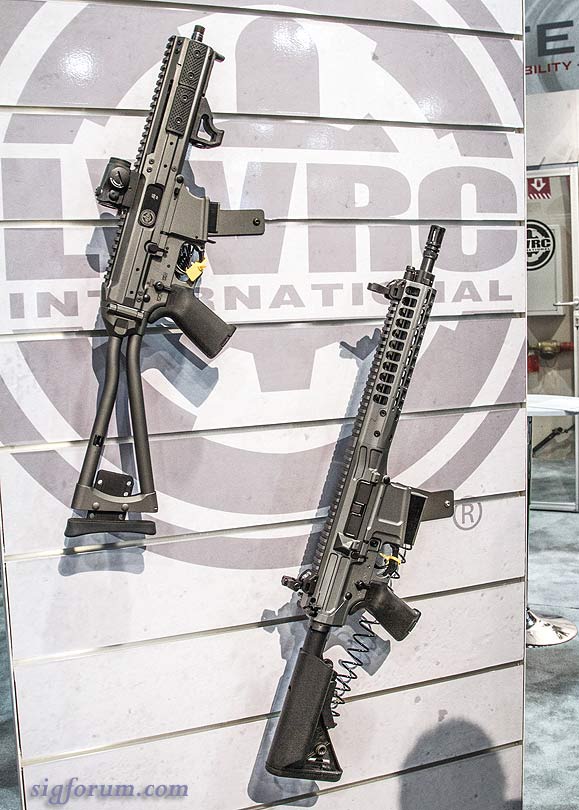 LWRC had one new product this year: the CSASS, which is a shorter lighter version of their REPR. It also features a 20 position gas block (philosophically similar to the FAL—a setting for any condition). I asked if the changes to the lower would be in-line applied to upcoming REPR production and Joe Devens (Special Projects Manager) said no. Also the CSASS (12", 16", 18" bbls) will not have the side-charging-handle functionality that the REPR currently has.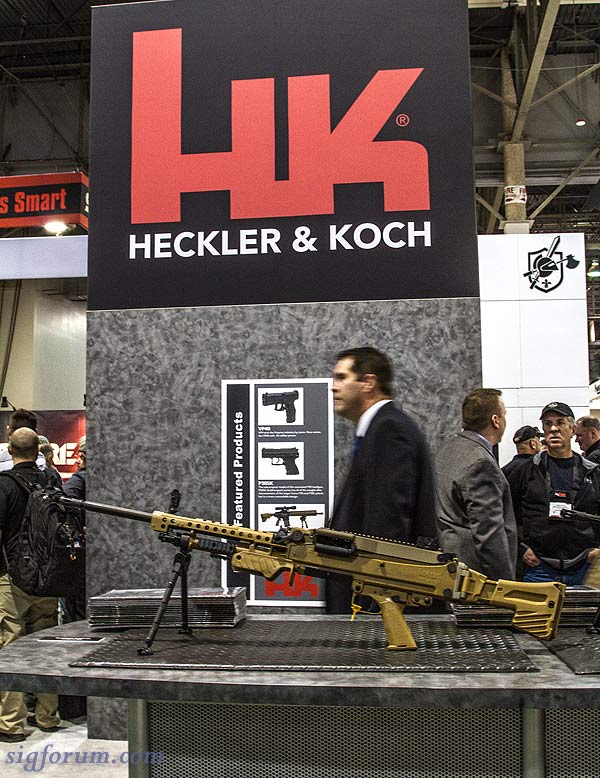 Didn't see anything new from HK except 2016 calendars. Pass.
Finally, I made my way back to SIG's booth where I found Lena Miculek setting up for an autograph session. I was able to ask her a few questions beginning with a response to the challenge that at her level the gun no longer matters. She stated that as someone who does shoot for a living, that the gun definitely does matter and that as part of her factory tour, she picked up an off-the-line 320 dry fired it and knew she'd be comfortable taking it into competition as-is. "For three-gun, it's perfect." She stated that she would continue shooting Mossberg shotguns, but would transition to SIG products for the other three categories. As much as I would have like to conduct a full LDD interview, there was a line forming and Max Michel started looking jealous

.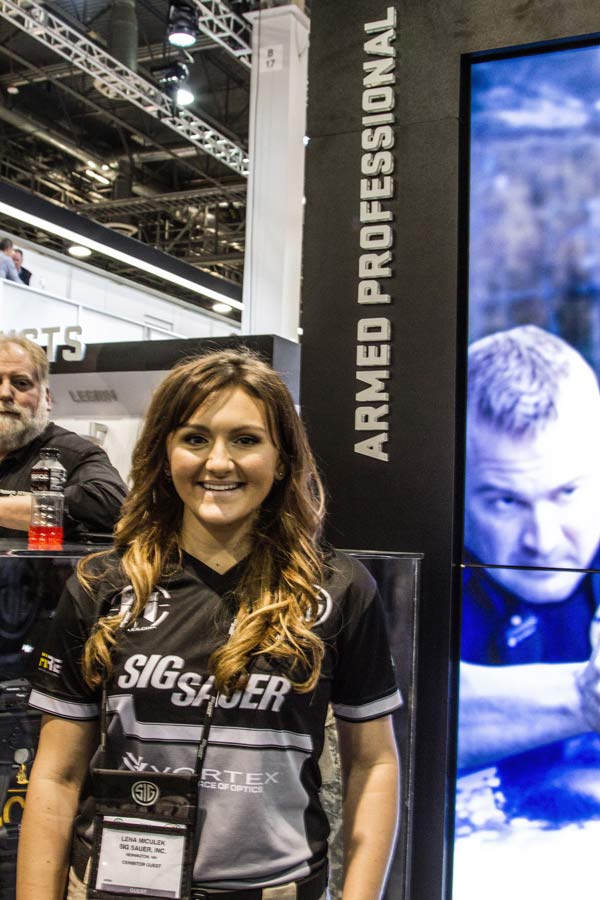 I grabbed an autographed poster for karmaing and skeedaddled to the press room to start writing. Day started out at 7AM and signing off at 9PM. Feel like I needed to get more info, but still have two more days. Off to dinner now, and planning questions for my (short) interview with Ron Cohen tomorrow. Until tomorrow's article, good reading and safe shooting!