SIGforum
Another Sig 225 beauty
October 23, 2020, 12:50 PM
Kobren
Another Sig 225 beauty
Re the P-225 Morini wood grips did they come with different screws and washers than the stock plastic grips? Looking at the Morini grips the standard plastic screws sit lower in the holes. With the original plastic grips the screw heads are flush with the top of the hole.
October 23, 2020, 03:26 PM
Gambit
A beauty! I'm a fan.


________________________
"Red hair and black leather, my favorite color scheme"
November 02, 2020, 06:55 PM
Tower_Rat
That is a beautiful example of an awesome pistol. Enjoy it and shoot the snot out of it. Love my P225!
November 16, 2020, 09:17 PM
gocatgo
quote:

Originally posted by Dakor:
Damn - nice score! She's a beauty. Too bad BDavis isn't producing his fabulous baseplates any more.
But he is. I ordered some from him about a month ago.


-------------------
"Oh bother", said Pooh, as he chambered his last round.
November 16, 2020, 09:31 PM
Dakor
Awesome! Thanks for heads-up... I'll contact him tomorrow to see if I can purchase 3-4 more P225 mag baseplates.
January 06, 2021, 10:45 AM
tschiemer
There are very nice surplus holsters and mag carriers as well. A local person on a hunting board sold me these.
I got the holster for about $22 and the mag carrier for $5 when considering adding $10 I suggested for priority mail shipping.
https://photos.app.goo.gl/h7rrghsrgYmFjvZF6
January 07, 2021, 04:27 AM
OttoSig
This is good to know, ive only been able to located a few. Ill order a dozen or so tomorrow as well.
---


14 years to retirement! Just waiting!

January 08, 2021, 06:01 PM

got2hav1

I'm a fan to. Mine is a Herndon example. Added some nice Nills grips.


JEREMIAH 33:3
January 10, 2021, 05:00 PM
GT-40DOC
quote:

Originally posted by Pizza Bob:

A number of years ago I started corresponding with a gripmaker from one of the Eastern European countries. His name was Peter Foldynova. I supplied him with OE grips on which he could base his design. In turn I'd get a set of those grips gratis. Here is a set he made for the/my P225...

Adios,

Pizza Bob
I have two pairs of Peter's 225 grips......love um!! I also purchased two pairs of his BHP grips.
January 12, 2021, 11:54 AM
sjtill
Dang! Now I'm thinking some walnut grips would be just the thang for my 225. I don't shoot it as much as I should. But then I don't shoot as much as I should anyway.
BTW tschiemer—your link gives me a 404. I wanted to see that beauty.


_________________________
"We seem to be getting closer and closer to a situation where nobody is responsible for what they did but we are all responsible for what somebody else did."--Thomas Sowell
January 12, 2021, 12:08 PM
tschiemer
Link fixed.
January 13, 2021, 05:40 PM
Pickle Rick
Beauty for sure.


______________________________
" Formally known as GotDogs "
January 13, 2021, 11:10 PM
toxophilus84
Something about these P225s that's just downright attractive, managed to buy mine from a former State Trooper here on this forum many years ago; factory two-tone...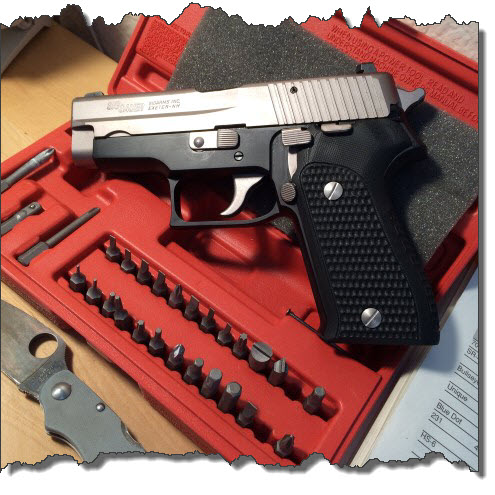 the handle?... it's Latin for "Lover of the Bow".