Since the '80s I have owned a few of the Swiss 210s. They are of superlative quality IMHO. The only gripe I've ever had with the Swiss guns is a personal one. The hammers bite me badly, and the heel type magazine release has always been less than desirable to me.
I resisted buying a German Legend 210 because I thought they would be a big disappointment compared to the Swiss guns. Turns out a couple of changes to the German 210s have made them a favorite of mine, the beavertail and side button type magazine release. I'm a long time 1911 and Hi Power guy, so the new magazine release is natural to me. The beavertail back strap redesign has reduced my hammer bite blood shed to zero.
I was sure the American 210A would be a poor knock off, if not absolute trash. IMHO, few 210 purists will ever accept the 210A as being worthy of having "210" in the model designation. I can understand that position. Along with the obvious external differences, the lockwork is MIM, and some have experienced the muzzle end of the recoil spring assy. breaking off. That being said, I took a chance, and bought a 210A almost three years ago. Barrel/slide/frame fit and trigger quality is equal to the Swiss and German guns I've owned. I'm just guessing I have have 1500 or so rounds through mine. Trigger pull on mine was a clean ~3 1/2# as received, and has now settled down to a clean ~3 1/4#. Shooting carefully as I can from the bench with a variety of factory ammo, accuracy with my 210A is on a par with my Swiss and German versions. That being said, the best group I've shot anytime recently was with my current Swiss 210-6, a 1.4" 5-shot group at 25 yards. I couldn't do it again though. Q tested his American 210A and got groups down around one inch, but judging from the groups he posted, he is a much better shot with any of the 210s than me. I suspect some, perhaps many, of you are too.
In any case, I don't regret purchasing the American 210A, and believe they are worth the asking price.
By the way GaryBF, your 210-6 is a beauty. My first -6 had adjustable sights, and I much the prefer adjustables to the fixed sights of my current -6 and German Legend.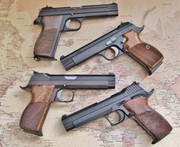 COTEP #640, NRA Life