Had a short time after work yesterday to run some different defensive ammo through this thing.
- 21 rds Speer 124 GDHP
- 25 rds Federal Classic Hi-Shok 115 JHP
- 25 rds Fiocchi 124 XTPHP
- 25 rds Rem Golden Saber 124 +P BJHP
- 25 rds Win Ranger T 124 +P JHP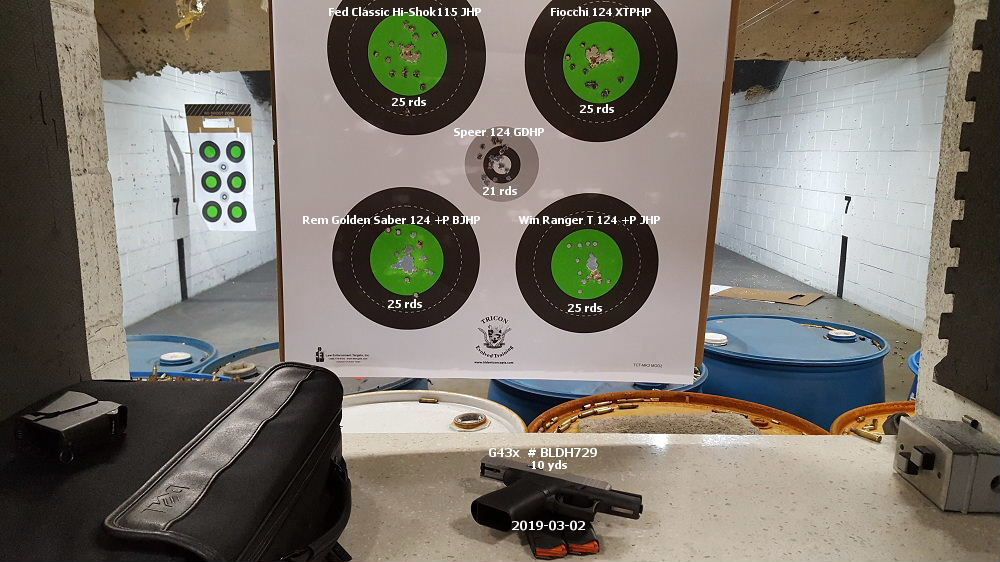 Pros:
- This little thing is surprisingly comfortable to shoot in terms of control and recoil. I was expecting it to squirm around in my hand, due to its relatively slick grip surface. But, that did not happen. Recoil is nothing, even with +P ammo.
- Trigger is noticeably improved over the older Gen Glocks, with less sponginess and cleaner break.
- Accurate enough for a little gun.
Cons:
- The serrated trigger sucks. Why Glock didn't use the smooth face trigger is a mystery to me.
- A few annoying brass to forehead. Don't know what that was about.
- Failure type 1: 1 Fiocchi round mid magazine stove piping.
- Failure type 2: 3 Winchester rounds nose diving hitting the feed ramp. All 3 rounds were the last round in the mag each.
---
Discussion/questions:
Obviously, I need to run more ammo through this thing. Just 121 rounds is not enough to say much. But still, the 4 failures concern me, especially the 3 Winchester Ranger T ones. All 3 identical failures, the last round in the mag hitting the feed ramp. What could be causing this? Weak mag spring? If that were the case, it should have happened with the other ammo, also. But, it didn't. Limp wristing? No, I made sure that wasn't the case.
Give me your thoughts. Thanks.