quote:

Originally posted by Rightwire:
We had a thread a while ago on your most disappointing firearm purchase. What was your biggest and most pleasant surprise?

Tell us about the one that you bought as a deal or just because and is turned out to be amazingly accurate, way more fun to shoot than you thought, has an amazing story behind it, is way move valuable than originally thought etc....
I actually have two. Both happen to be Smith and Wessons. However I think I will only discuss one here for the moment
That would be this engraved Model 649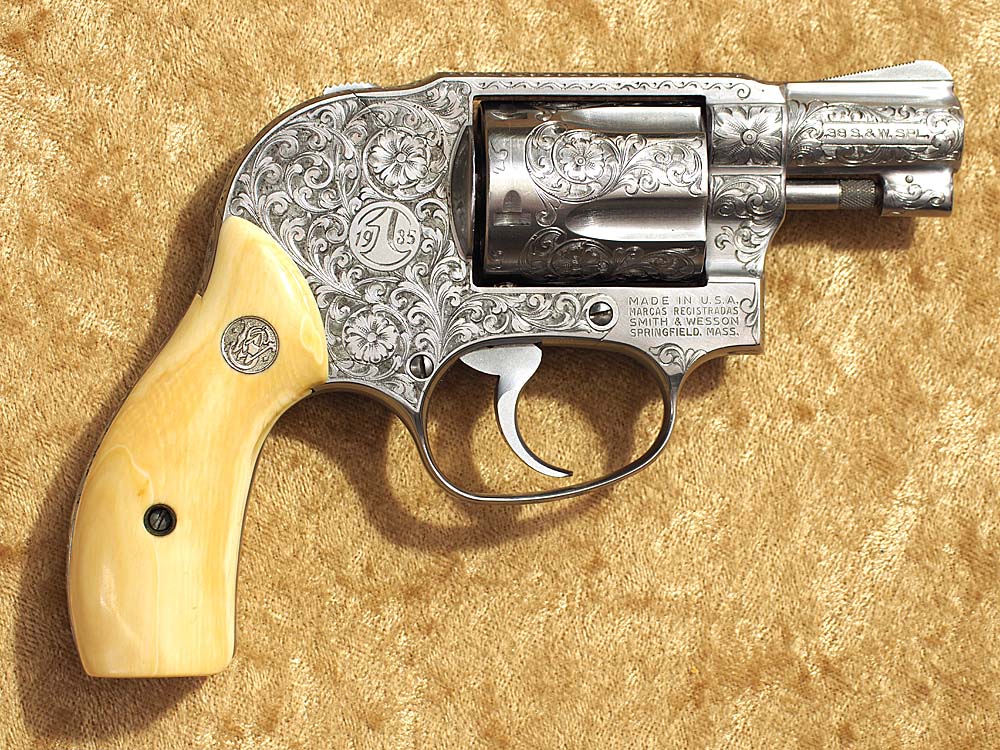 An older couple walked into a pawn shop one day. They had a Smith and Wesson Model 649 that was purchased new in 1985. After purchasing their new Model 649, it was loaded and placed in a drawer and never touched since. They are now at an age where they want to sell it since they are going into assisted living.
The pawn shop was working out a deal where everybody would be happy. While this was going on, my pawn shop buddy took some cell phone pictures and sent them to me (the shop is 300+ miles away).
The revolver was engraved when they purchased it and wearing Ivory stocks. They were told it was received that way from the factory.
The revolver only has a carbon ring around one chamber and the couple claims to have never fired it.
The couple did not bring in the box, but they believe they might still have it.
The Shop worked out a great price for me based on the engraving style and quality, after all I was basically purchasing sight unseen.
Needless to say, immediately I became the new owner of the revolver by putting a check in the mail to the Pawn Shop. I had to wait 30 days for a serial number check (FL pawn shop law) and then they shipped it down to South Florida for me.
I ran the serial number by Roy Jinks (Smith and Wesson's Historian) and learned that the revolver left the factory in April of 1985
I placed a Factory Historical Letter Request even though I did not yet have the revolver.
When I received the Factory Historical letter on this revolver. I learned some GREAT information.
The Model 649s began the AFNxxxx serial number series at 0001. This pictured 649 is the 39th one manufactured.
25 of the 43 revolvers between serial numbers AFN0016 and AFN0058 were hand selected for what the letter describes as Class "A+" engraving
The 4 digit "Spec Ord" number indicates a manufacture date of December 6th of 1984. A copy of the original Factory invoice was included with my letter. That Factory invoice showed that this revolver was shipped by itself to Ellet Brothers on April 19th of 1985, just four months after manufacture. The six digit product code is 103750
Even though the box is missing, there is no doubt that the revolver has not been fired since leaving the factory. As a Factory Engraved gun that was created to commemorate the introduction of the brand new Stainless Bodyguard the value of the firearm at an auction site is several thousand dollars more than I paid for it.
Personally I thought it was one great looker and still would have been happy if it turned out to be an aftermarket engraving job


------------------------------------------------------------------
NRA Benefactor . . . Certified Instructor . . . Certified RSO
SWCA

356TSW.com
45talk.com
RacingPlanetUSA.Com