Last week I was visiting my brother and we took my two sons to the range. My brother brought a couple of .380's for the boys to shoot and I fell in love with the P238. Man that thing just felt great in my hand and I probably shot it as well as any pistol I have ever picked up. Now I am obsessed with picking one out.
I have watched videos, read reviews and scoured gunbroker for the last week looking for the perfect one. Thought hard about 938 vs 238 and was able to handle both last night to settle that debate. I think I have settled on the 238 Legion variant with plans to convert the ambi safety to a single side safety. But I also like the nickel variant and the option of running the 6 round mags for the smallest possible footprint.
I am nearing paralysis by analysis. Anyone have any helpful thoughts that might push me one way or the other. For those that pocket carry the 238, do you lean toward the 6 round flat mags or the 7 round with pinky extension. If the 7 round wins out I think I would prefer the x-ray front site and carry melt treatment of the Legion. Of course I could get that by buying the SAS and swapping the front site but I don't particularly care for the two tone look.
I am usually a pretty decisive person so I am not sure why I am struggling with this other than the fact that Sig seems to have produced about 11 bazillion variants of this pistol, lol.
Here is a pic of our combined contribution to the days fun.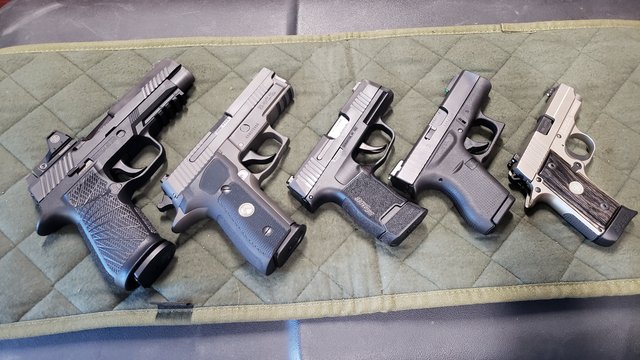 ______________________________
"I'd like to know why well-educated idiots keep apologizing for lazy and complaining people who think the world owes them a living."
― John Wayne