Shot Show Day 3
Day Three is the first day of non-targeted coverage (i.e. covering items that were not on my list prior to arriving at SHOT). Some requests from SIGFORUM members are also going to appear here. Although these requests were made by individual members, I'm going post them generally since other folks might be interested in the same answers.
First up, the
Gemtech GM45
—it's not a new suppressor, but with the arrival of 41P (now that's it's become law: 41F) and this suppressor's inherently low price, there's been some question about its compatibility with the MPX. Yes, it can be used on the MPX (there was one mounted in the booth on a Gen1 MPX) but requires the solid spacer mount, which is $65. If this is in your plans, don't forget that thread pitch on all factory MPX bbls is 13.5x1LH. As of yet, there is no three-lug mount for the GM45.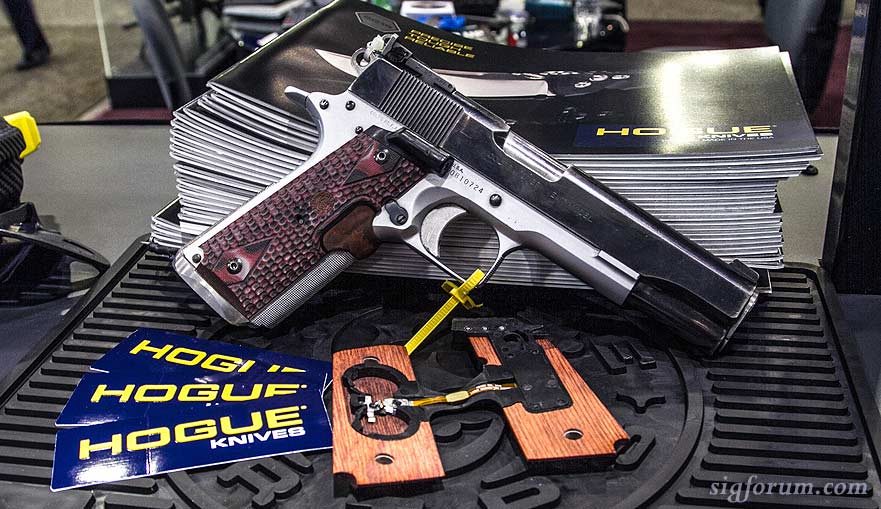 I spent a little time at the
Hogue
booth with Ken (who is an active member on this forum). He showed me their newest LE (Laser Enhanced) Composite laser grips. These are entirely Hogue-made products, but the interesting thing about this particular offering is that it's a very well thought out modular system. The grips are actually more of a chassis for the laser and battery pack. That's right, you can buy them as laser & rosewood for a full-size 1911, then switch out the grips to black Officer-length G10 and mount the same laser on your Officer-sized 1911. Additionally, the battery housing is on the left side of the grip assembly, separate from the laser itself. That means you can replace your batteries without disturbing the laser itself (no need to check or rezero after adding fresh batts). The LE Composite grips will be offered initially in 1911 format and will be available with any of Hogue's standard grip material offerings (I did comment "that's a lot of SKUs?" and the answer was "yes, it is").
My one concern with this setup was moisture leakage between the circuit boards and the batteries (the circuit boards are themselves sealed with a polymer coating). Jim Bruhns asked me to email him a week after the show and check in—he was planning on a week-long dunk test to see how the grips performed. Still need to send that email.
On
Kriss Sphynx SDP Compact
sights printing low: I spoke with Sphynx/Vector Product Specialist
Joseph Corpuz: unfortunately there are no alternative sights available for sale from Kriss. Nor are there plans for alternative sights at this point (tritium, phosphorus, or otherwise). However, Joseph did explain that the rear dovetail for the SDP is a 65 degree trapezoid. In other words, the specs are the same as a Novak dovetail, with the one exception that the SDP's dovetail is slightly taller (if you installed a Novak sight, there would be space between the bottom of the Novak and the bed of the dovetail).
I bumped into Bruce Gray on the floor and asked about the feasibility of making a sight using an existing Novak "blank" and he said it definitely needed to contact the base of the dovetail—just having the sight "float" would cause twisting or walking. When I asked who might make something that could serve as a starting point for Sphynx owners, he suggested Dawson Precision. At least you have your answer now. I would not be surprised to see some enterprising Sphynx owner machine his own sights now that the specs are known.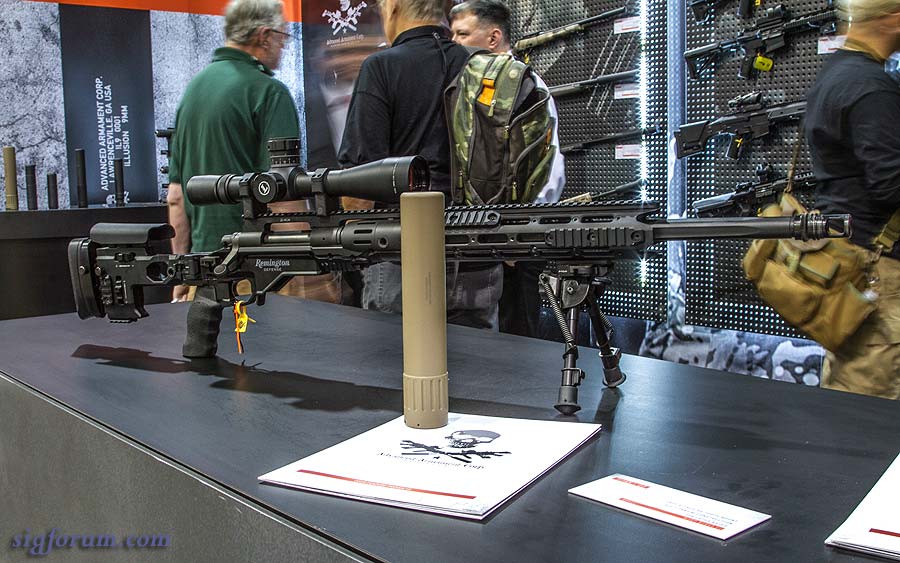 I stopped by the
AAC
booth this year to speak with Mike Smith, who is the last of the old gang from before AAC was gobbled up by Remington and moved to Alabama. As a Class III retailer I watched with great concern as supplies of one of my best-selling suppressors, the 762-SDN-6, evaporated over the course of 2015. Sometimes there's no soft way to ask the questions you really need answers to. But Mike gave an honest answer—basically the drop in AAC production was a result of the loss of AAC talent and the less-than-smooth transition between AAC's old business management system (DRA?) and Remington's SAP.
While AAC's suppressor production is now back up and all backorders should be filled shortly, if not already, their accessory backlog is likely to last a bit longer (chiefly felt among these are the 51t mounts). Mike also apologized for not being able to show me any new AAC products but said that there would be new offerings come the NRA show in May.
Remington association aside, it's good to see that AAC is getting back on its feet and I look forward to seeing what Mike has for us in May.
Walther showed off a few "new" pistols this year.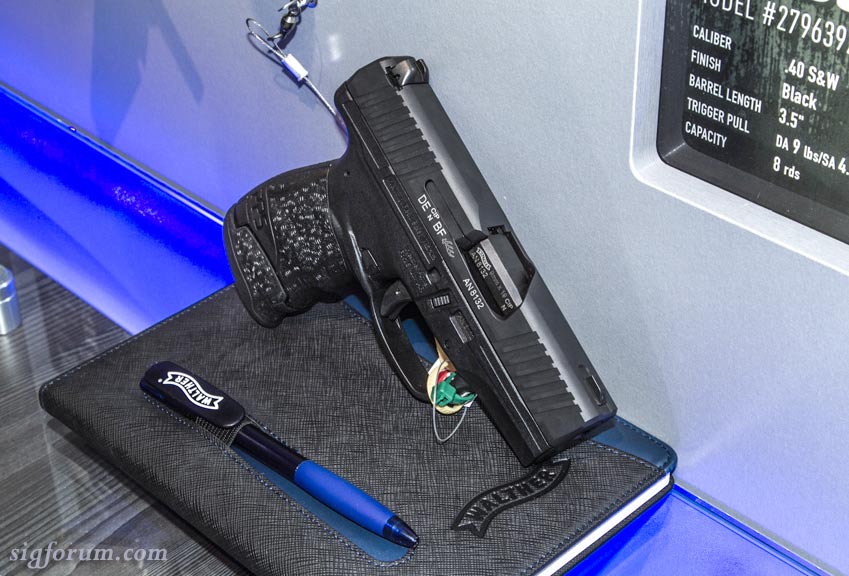 The PPS M2 hit shelves in late 2015 but is considered by Walther to be a "2016" model year pistol. The gun has already been the subject of a parody skit (look up "Firepower United" on Youtube; BTW, I met "Phuc Long" at the ALG booth and no, the real deal does not have a comically exaggerated Vietnamese accent, and yes, I did suggest he do a "Phuc Long does SHOT Show" series—looks like it worked) The PPS M2 retains the narrow grip of the original PPS, and the distinct slanted ejection port cut, but adds a 6.1lb trigger.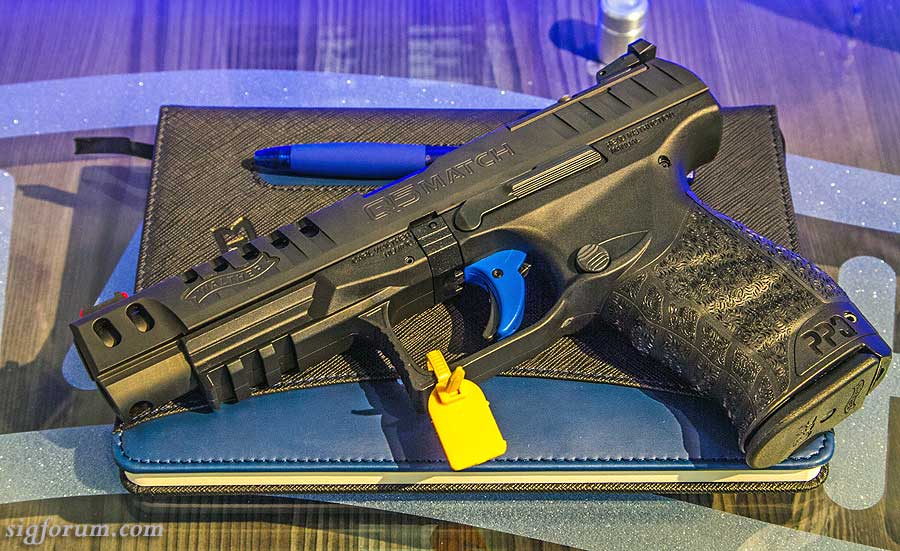 Also new for this year, but really new this time, is the PPQ Q5 Match in 9mm (5" bbl—cuts on slide are for weight reduction, bbl is not ported). This is Walther's "Practical/Tactical" entry. Its trigger is similar to that of the standard PPQ series, but large parts, including the trigger bar are treated with an anti-friction coating. And it is a very nice ~3.5lb trigger. When asked why the bar and the trigger were blue in color Dealer Support Representative Dylan Higgins responded that blue was Walther's official color. Fair enough, but I suggested to Dylan that if Walther really wants people to race with their PPQ Q5 Match, that Walther consider offering triggers in other colors.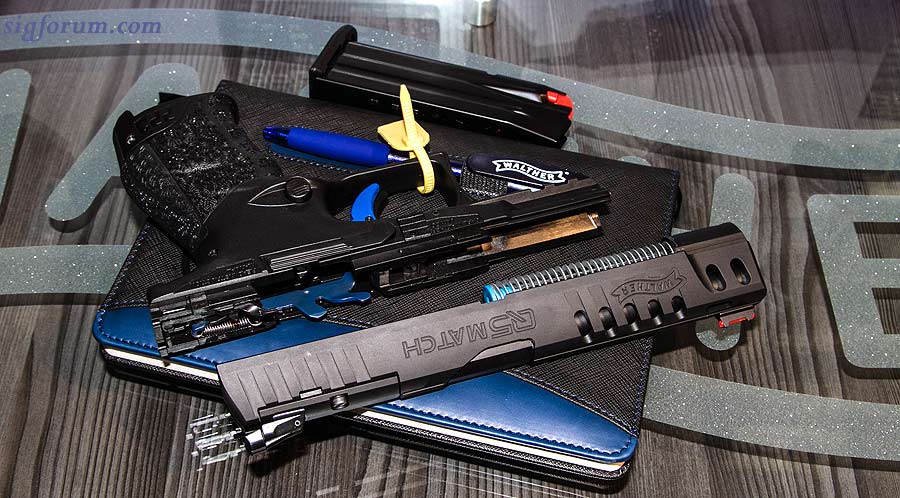 It is interesting to note that Walther chose to use a "double dovetail" rear sight scheme where the match adjustable sights dovetail into a plate that covers the MRDS-ready base. The net effect being that adding an MRDS means you have no option to keep a rear sight (like you can on the FNX tactical, Glock's MOS offerings, and SIG's RX guns).
Finally, "new" for 2016, the "gun of James Bond" is back. "But LDD, S&W has been making these for since 1999." Yes, and those years are now thankfully over. Walther has brought production of the PPK/S back in-house with all of its original Teutonic refinements. Dehorned, properly radiused, and hand-fitted, the PPK/S was always deserving of a better fate that it's received in the last ~decade-and-a-half. While James Bond may never go back to a .380, now you can, and you can do so without snagging your sleeves and shirt tails on a gouged and machine-chattered slide/frame or collecting bits of your own DNA on the sharp-edged front of your slide.
I stopped by the
Perazzi
both to look at more stuff I couldn't afford. It might not be a porcelain gun made in Germany, but it does cost more than I make in a month, actually a year, but who's counting right? From top to bottom 20 GA: $93,400, Pair of 12 GA: $98,200, 28 GA: $45,070.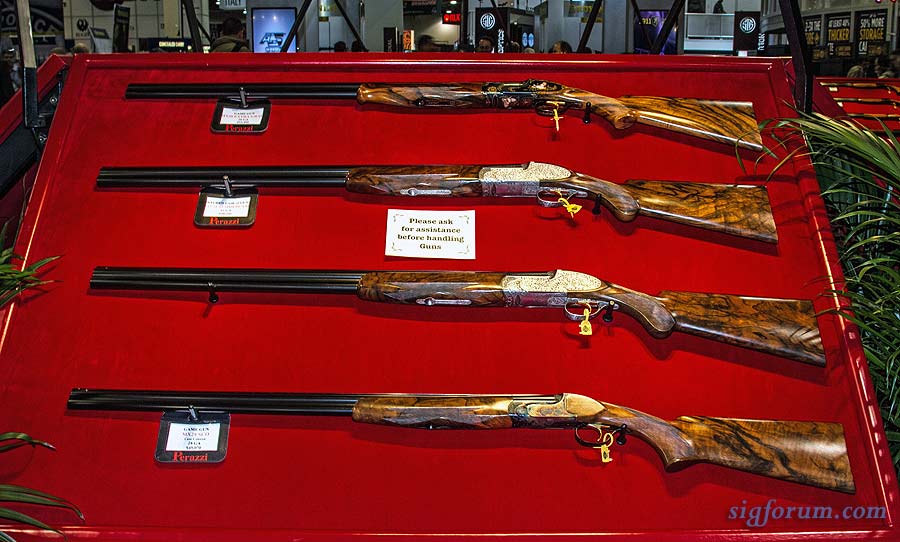 I am the world's least knowledgeable gun-writer when it comes to sporting shot guns of any kind. Still, even a knuckle-dragging provincial like me can appreciate the intricate Damascus steel engravings of a Perazzi, and the complex patina of their finishes. They're not finely crafted guns; they're art that shoots.
I stopped by the
Ruger
booth to ask about new revolvers--nothing there other than a .327 1.87" LCR. But while I was in the booth, I did speak with Jonathan Barrett, Manufacturing Engineer for Ruger's rifle business unit about the new Ruger suppressor. It's something that would never have happened under Bill and frankly, if he's doing a couple flips while six-feet-under, good. Ruger's made some commercially forward moves with the SR/AR line, their Precision Rifle (esp. in 6.5 Creedmore, which is so popular right now, it's virtually unobtainium), the newly released American pistol, and now with their entry into the suppressor market via a .22 LR+ can.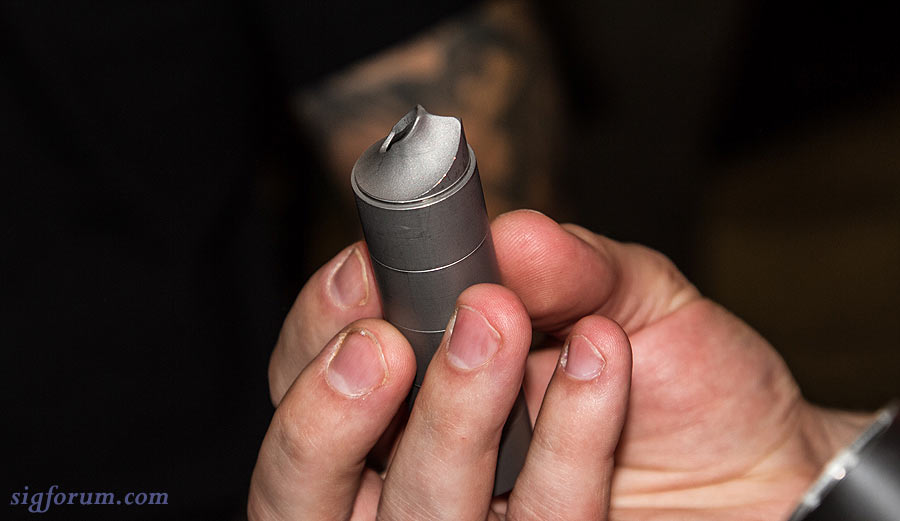 The can itself isn't anything special to look at from the outside, but the baffles are very interesting and reminded me vaguely of a conquistador helmet. The tube is made of titanium and the baffles are 174 stainless steel. They can be assembled together without regard to rotational orientation (i.e. you do not have to line up the pointy ends of the baffle stacks with each other). Total weight is 6.3 oz, with OAL just under 5.5" with an OD of 1.06", and should cost ~$400 retail.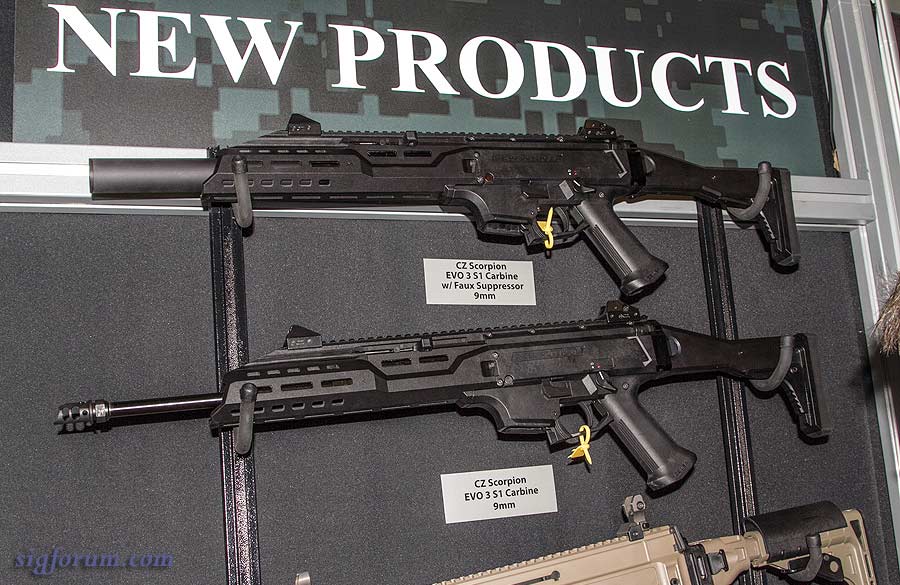 I also took a look at the
CZ
booth, at the request of a member here. New for 2016 is the Scorpion Evo 3 carbine. It will come in two configurations, 16" bbl and 16" bbl with fake suppressor ($1049 plain bbl; +$50 for fake suppressor model). The 9mm bbl is 1:7 twist, cold hammer forged, and threaded 1/2x28. The internal diameter of the carbine handguards will allow the Evo3 to accommodate a suppressor with a max OD of 1.4" (so you would be fine with most .45 cans like the Silencerco Octane 45 or AAC Ti-rant, but not a big-bore capable rifle can like the Silencerco Hybrid).
I know this gun has its downmarket appeal from the MPX, but the Evo3 did not do it for me. The trigger sucked (yes supposedly there are aftermarket alternatives), the plastic felt cheap, and the stock was wobbly. Surprisingly, it wasn't wobbly at the folding joint where I expected to find a bit of play. The knuckle was very solid; it was the pictinny rail grabber that lets this stock down. And just to be sure, I checked the feel on both rifles and that annoying wobble was there on both samples. I was assured that these were both pre-production, but IMO, it doesn't bode well. The Magpul CTR has really disabused rifle owners of the heretofore unchallenged need to put up with stock wobble. I don't think a solid-feeling folder is too much to ask for in 2016, especially if the sticker price is going to be more than than a grand for an otherwise mostly plastic gun.
CZ will also be releasing an updated Scorpion pistol in FDE (with QD at rear for slinging your pistol). There were no dates as of yet for a rifle version in FDE.
True
Kalashnikov
s have had it rough here in the US. In terms of economic un-viability, they've been lauded by the wrong crowd (rappers) and hated by all the right ones (politicians). Add their import status and, well, it's been a while since we've seen anything authentically Russian Kalashnikov. And while Kalashnikov USA might just be a trademark holder, they do seem to be putting their money where their aspirations are.
I would say that the Kalashnikov USA/CAA booth was probably one of the cleanest, sharpest looking pieces of real estate at SHOT 2016. And that wasn't just due to the Florida-based Russian spokesmodels that seemed to be ubiquitous in that space and who seemed to be more than willing to pose with most of the guns on display…mostly...
I wish I had better things to say about the AK Alfa. But without being able to handle an example (I was warned that I could take photos, but could not remove them from behind the glass display) I can't make any definitive statements. I was referred to Reese Cullinane, Regional Sales Manager for both CAA and Kalashnikov USA about the Alfa. He stated that it was "a cross between an AR and an AK." Sure, but what does that mean? My interpretation is that KUSA is trying to update the basic AK operating system with a fully modular chassis (kind of like what Troy's MCS does with the M1A). I asked about parts compatibility with legacy AKs and Reese couldn't say very much (mainly I wanted to know if the bolt, trigger, and piston system would interchange). It's pretty clear that at least the bolt carrier is new, if for no other reason than to accommodate a left-side charging handle.
The biggest problem with this "AK Alfa" is that I don't know if the "gun" I was looking at was just some sort of pre-production rapid prototype mockup or something further along the line and therefore more "real." Part of what makes me skeptical of the Alfas that I saw was that they had no QD points anywhere except at the end of the stock. This would seem like a major oversight when developing a rifle for today's "tactical" market. Until we get something more definitive, it's just eye candy.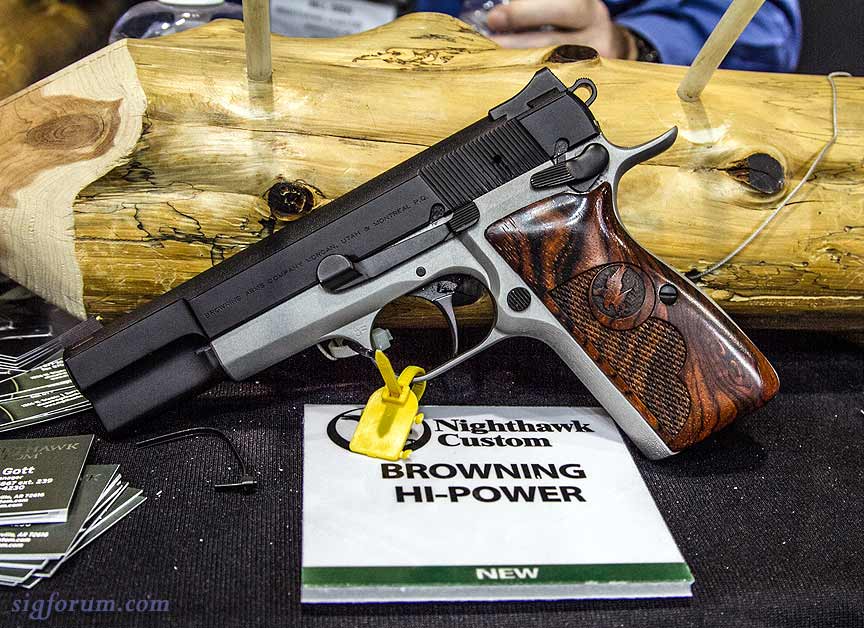 Up next, another request, this time at
Nighthawk Custom
. I spoke with Shawn Armstrong (Director of Operations) who is ½ of the team responsible for Nighthawks BHP production. This is an absolutely beautiful pistol. The attention to detail really shows with Nighthawk's dehorning and hand stippling of the slide, and frame. Factory Internal parts are stripped out and replaced by aftermarket components and worked over by Nighthawk (I asked if they can be purchased separately direct for the source and the answer was "I think so"). One thing Nighthawk kept was the factory thumb safety, which has also been dehorned. This was, in their opinion, still the best safety for the platform.
Some internal pieces in the slide have been moved about as well. The pivot point for part of the trigger mech was moved closer to the hammer to reduce over-travel. I'm not a BHP trigger expert, but one clue I can give you more educated readers is that the normal pin hole (you can see it in the middle of the slide grip serrations) in the slide is empty—this is the piece that's been moved rearward.
Nighthawk also welds and blends a beavertail to the original frame. In another nod to detail, they've sourced a hammer and worked over the beavertail so that there is no contact between the beavertail and hammer (this gun will not have hammer marring on the beavertail, no matter how many times you fire it).
Both versions come with Heinie rear sights and a solid-gold .250" bead (not gold plated) front sight that's been epoxied into the front sight housing.
There was only one rather jarring feature on this pistol and that was the transition below the beavertail between stippled and non-stippled sections of the grip.
I'm not sure what they could have done differently (maybe stipple all the way up to the underside of the beavertail?), but it definitely showed up more in the TT model. Retail will be ~$2895.
And now for territory that's a little bit more familiar for me. There's a definite trend and emphasis towards SBRs in the industry right now. And accompanying that trend is the growing variety of super-short stocks, either stubby tube-based collapsibles (like LWRC's ultra compact), or more radical MP5A3-style dual-strut sliders.
This year we're seeing a reimaging of the dual-strut slider from Troy. Troy was one of the first
manufacturers to introduce a PDW style stock for the AR in 2013. Since then, the stock has undergone several iterations with the latest version shown here, being significantly lighter and more streamlined than their first entry. The body of the stock is still plastic, but the button has migrated underneath the body assembly (as opposed to gen 1) and is now much more unambiguous in its ergonomics and position (as opposed to Gen2 which did have an underneath release button but it was small and mixed in with other hardware, gen 1 release buttons were on the right side of the assembly).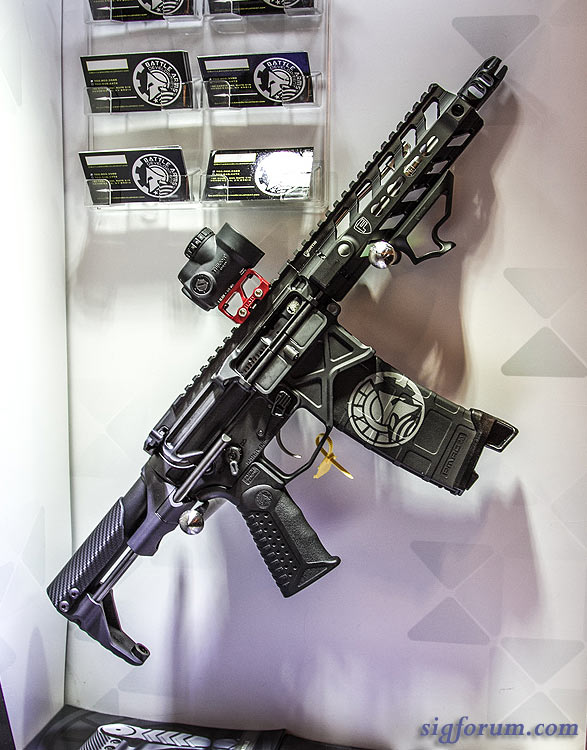 Battle Arms Development also released an AR-mountable dual-strut slider. They previously had a version that was built into their proprietary lower receiver. When comparing the BAD version with the Troy, there's some significant differences. First, Troy's PDW uses a plastic stock body, while this might have been done to save weight, it also feels somewhat cheap. BAD's stock body is aluminum. Second, BAD's stock features a kydex cheek piece is that is removable/customizable. Both feature a nearly useless QD point on the anterior of the stock toe, and releases on the bottom of the stock assembly (something SIG is thinking about adding for V 2.0 of their MPX/MCX sliders). But most interestingly, the BAD slider has ball divots for its locking points, and only has these stops on one strut—simple and efficient. Ball divots are less likely to wear loose over time or catch on clothing (no sharp edges). This single strut locking scheme also makes it easier for Battle Arms Development to release a version that only has two positions for super quick deployment. Of all the sliders (Troy and MVB, etc) that I've seen the BAD offering looks the best in terms of build quality, styling, features, simplicity and ergonomics.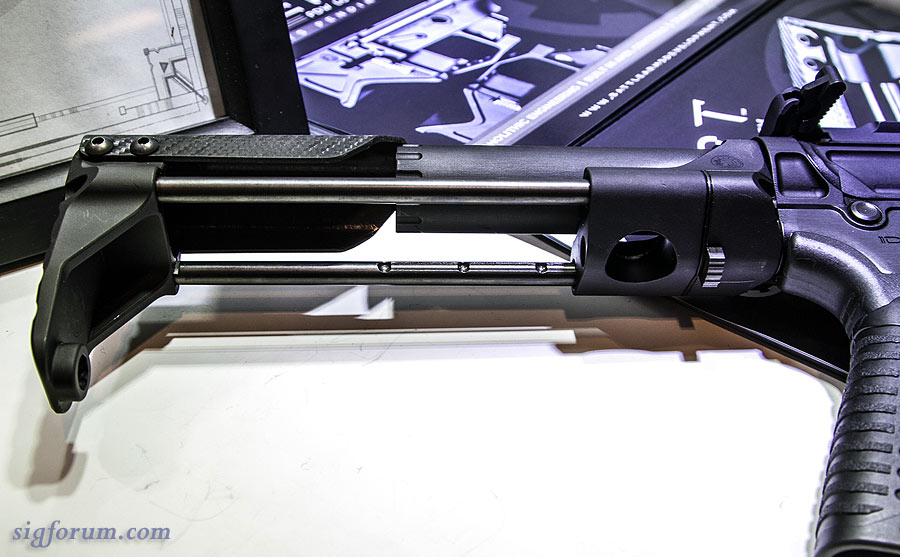 But overall, this trend toward PDW/Slider style stocks is something I'm very wary of. I think we're going to start seeing them on 14.5+" and 16" guns as well. You might laugh, but there is such a thing as an A3 stock for 18" .308 G3s—and they existed because people used them, or tried to at any rate. And this is where I think we're going to start running into issues. First, sliders have terrible cheek weld. If you thought sitting your cheek on an AR stock tube was uncomfortable, take a metal pen and mash it up in the same position, because that's about the same surface area that these struts provide. These stocks also tend to loosen over time, and are harder to lock down mechanically than a single tube arrangement (resulting in stock wobble).
But more troubling, many of these stocks, BAD offering included, have very short stock tails as measured from top to bottom. The majority of new customers that come into my shop have really bad form. They usually fit the top of the stock right in their shoulder pocket and cant their heads 90 degrees to the right or left to get a sight picture. Proper positioning would be to put the toe of the stock somewhere either one one's clavicle or in the shoulder pocket (depending on how square-on to the target you usually stand). For me, this means only the bottom 1/3-1/4 of the stock is actually in contact with my body. This lower 1/3-1/4 is precisely the part of these PDW/A3 style stocks that is missing. Which means even folks with normally good form are going to have to compromise in order to get any kind of usable shoulder contact.
With the short toe on these PDW/A3 style stocks, normal muscle memory is going to put the stock somewhere over the shoulder. It just "won't be there" when you got to shoulder the rifle. I found the only practical position to use the Troy in was a near-sternum hold. The BAD stock felt a little better in this regard, but I was still only able to catch a tiny bit of the slippery, well radiused toe of the stock. I know that may be the way you would desperation-shoot a PDW anyways, but that's not how most private individuals will use their rifles. These stocks look good on a rack, but for most people I think they're going to be a cool-looking, but uncomfortable investment with really low return on accuracy or range-time enjoyment.
This concludes my official 2016 SHOT show coverage. As I've stated, this year felt different—like the stories were choosing me rather than the other way around. I wound up chasing details and contacts, which hopefully will pay dividends via information throughout the year. As always, it's been an honor to cover the show for this forum and I hope you've enjoyed coming along with me on the floor of SHOT SHOW 2016.