Mixed results
First of all: Recoil was stout. I suppose I was lulled into complacency by the milder recoil of my Rem. R1, but this is a
much
lighter, shorter-barrelled pistol. It took me a few rounds to come to grips with it, so to say.
It took everything I fed it:


Blazer Brass, 230 gr. FMJ

Federal Champion, 230 gr. FMJ

Sellier & Bellot, 230 gr. FMJ

Remington Golden Saber, 185 gr. JHP

Hornady Critical Defense, 185 gr. JHP

Federal HydraShok Low Recoil, 165 gr. FMJ

Winchester Silvertip, 185 gr. JHP

Speer Gold Dot, 185 gr. JHP

I had
one
(1) instance of the slide locking back on a nearly full mag. I think that was with the Federal or Winchester, after the first round. I sling-shot the slide, or hit the slide release--I recall not which, and carried on. Everything else fed and cycled flawlessly.
It shot to the right for me. But I was able to group with it.
This is 49 rounds, when I was function-testing ammo. ±25 feet.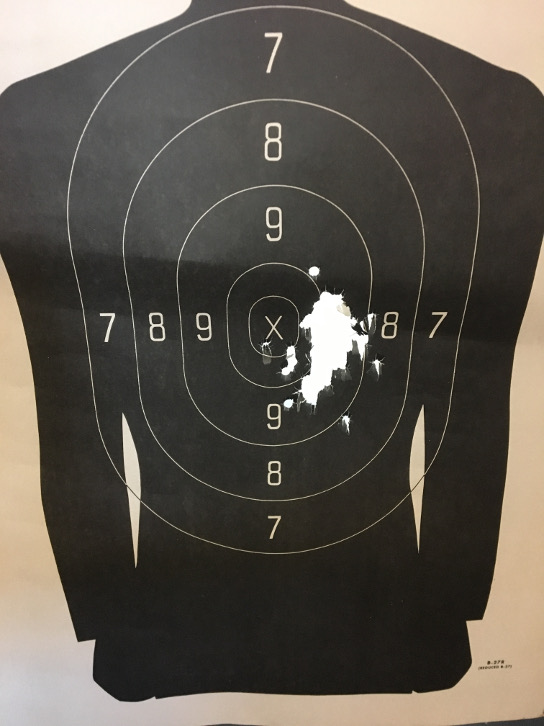 These are 4" diameter circles. ±25 feet, again. Five rounds/target.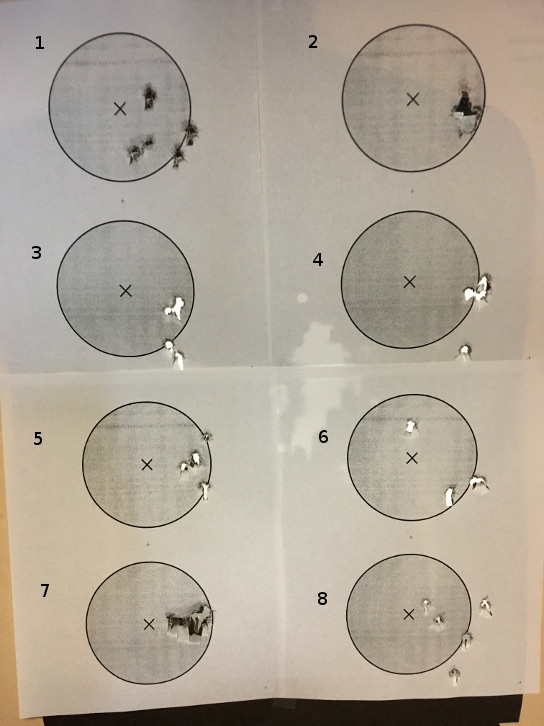 You can see from targets #2, #4 and $7 that the pistol
can
shoot if the shooter does his or her job. (On #4 I knew that'd be a flyer when I pulled the trigger.)
I don't even want to talk about #6 & #8

I was definitely
not
at the top of my game. My sight picture was more than a little blurry. I don't know whether it was a bad day for my eyes, the light coming in through the windows behind the firing line coupled with a dimly-lit range, or both. And I was pushing it when I shouldn't have--sometimes firing even though I was getting the shakes. So I expect that on a different day I can do better.
The pistol is currently with the LGS from which I purchased it, for their smith to correct its shooting 2" to the right at 25'. I should have it back early-to-mid next week.
All-in-all I think this little 1911 will make a fine carry pistol.
---

"America is at that awkward stage. It's too late to work within the system,,,, but too early to shoot the bastards." -- Claire Wolfe
The dominant media is no more "mainstream" than leftists are liberals.