Originally posted by cslinger:
I posted this over at TFL as well but you guys are also such a wealth an variety of knowledge generally so I am going to ask this here as well.
I have a few Smith K/L frames that I need some grip recommendations on.
CrimsonTrace on all my S&W shooters including a few 67 no dash. Best feel with or without using laser. Also on all my SIG shooters.
I have the following.
-17-4 (probably a mid to late 70s gun) .22
-66-3 (probably a mid 80s gun maybe) .357
-586 no dash (probably an early-mid 80s gun I guess) .357
All are square butt grip frames. All came stock with what I would describe as the standard smith and Wesson coke bottle/target grips shown below. I know there are a bazillion tiny nuances to Smith grips over the years and frankly I am not that knowledgeable in this area.
edited to add actual picture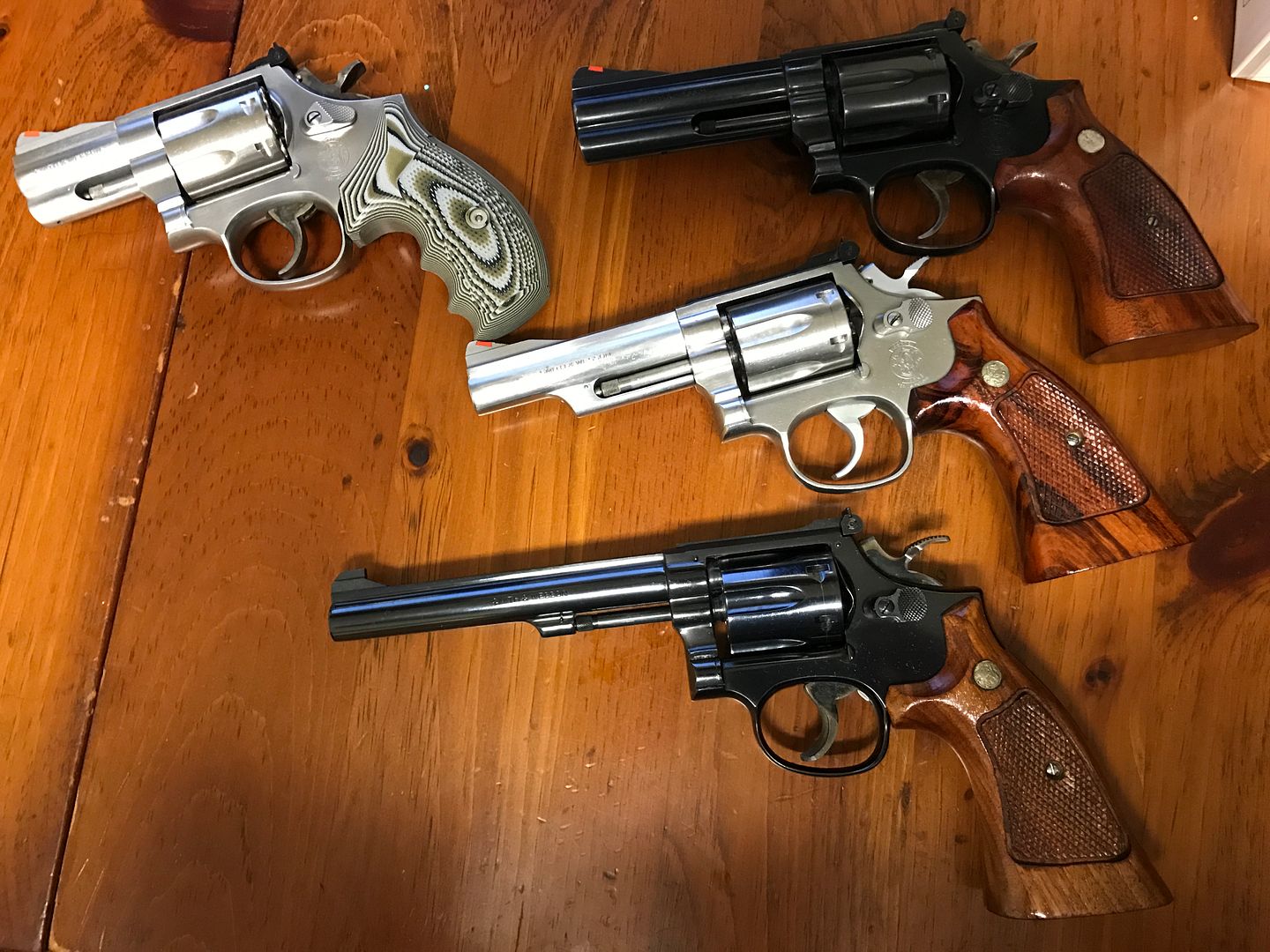 These are bit large for my girly hands and I am looking for something to mix things up a bit this year. I LOVE the looks of all of these but want to put some grips on that will get me to take them shooting more often.
So my question is for smaller hands what should I be looking for.
Currently I really like the VZ Grips Square butts but don't know if they are any smaller in the hand. I just put a set of round butt VZ's on a 686 and they are pretty darn awesome.
I also very much like the Ahrends Tactical square butt finger groove design and aesthetically they are gorgeous.
For those in the know are these a smaller/more shapely foot print then the stock Smith grips? The stock grips WILL NOT BE SOLD(I mean I'm not some kind of heretic or heathen.

) as they just look sooooo right on these old Smiths but I feel like mixing it up a bit with some new options.
As always thank you for any knowledge you would be willing to share.