I own both the DA only P290 & the striker fired P365. Either will do for pocket carry (if you have well reinforced, holster lined pockets) but are bit on the bulky side in my view.
Given a choice between the two, I'd go with a P365 over the P290 for it's outstanding sights, better trigger, greater capacity, superb reliability and lighter weight (17.8 vs. 20 oz's). The 365 is 1/10" to 1/3" bigger in most dimensions, but again it's lighter by over 2 oz., and is just so outstanding in its attributes that I'd gladly adjust my wardrobe to accomodate it.
That said, I'll also admit that as a rule, I seldom pocket carry, choosing instead to employ a slim OWB holster at the 4 o'clock position, for either gun.
I do own a S&W Bodyguard 380 for situations where I absolutely cannot carry in the OWB. It slips into a front jeans or rear pocket easily, but is severely compromised by caliber, poor sights, and miniscule size. It's better than a rock, but not by much.
Believe me, the P365 handles and shoots like a much bigger gun but conceals like a micro. It's head and shoulders better than the P290. YMMv Rod
The pic below shows a typical 10 yd, 10 shot P365 group and the gun's relative size. Rod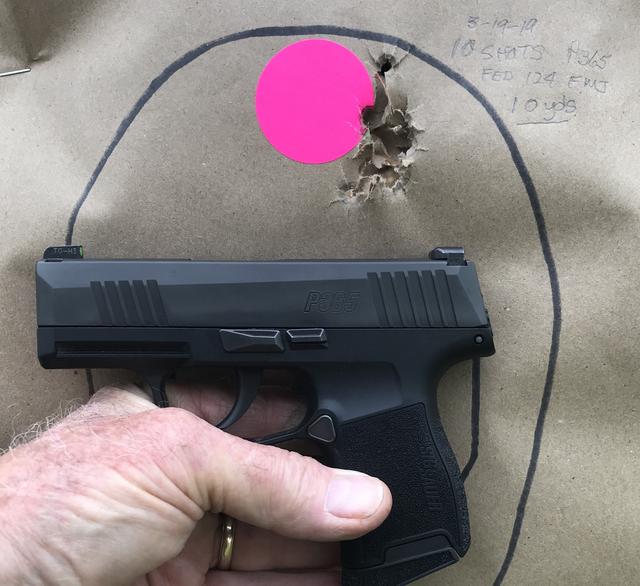 5th Spl Forces, Air Force Bird Dog FAC, lll Corps RVN 69-70.... We enjoy the Bill of Rights through and by the sacrifice of our veterans;
Politicians, Preachers, Educators, Journalists and Community Organizers are beneficiaries, not defenders of our freedoms.