SIG's Media Day at the range began today, in the low forties under partly cloudy conditions, but ended under a beautiful blue sky against the backdrop of Gass Peak. While the facility itself was familiar, either SIG or the range itself made some changes which created bottlenecks in terms of getting through all the available bays. Last year each bench could accept a single shooter and with two to four benches per bay, this meant it was a lot easier to get the story and scoot to the next set of guns in 2015. Not so this year and it meant I had to pick and choose which stories to hit—but what I didn't get to, I'll follow up on tomorrow.
One of the benefits of Range Day is that you can grab key personnel from SIG at speak to them without a prior appointment, which is sometimes the case on the SHOT show floor.
First stop was SIG's new Electro Optics division. Electro-Optics, based in Tualatin Oregon began releasing products earlier this year, with their Whiskey (Hunting), Bravo and Romeo (RDS) lines, but many of the higher-end Tango (Precision/Military) optics haven't made it to market yet. This particular sight is the Romeo 4.
"So, how is this not an Aimpoint?" Well, to begin with it's about $250 cheaper. It comes with a removable kill-flash and flip-up lens caps. The honeycomb device is not obligatory and the lens caps can be attached without the kill-flash in place (screw on/screw off attachment). They also feature the innovative Motac system, automatically powers up when the scope senses movement (can be over-ridden by shutting the entire unit off manually). Finally, it has a selectable reticle: single 2 MOA dot (like the Aimpoint) or 65MOA-circle-dot, like the Eotech. Additionally, the Romeo 4 has raised lugs around the adjustment points to protect the caps which cover your windage and elevation screws.
The mount you're seeing here is the absolute co-witness for AR-height sights, which probably means lower 1/3 for the shorter MPX sights in this context.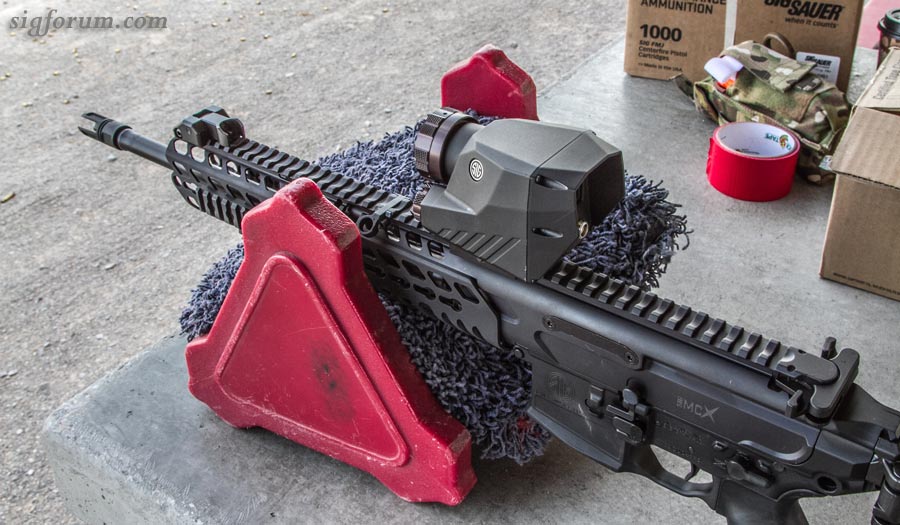 But the Romeo isn't really why I waited 30 minutes in line at SIG E-O's bay. What's next is the SIG Echo-1 and to me it's the most interesting thing SIG had on the line today (even though I saw the Echo-1 in October of 2015, but wasn't allowed to say anything about it). This is a 1x/2x weapon-mountable thermal sight with output jack for still photos. Internal settings actually include two preset reticles (among others) for .300 BLK subsonic and supersonic with BDC. A simple toggle stick allows access to the menu as well as quick adjustments in display (black hot, white hot, green-on-black, multi-color, etc), and magnification, and still photo. Next to the toggle stick is a still-photo output so you can set up a monitor for your buddy in your pig blind and show him exactly what you are looking at. I asked about recoil rating and there is none. It's covered by the standard 5 year E-O warranty of 5 years for electronics and unlimited unconditional for everything else. MAP is $2499—but considering its nearest competitor is the Eotech X320 which cannot be weapon mounted and has no reticle the Echo-1 comes across as a feature-rich deal, particularly when as the X320 prices at $1000 more than the Echo-1.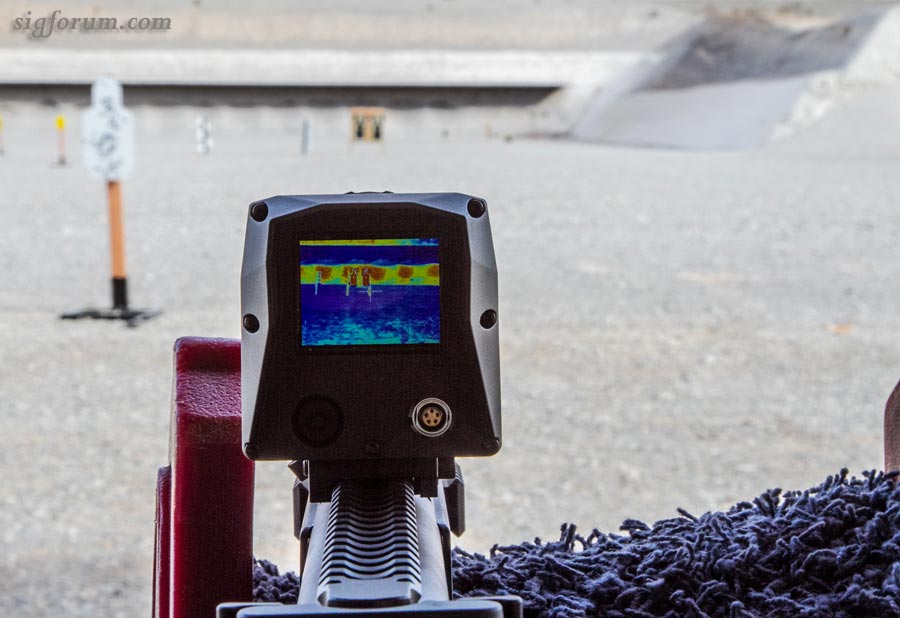 This Echo didn't have it, but the production version will have a mounting bracket on the hood for either a peep sight (of dubious value given the short sight radius, but hey, Trijicon puts them on their NSN ACOGS and people like them) or an MRDS, which makes a lot more sense. An Echo with a Romeo 3 on top would be a true day/night reflex optic with tremendous flexibility. And you would probably want something to augment the Echo (e.g. thermals cannot see through glass) on an all-round rifle.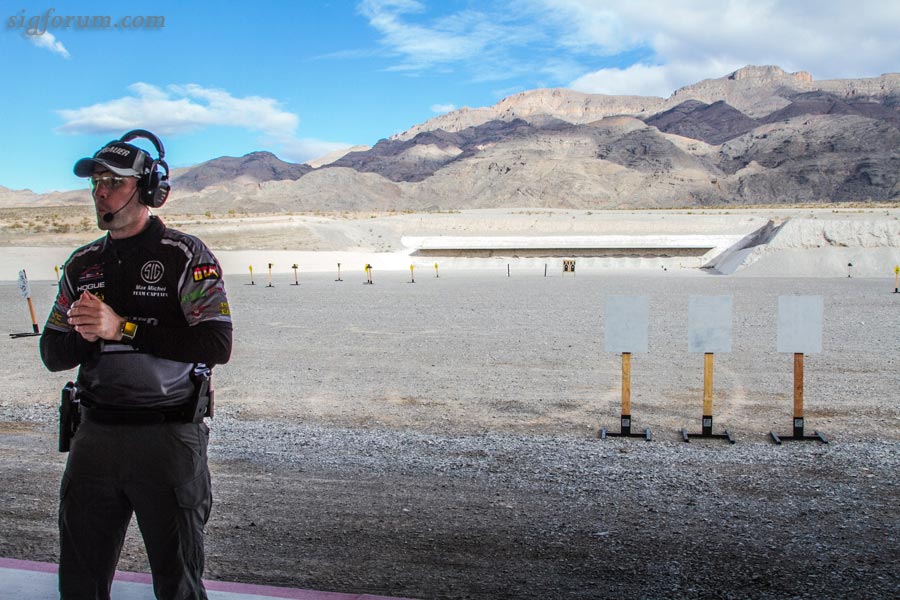 Max Michel gave several demonstrations through-out the day—and he did them with a P320, not an STI

. Max the current #1 in speed steel and captain of Team SIG. Must be nice to have an auto-sear built into your trigger finger.
The only problem I found with his demonstrations was that only twelve people got to watch them at a time. The rest of us had to settle for either looking at the back of the heads of those twelve in the front row or trying to puzzle out the action via the displays on recording iphones being held aloft. If SIG wants to make Max a regular part of their Range Day spectacle, then they need to have cc video and "jumbo-tron" feeds to the left and right of the bay that Max is shooting from. With as many people who show up to Range Day (and there will be more and more each year) simply finding a front row position is going to become less and less viable and thus make Max's demonstrations a cause for frustration instead of wonder. Bottom line: Max is a good shot, but I can hit steel with a hammer as fast as he can shoot—show me the action, listening isn't half as fun.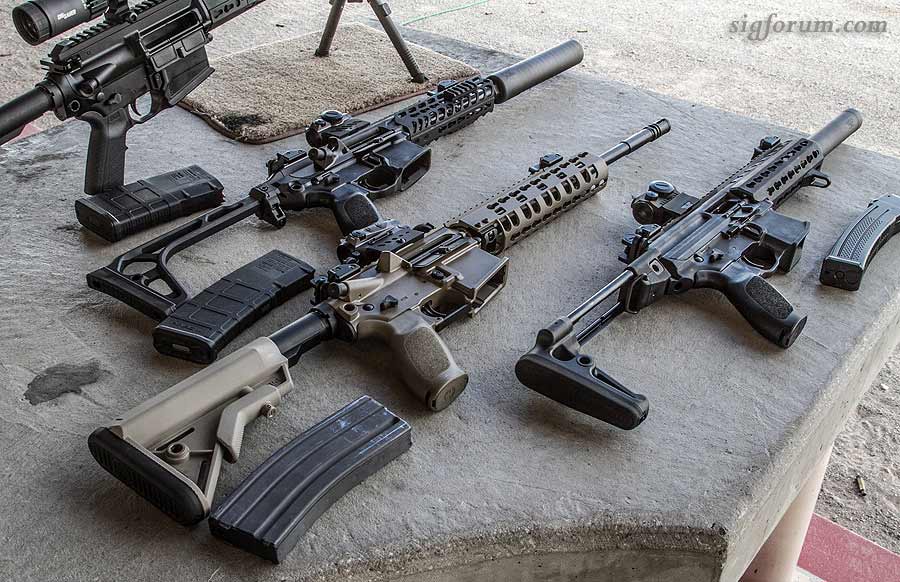 SIG did show some forethought with regard to crowd management in one respect. They had a specific media-only bay (participants wore color-coded name badges) which allowed us to get our hands on guns without waiting in a general crowd. The only problem was that not all of the new models were represented. I would also have liked access to the LEO/MIL staff if not the guns themselves. Really wanted to ask Lindsay Bunch about the MCX-MR. Also, as general media, some of our readers are military, so it seems slightly counterproductive to paint with such broad strokes.
At any rate, I got to try out the Legion series P229 and P226 SAO, as well as a P225A and the new all-American P210. I did ask about a Legion P229 SAO and the answer was "don't hold your breath." I'll ask again when I get to the floor tomorrow. The popularity of the P229 in size makes that answer somewhat unsatisfying. I did find that the new P225A had a much nicer trigger than any stock P225 that I remember. The P226SAO had a beautifully efficient flat trigger—when asked if GGI was planning on doing a drop in Bruce Gray commented "[we're] asking ourselves what the need is, it's a great trigger as is." I could see possibly making different trigger shapes for the P226 SAO but if Bruce says a trigger is good as-is, it's probably good as-is.
The real standout at the media bay was the P210 American. President Ron Cohen hinted at this possibility two years ago when I visited SIG in NH. The rumor was greeted with both wild anticipation and a certain amount of nationalistic derision. Like the old Buddhist existential question: if a P210 was made in America, would it be a P210? I think that would depend on whether your definition specified nation or origin or was simply based on the feel and function of the gun. Either way this P210 retains the ethereally light P210 trigger, and its solid steel feel & balance.
There will be, at least initially, four variations of the American P210: P210 Classic (5" bbl), P210 Target (5" bbl), P210 Super Target (6" bbl), and P210 Carry (4.25" bbl). The Classic and Target will be differentiated by their grips, sights, and at the moment, forward grip serrations for the Target models. There were no examples of the other versions of the P210 that I saw, so I will check at the SIG booth when I visit.
In less happy news, I did get to run a fast 15 rounds through the MPX w/ SIG's SRD9 can attached. I experienced the same noxious cloud effect (from the ejection port) that I got when combining my Octane 9 and T&E MPX. It seems it's a just a characteristic of the gun.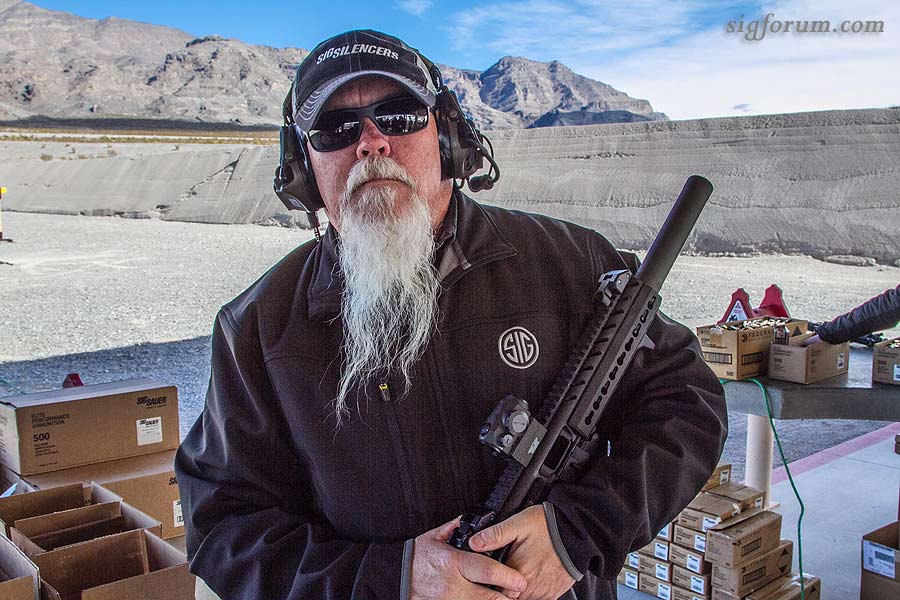 Jon, from the SIG Silencer division was next door during a cease fire so I wandered over to get some comments. First, I wanted to know if the taper specs on the SIG suppressors/bbls would be released soon. He said they probably would. SIG offers a line of suppressors that use a locking taper instead of the normal ratcheting mechanism found on most fast attach cans. The problem now is that there is limited appeal for these SIG suppressors since the only guns that have tapered bbls are .300 BLK and 5.56 MCXs.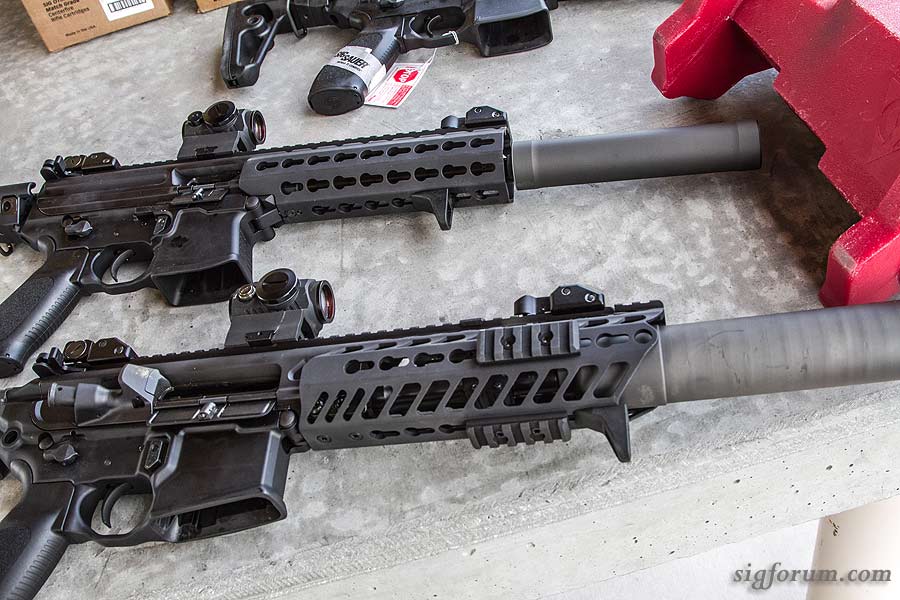 Speaking of the MCX, these non-standard handguards will become available from SIG: the older octagonal style and this new slant-front keymod (which has no name yet). They will be available in three lengths: PDW, Standard, and Long. I don't have the exact inch lengths but will ask at the booth. This is good news for folks who want to sleeve their suppressors under the handguard. Normally on an AR, this would be a tricky proposition, but even with ratcheting suppressors which require the depression of a tab to remove, the handguard on the MCX can itself be removed simply by pulling the front pivot pin.
I also asked Jon about SIG's .22 can, it's big, it's not particularly quiet. He stated that it was a contract design, the specifications for which were accuracy, accuracy, accuracy. It isn't the lightest, quietest, or shortest or skinniest, or cheapest but it is supposed to be the most accurate can on the market today. I personally don't feel that most .22 suppressor users care that much about accuracy beyond a certain point. Most buy .22 for shits & giggles—the quieter the better. SIG's SRD22 may be a winner in race where no one else is running.
OTOH, SIG's Titanium QD fast attach can is a winner, and at its $850 price point has already done well in my store—and if SIG releases their taper specs soon, they should expect to sell quite a few of the taper-threaded variant which would be even lighter and simpler due to not needing fast-attach latching accommodations.
Ron Cohen himself was out and about on range day and made the comment, referring to SIG suppressors: "One day, this range will be without noise." I don't know, Max Michel's demos would be a whole lot less exciting if the timer couldn't pick up his split times.

I had a chance to sit down and talk with Dan Powers, President of SIG SAUER's Ammunition Business Unit. Up to this point, this particular division had been somewhat nebulous to me. I knew about the ammunition, we'd shot it at the academy. I've even had a few boxes of their 10mm. But what impact they wanted to make in the market and their philosophy was unknown to me. It was even speculated early on that they were simply a way for SIG to double-dip on the multiple LE agencies that were coming through the Academy ("why pay Federal and have it shipped in when we can make money on ammo and training"). This turned out to be simply a rumor. The Ammunition Business Unit is simply another part of Ron Cohen's "Systems House" business model ("if it goes on or in the gun…").
The Ammunition Business Unit is located in 25,000 square foot facility in Eubank KY, and churned out its first commercial round in April of 2014. Dan was owner of Precision Ammo (sold to RUAG) before being hired to head SIG's ammunition division. SIG Ammunition is expecting to relocate to a new 70,000 square foot facility by June. During the interview Dan made several references to testing and stated that SIG Ammunition is the largest consumer of ballistic gelatin in the United States. Every round is tested and if SIG can't do it as good or better then they won't offer a product till they meet or beat their competitors.
Dan didn't want me to publish the overall capacity of the current facility, but he did say that the operation is very agile and that production can switch calibers in the middle of a shift with a downtime of less than 30 minutes, if need be.
I did ask the tricky question about .22lr. The answer was "not in the next five years." Dan explained that the machines which make the cartridge itself are from the German firm Lachaussee and that he'd need 10 million to set up a starter .22lr operation. When asked about co-branding he stated that the market for .22 is so hot right now, no one needs to "go-in" with SIG on anything .22lr. So we probably won't see .22 LR from SIG SAUER anytime soon, whether out of their own facilities or someone else's.
While SIG Ammunition currently does not offer anything in 5.56 or .308, they do plan to have a 5.56 77 gr SMK loading by 2nd quarter 2016, .308 168 gr SMK by 1st quarter 2016, and .300 WIN 190 SMK by 2nd quarter 2016. Additionally SIG Ammunition will be offering a 120 gr solid copper hunting "HT" round in 300 BLK (as in the photo above), and possibly a similar round in 300 WIN by fourth Quarter. While Dan wouldn't state how the bullet was manufactured, he did say that it was not machined. I would guess that it was scintered.
There are no plans for a subsonic "HT" round, but there will be a subsonic 300 BLK V-crown. SIG Ammunition will also sell the bullets as reloading components.
With the SIG Ammunition covered, I headed over to the vendor tables to see GGI and Lucas Oil. Lucas Oil is now the official oil of SIG SAUER—and is already being distributed with the Legion series of pistols. If the name "Lucas" sounds familiar, it may be because it's the same company that makes motor oil and sponsors competitors in various well-publicized races.
Of course, I had to ask Lucas Oil outdoor line director Bryce Curry "So if you make motor oil and gun oil, why should I not just use 10-30W in my gun?" Bryce's response was that motor oil differs in a few significant ways from gun oil. First, motor oil functions in combination with a filtration system so it doesn't by itself, need to trap debris away from moving parts. Second, motor oil is designed to thin as heat increases so that it can cover more area within a closed system (if gun oil thins as it heats up, it migrates away from where it is needed, with guns generally not being sealed system).
I received a few samples which I'll be trying out on my own and possibly giving away if I can find an efficient way of doing so. The crew at GGI loves the stuff, so I plan to rotate some of Lucas Oil's products into my arsenal at the next cleaning session.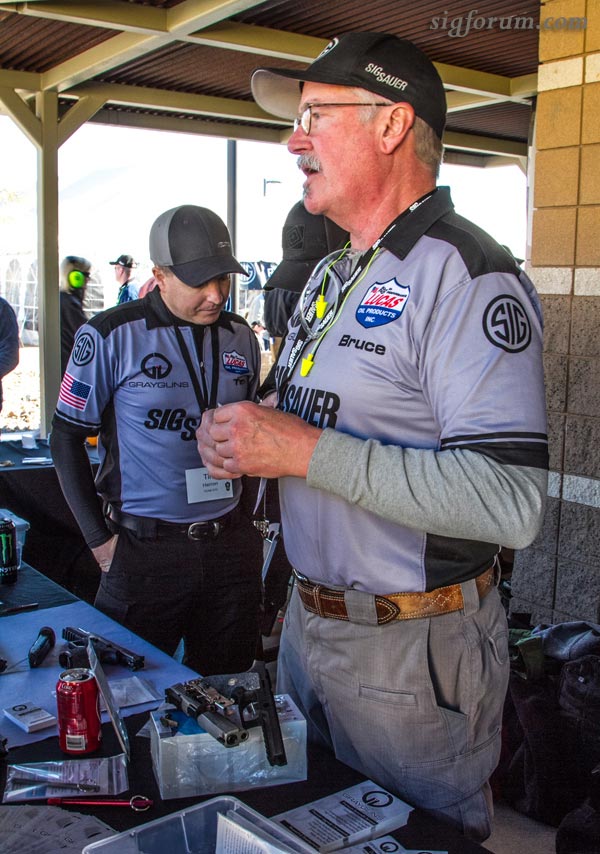 Speaking of GGI, the GGI table was busy the whole day. Examples of their grip modifications for Team SIG, drop in P-series triggers (P-SAIT), and P320 swappable trigger were all on display. Bruce himself proved to be the main attraction after customer/fan after customer/fan stopped by to say hello. There was a GGI P320 on the line, so that may have helped too.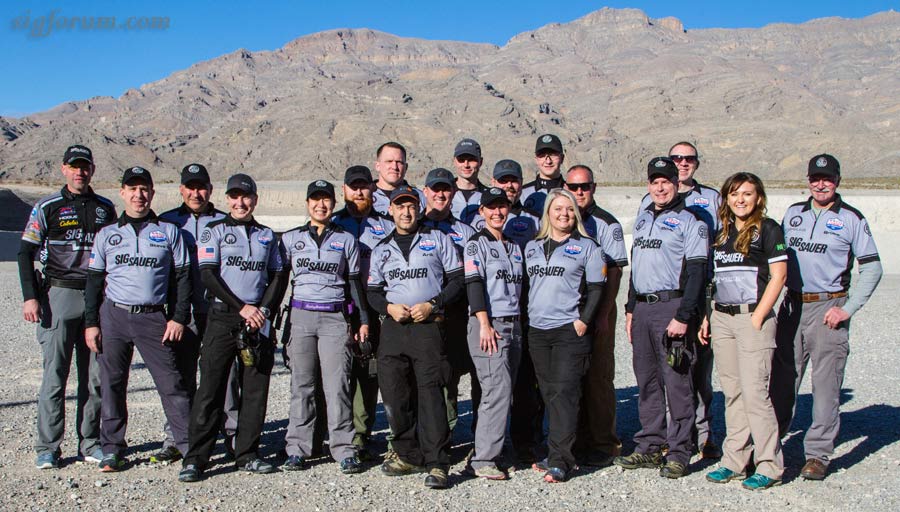 Finally SIG announced the addition of two new members to the corporate family. Lena Miculek joined Team SIG as a three-gun competitor and Kyle Lamb has been brought on to the academy and will also assist in product development.
Stuff I missed due to running out of time but will catch at the SIG booth: P227 Stainless, P226 Emperor Scorpion (?), P320RX (320s with Romeo 1's onboard), and P320 Long Slide.
I will also be asking about a P229SAO Legion (again), whether the Master Shop has been moved to the US (and whether SIG is bringing over the old smiths, starting over, or simply cloning Bruce Gray multiple times), what the status of the X-series guns is, in addition to multiple MPX/MCX questions.
Thanks for your patience, and tune-in for more later from SHOT 2016.