updated ad with new items.
I typically check the forum & my email once every day or so. I'll do my level best to respond to any posts or questions in a timely manner but please understand that I don't "live" on the internet so if you require instaneous or frequent comms I'm probably not the right seller for you.

Payment by U.S.P.S. money order. I have no trade interests at this time.

Please include your forum screen name in any emails you send me.Black Point Tactical Leather WING SIG P226 Legion holster- $65 shipped
Black Point Tactical Leather WING SIG P226 Legion holster is in Like New/ Excellent condition. Holster is RH 1.5". Holster can be used with non-Legion P226.
Black Point Tactical Leather Wing Holster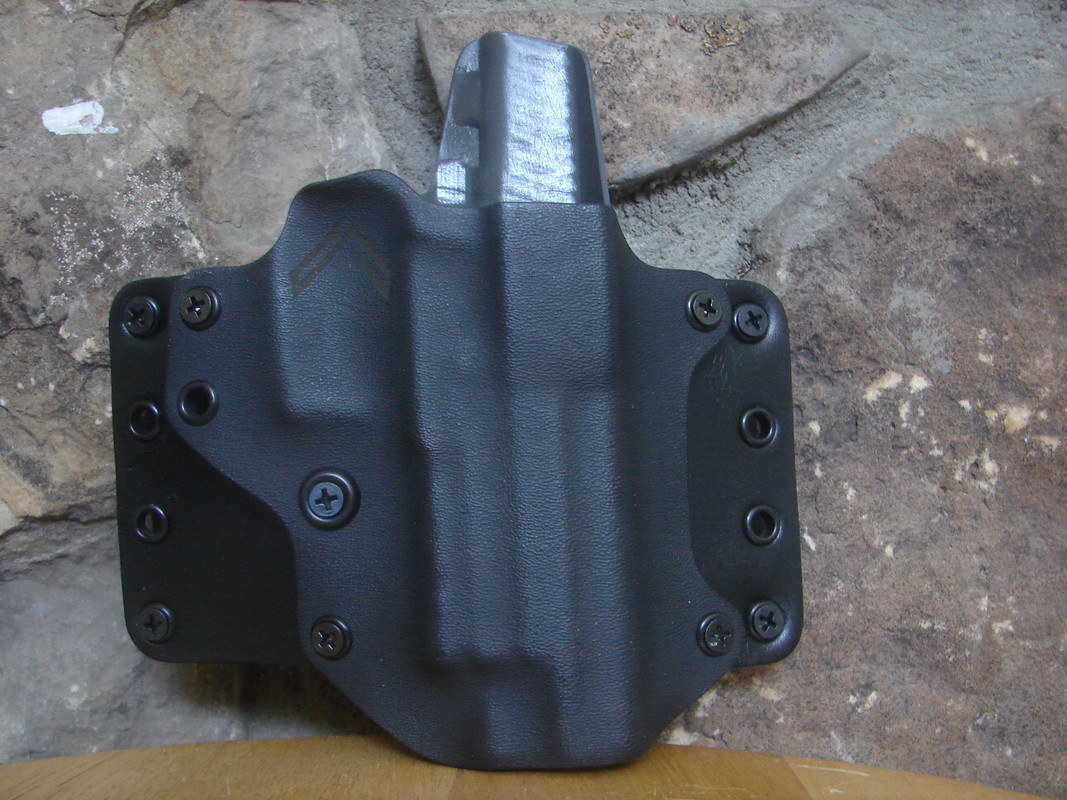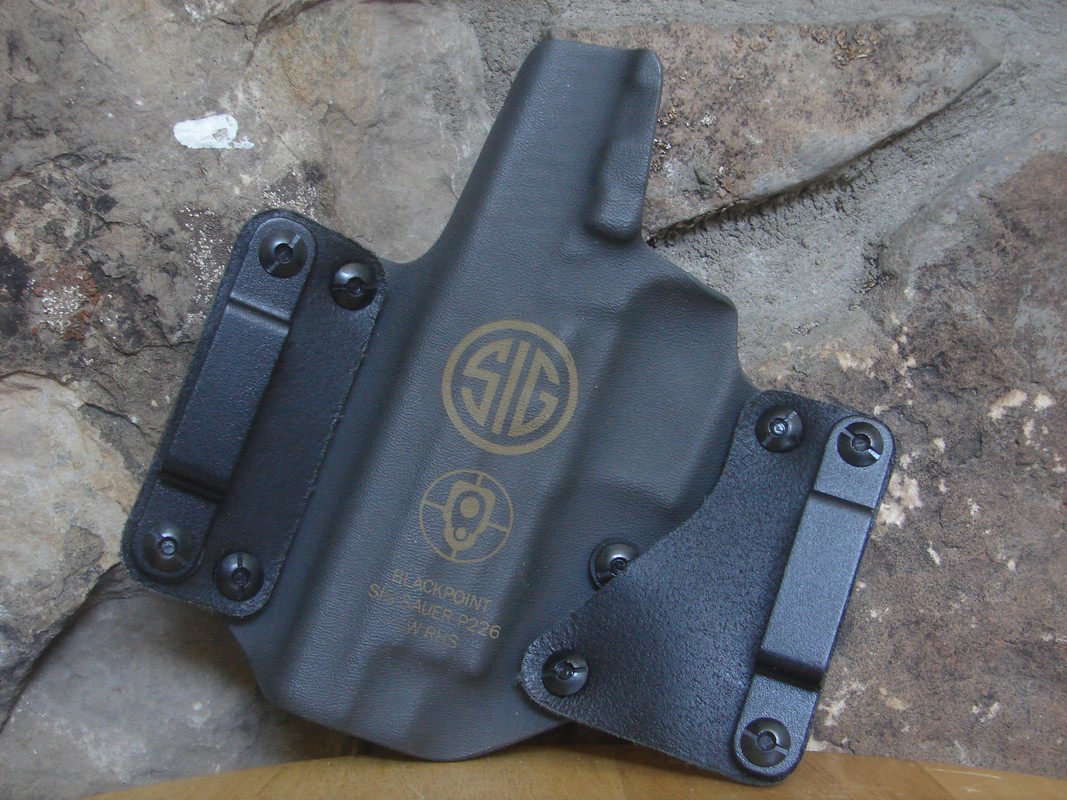 High Noon Integrator SIG P226 Legion holster- $80 shipped
This High Noon Integrator Legion holster is in Like New/ Excellent condition. Holster is RH 1.5". Holster can be used with non-Legion P226.
High Noon Integrator holster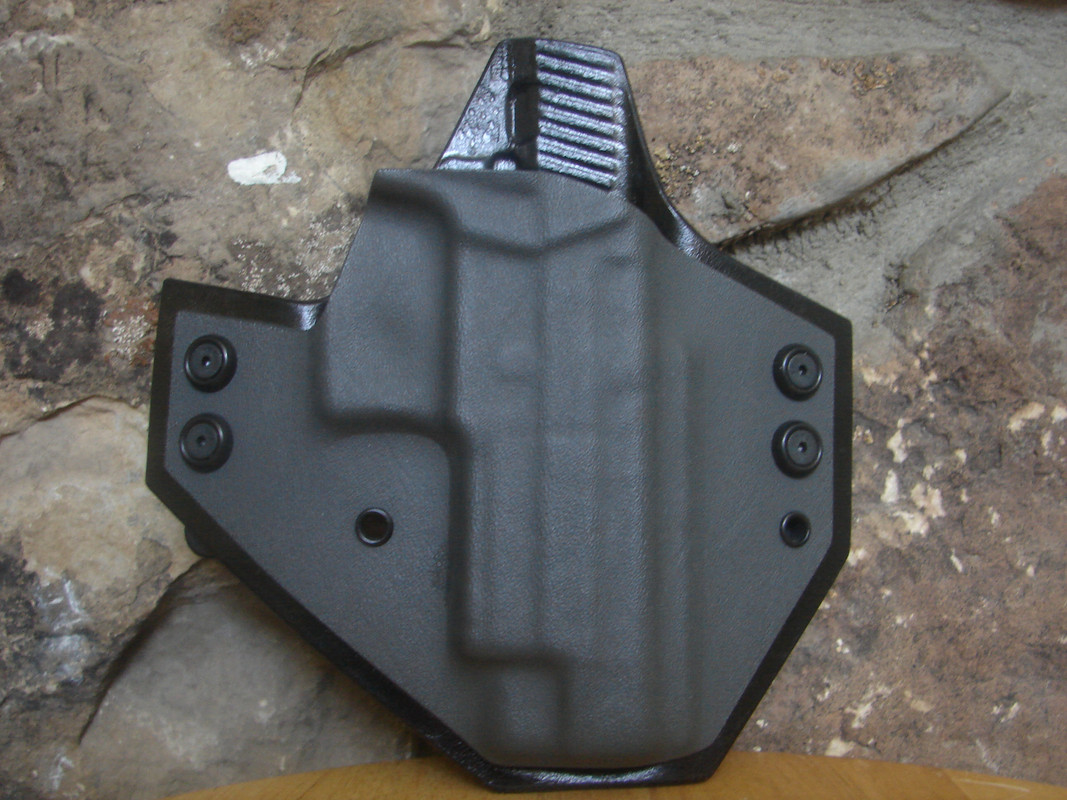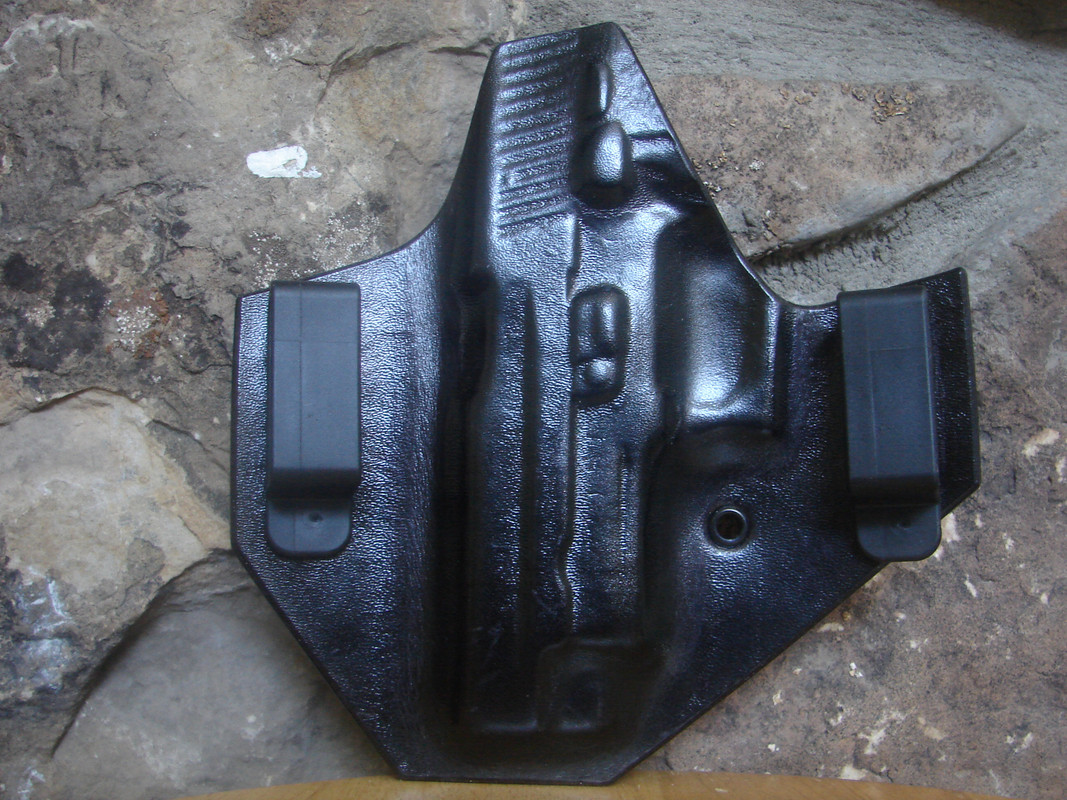 USGI M1 Carbine- $800 + shipping
(I'm far from an expert on the M1 carbine, but took several hours to research them, and also exchanged emails with one of our forum experts on all things Mil-Surp...if any of my descriptions are inaccurate I'd appreciate corrections.)
Dad passed away several years ago and I recently received several of his guns, some of which will be sold.
Overall condition of this M1 Carbine in the Very Good to Good range. From my research, it is an interesting mix of early production and later production WWII parts. When I received it it was a little dirty on the outside, with a a bit of dirt and old dried lube and carbon build up in some of the nooks and crannies internally. The metal is in very good condition overall, with a few small spots of surface rust...mostly on the barrel band and the butt stock plate. I took several hours to carefully remove the rust and got most of it off, leaving some residual dark spots. I've got it fairly clean now, although what it really needs is a good stripping, brushing, and a soaking in a parts cleaner to remove the difficult dirt/old lube/ carbon build-up in the tight places.
Dad owned 2 different M1 Carbines, at different times. We believe he bought this one in the Spring of 1988 at a Denver gun show. He replaced the rear sight with a Tasco Pro Point Red Dot and Weaver Rail base mount, which was screwed directly to an aftermarket threaded base plate mount firmly mated to the rear sight dove tail slot. I don't know if the Carbine came with a rear sight and he just decided to replace it, or perhaps it didn't come with one. Owning 2 houses in different states, with one of the houses later burned to the ground, we just don't know if there is a rear sight floating around. If the rear sight was located at the house that burned then it is likely lost...there is a remote chance that the rear sight may still be somewhere in the house that remains...if we ever happen to come across it I'd be happy to mail it to the buyer of the M1 Carbine...so the bottom line is that the M1 will be sold without a rear sight. I left the aftermarket threaded base plate in the dove tail slot, in the unlikely event that a new owner wants to buy the Red Dot scope and mount with the carbine. The base mount has been ground or dremel modified for use with the red dot scope and the scope is a little bit dirty...but the scope set-up still works.
Dad would go through phases, get into a gun or caliber, shoot it while having fun working up reloads for accurizing it (he had some surplus Lake City ammo he would shoot and would work up loads using the spent LC cases)...and then he would move on to another gun and caliber. He went through his M1 Carbine phase decades ago and so this rifle hasn't been shot in years.
I haven't shot it, but in performing a basic function check, the bolt can be manually cycled and locked open, a shell can be manually cycled from a magazine, chambered, and extracted/ ejected, and the firing pin moves freely in the bolt during hammer fall, when the trigger is pulled, the Throw Lever Safety and Magazine Release button both function well, and the magazine is retained when locked into the mag well and released with the mag release button.
I realize that this M1 Carbine may not interest purists and collectors, but it is an interesting mix of early production and later production USGI parts, with a WWII receiver...and I gotta tell you that I believe this to be a solid little gun that would make a great "shooter" providing for years of fun shooting a piece of WW II history.
Description:
Receiver- Standard Products. The Serial Number indicates 1943 manufacture, and places it as an EARLY receiver made by SP, most likely between the FIRST day and the FIRST month of their production.
Barrel- The top side of the barrel is stamped Underwood, 6-44 mfr. date stamped below this, has the Flaming Bomb directly aft of this, and slightly further below is a stamped "P". On the underside of the barrel is a Century Arms (CAI) import mark. As is my usual practice, I soaked the barrel bore for a couple days before swabbing it dry and inspecting it. The bore is bright with clear rifling that extends the entire length of the barrel, and the muzzle crown is uniform in shape, although most of the finish is missing.
Trigger Group- Inland marked on the right side, and I think this is the Type II version. Grooved mag well. Throw Lever Safety (JAQ, or JAO, or JA0 marked), and magazine release button underlined "M" marked.
Sear-"GE-O" or "GE-0" marked.
Hammer- "U" marked (Underwood?) Shows normal wear, but no peening.
Slide- "U" marked on underside (Underwood?) with a Flaming Bomb stamped on top next to the charging handle. I think it is one of the early Type II Flat cam Bevel Cut V Cut ones.
Bolt- Early Flat type. Upside down "B" marked just below the left bolt lug. Possible punch mark on the top surface of the right bolt lug.
Firing Pin- Appears to be an early production Type I, which indicates that somehow this part escaped being modified or replaced for the later safety redesigned ones. The flange is marked "OLA" or "0LA" (Rock Ola?)
Front Sight- "N" marked
Barrel Band- Later war production Type III, marked with "AI" on right side. I found a few spots of surface rust on it and carefully removed most of it, leaving a few dark spots on the metal. Sling swivel moves freely but still shows a few tiny spots of surface rust. Barrel Band clamps tightly to the handguard, and allows for nominal barrel channel spacing.
Recoil Plate- "W" marked (Winchester?) There is a tiny spot of surface rust on it that is so small that it's difficult to see without the right light angle. Type II Recoil Plate screw.
Butt Plate- The Butt Plate had a fair amount of rust, along with a few dings in the metal. I took some time to remove the majority of the rust, although I believe that someone willing to put the time in could probably improve on what I accomplished. I haven't taken the time to ID the Butt Plate, but it sure looks like one of the original USGI ones.
Handguard- Later war production 4 rivet type. The handguard has no visible markings, but is in remarkably good shape with no cracks or chips and only a few slight dings.
Stock- The stock is an Oval Cut Low Wood later production improved type, but beyond that I'm having difficulty IDing it and the stock is the component that has me scratching my head... it's a nice enough looking stock. Best guess is that it is an M2 Pot Belly stock. It's possible that the stock may have been replaced during an arsenal rebuild at a foreign depot...or perhaps replaced after being imported back into the U.S.
Overall the stock is in very good condition with most of the finish remaining (very front of it along the barrel channel is missing some finish...likely rubbed away from repeated barrel band removal/ re-installation) . There are a couple places with light scratches and a couple small spots with wood-crush dings. There is one very tiny tight crack extending aft of the Recoil Plate cut out in the stock, but this crack appears to be only in the surface wood and doesn't extend any more deeply than the wood finish. I believe that this crack may have occurred during manufacturing because the wood finish appears to completely cover it. The Escutcheon Nut is in good shape with no cracks in the wood. There are no visible markings/ stampings/ cartouches anywhere on the exterior of the stock. There is one light square stamped into the left side of the wood barrel channel, but no markings inside the square.
The M1 Carbine package will include:
(1) USGI 15 rnd. mag
(1) Sling-well oiler
* if the M1 buyer is interested I'll include the Tasco Pro Point, scope caps, Weaver rail base mount, scope rings, threaded base plate, and all hardware for $40.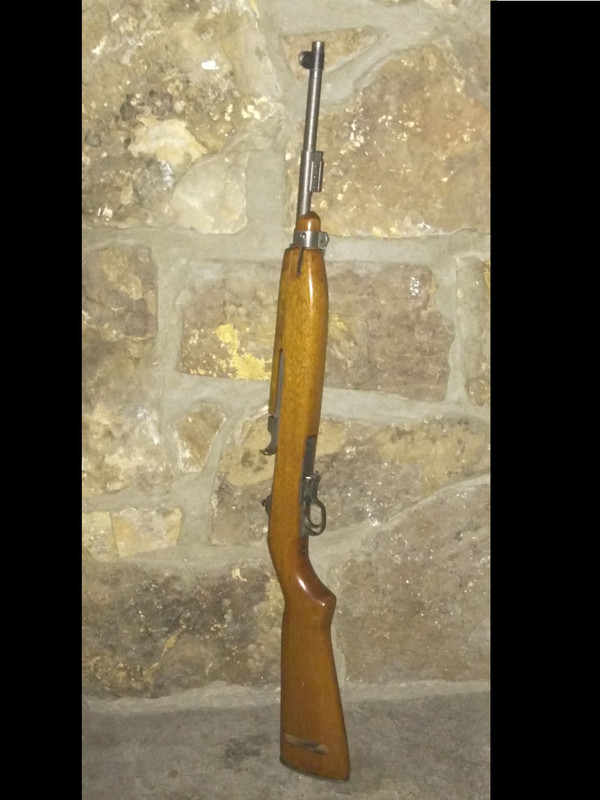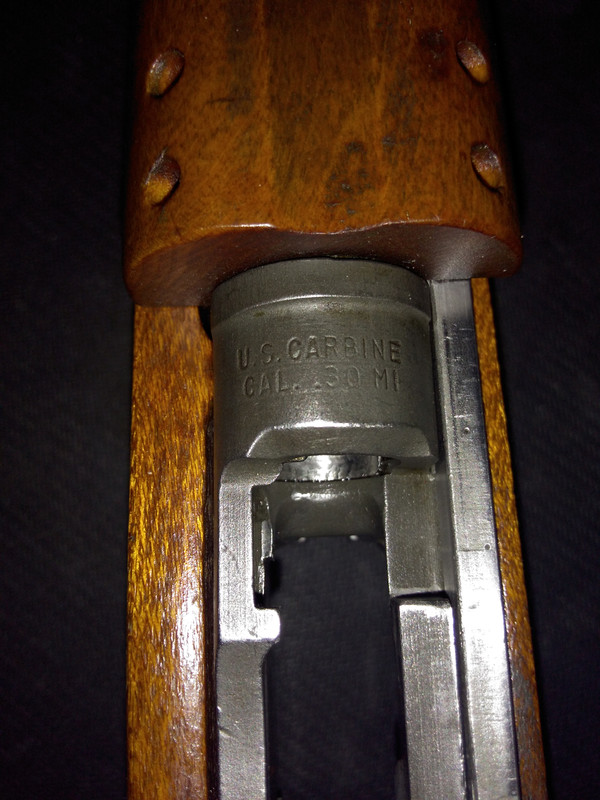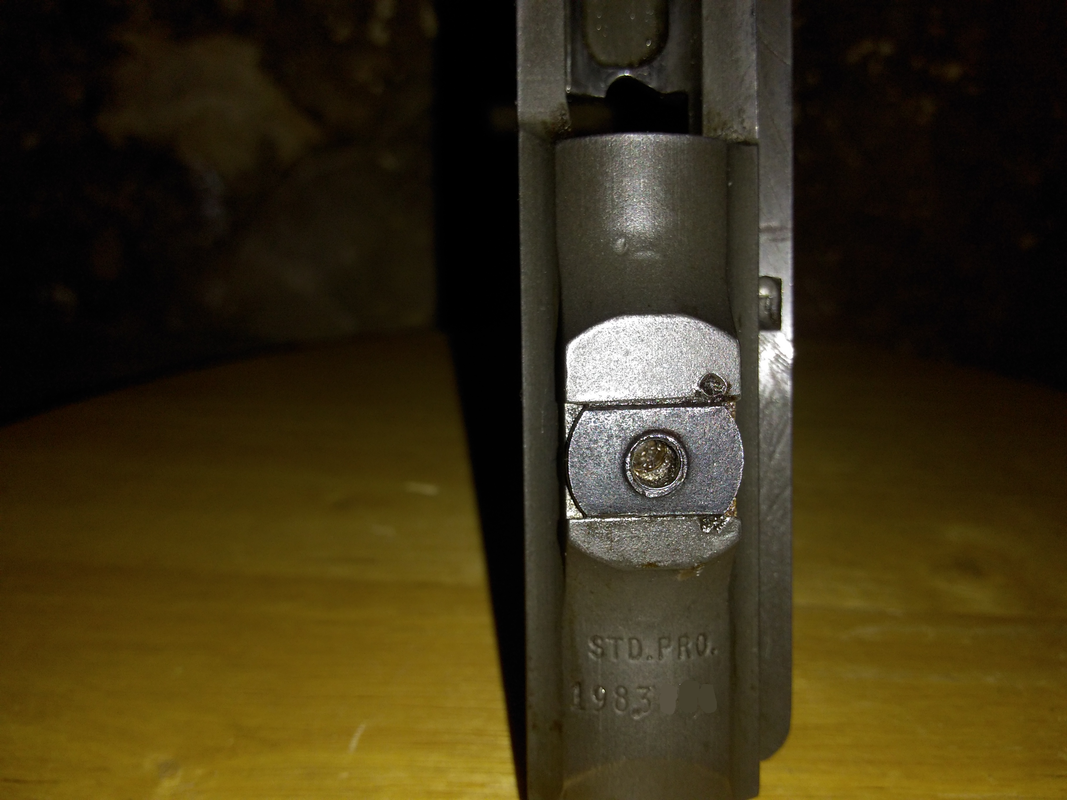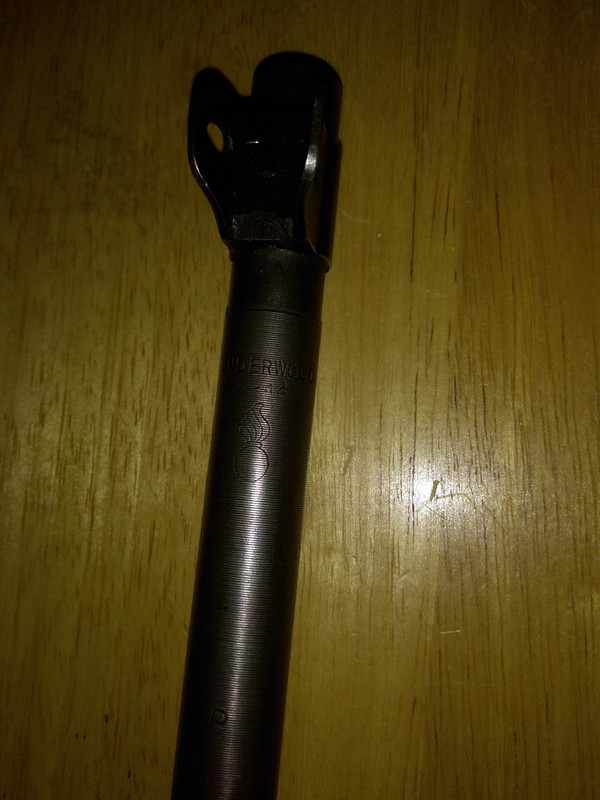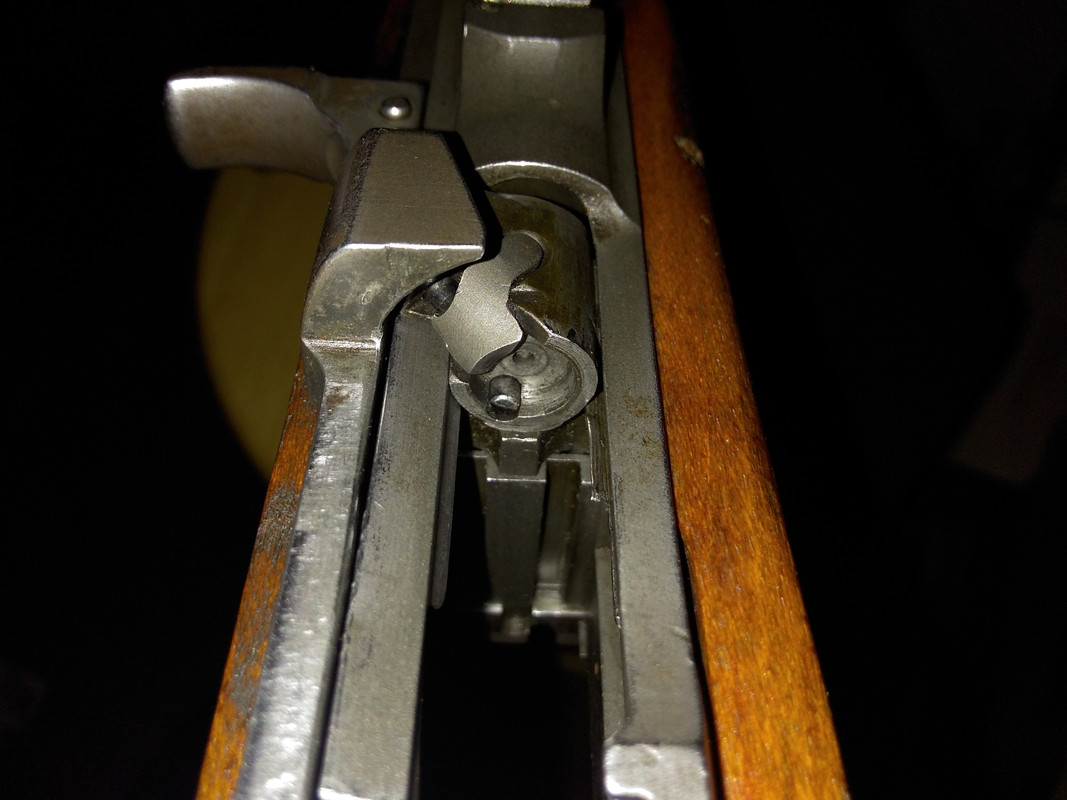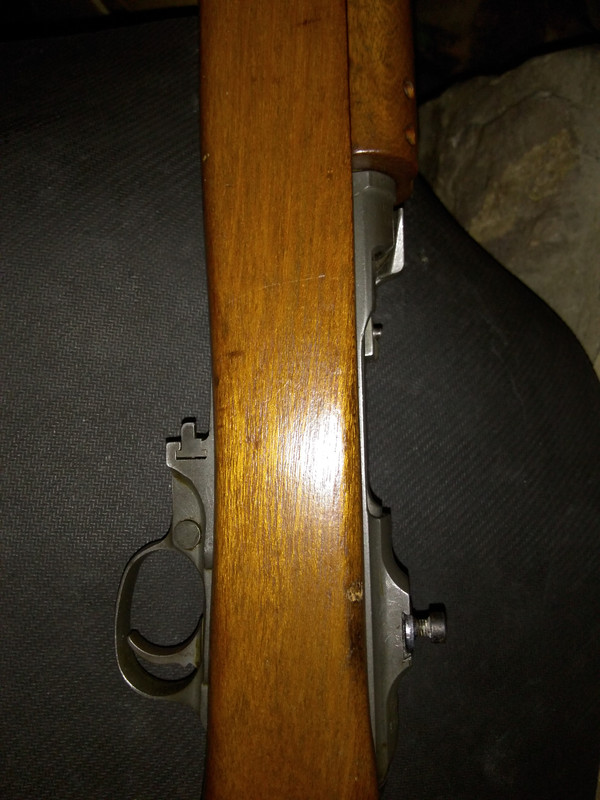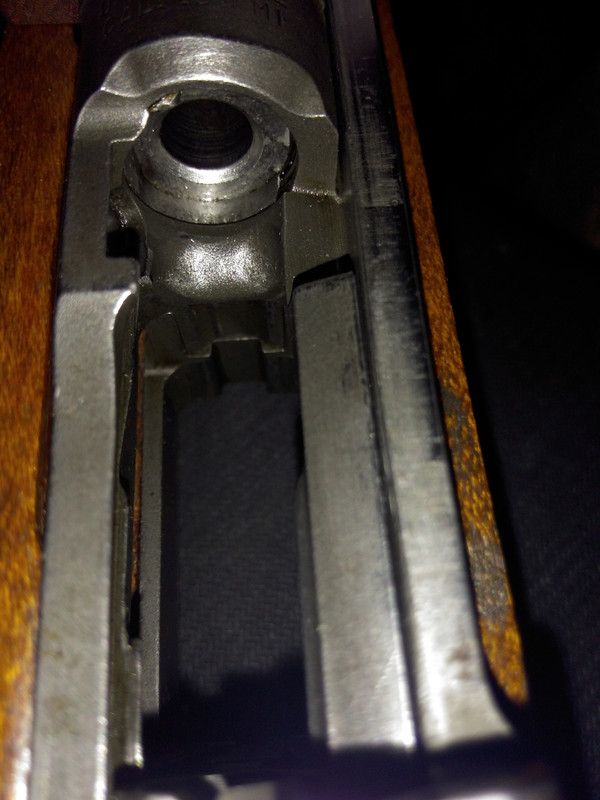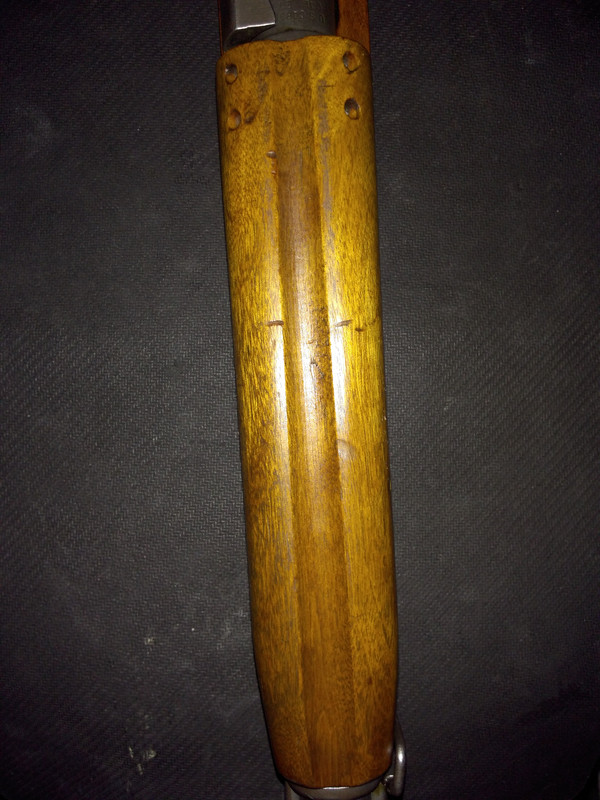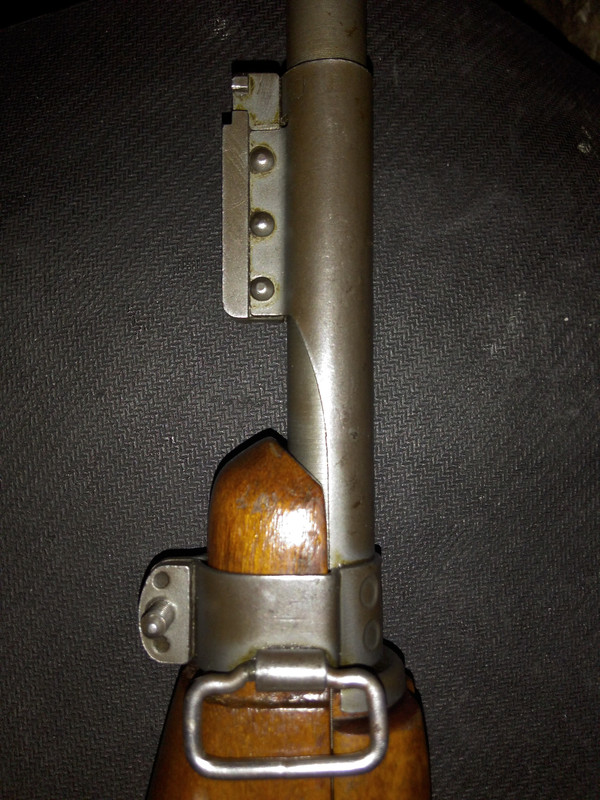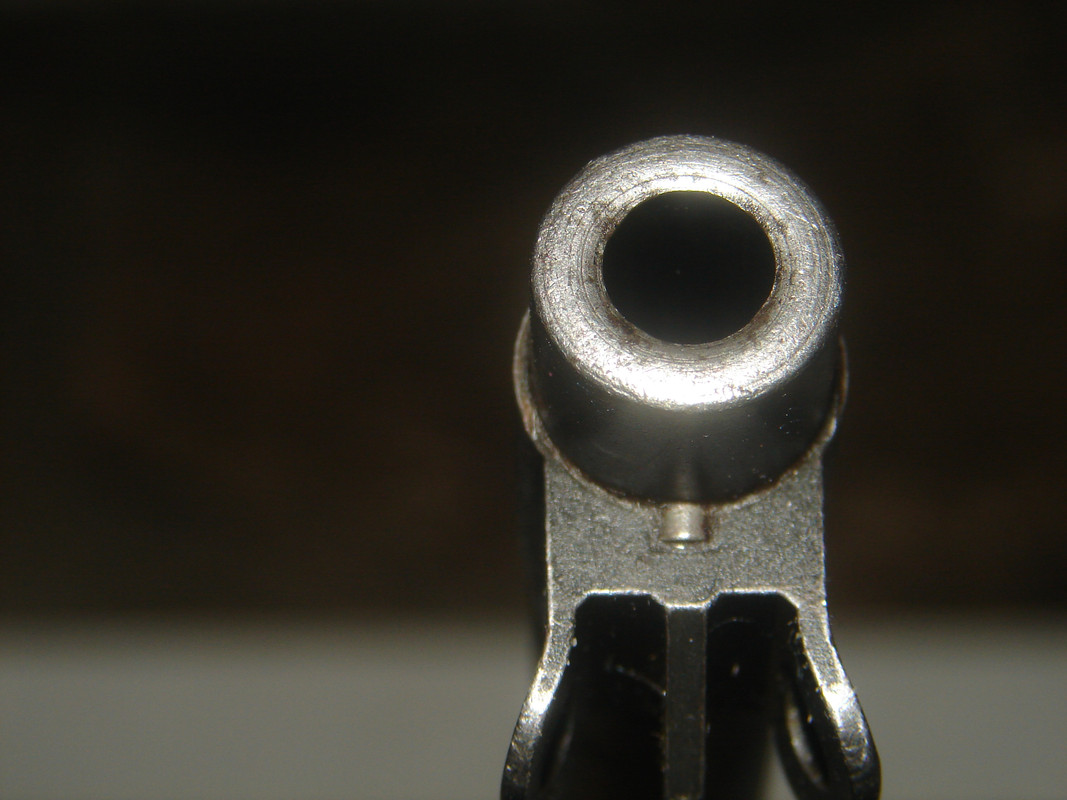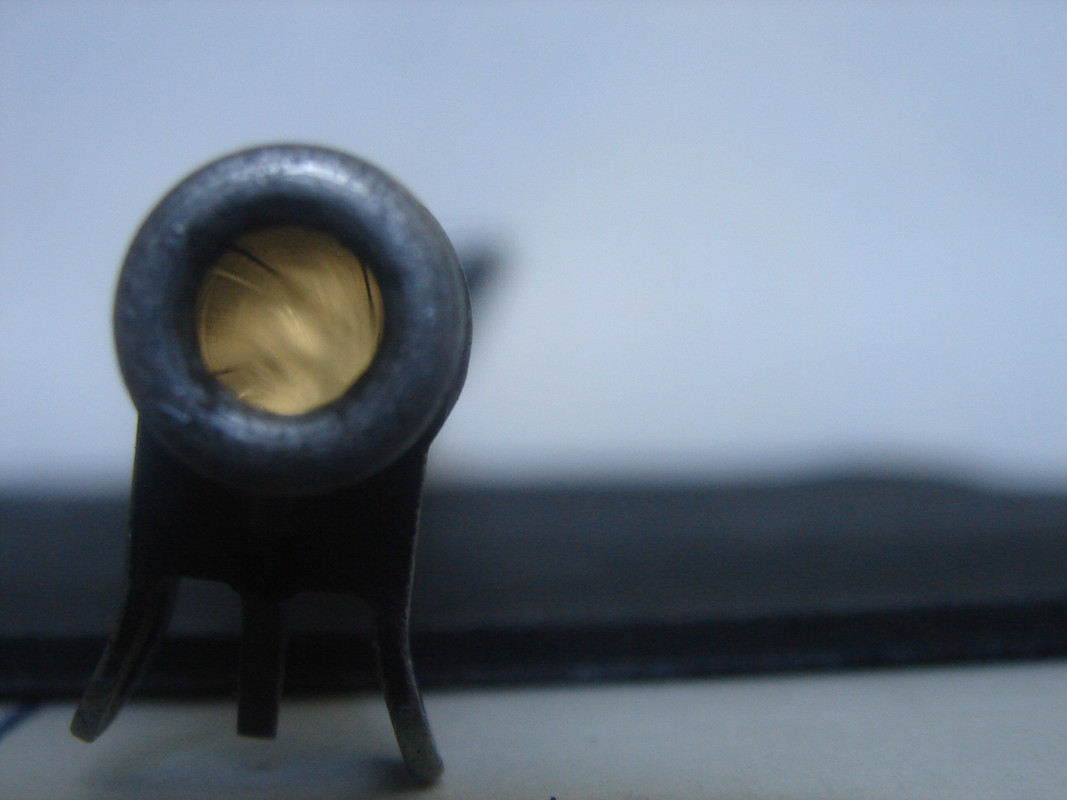 Falco HK P7 leather shoulder holster- $90 shipped(Note: old pic links were disabled by the hosting site. The back up hard drive I stored the pics on went T.U. I'll try to make time to take new pics of this holster but in the mean time anyone interested can email me and I can send some screen shots of the holster from an earlier version of this ad.)
Falco RH (gun holstered under the left armpit) leather shoulder holster horizontal carry with (2) mag pouch. This is a cross back "X" type shoulder holster with adjustable length/cant. The holster, mag pouch, belt tie downs, and thumb break are all detachable. The holster is in Like New condition and other than test wearing has never been used for carry. Generally I'm not a fan of shoulder holster carry but it is useful in certain situations so I bought it as an optional carry method. However, I ended up carrying the P7 in a jacket pocket and so this holster has spent its life in its shipping bag.
U.S. Navy authentic G-1 leather flight jacket-$175 + actual shipping(Note: old pic links were disabled by the hosting site. The back up hard drive I stored the pics on went T.U. I'll try to make time to take new pics of this jacket but in the mean time anyone interested can email me and I can send some screen shots of the jacket from an earlier version of this ad.)
U.S.N. leather G-1 flight jacket in size 44, manufactured by
Star Sportswear Mfg. CO.
The larger sizes such as this tend to be a little harder to find. Military sizing tends to run anywhere from dead-on to just a tad on the small size. The best info I have is that this jacket was mfr./ issued in the mid 1960s to 1970.
I've flown with a few different flight jackets, both military as well as commercial repros. A flying buddy of mine was into flight jackets and got me interested in them. We would scour flea markets, antique stores, gun stores, mil-surplus stores and gun shows looking for a number of items including flight jackets & other flying related gear. The idea was to buy the best flight jacket you could find but upgrade to a better one as you found it. I bought this jacket in the late 80's- early 90's (after THE movie) and flew in it for a few years, until my friend decided to make another change and switch to the A-2, leaving his beautiful G-1 open for me to buy, which I did. Once I bought the G-1 from him to fly in, I kept this one as a "back-up" and it was relegated to closet duty. It has probably been hanging in my closet for 25-30 years.
This jacket brings back a lot of good memories, both in the air and on the ground. But this 50 year old jacket has pulled closet duty long enough and it is time to let it go...
I'd like to see it go to a fellow aviator, or an aviator at heart, but even retiring it to wall-hanging status on bar-duty would be a more respectable fate then allowing it to quietly disappear into obscurity...
... so, who amongst you, you merry band of misfits, you good-natured scoundrels, you weekend warriors, will step up to claim this prize? Which amongst you will make the Saturday morning hardware trip in this manly symbol of steely-eyed courage? Which of you adventuresome devils will proudly wear this jacket into the air or on your Harley? Which of you has a budding young aviator in the family with dreams of flight in their eyes or a high school neighborhood kid cutting lawns to make enough money to pay for an hour of flight time? Which of you miscreants needs to replace that last leather flight jacket that was lost in a move, or because your wife threw it out after you or the dog barfed in it?



For a 50 year old jacket it is in remarkable shape, but it does have "battle damage" (I've owned 3 G-1s & even the one I "upgraded" to isn't nearly as nice a condition as this one is in) . Such is the nature of collecting vintage gear. There are various loose stitches in the waist band, various small scuffs/ scratches/ nicks in the leather as well as one small hole that goes completely through the leather but the lining behind it is fine. The interior lining is in incredible shape with literally no sign of wear other than a couple small streaks of lightened color inside the left sleeve. The zipper and interior map pocket snap work fine, and the jacket has ALL buttons attached, however the left pocket button is dangling from loose threads and will likely need to be sewn back on.
While inspecting the jacket I turned it inside out & found a small red tag clipped into the lining of the right sleeve. All these years & I never knew it was there. Best guess is that it was left over from:
A- professional cleaner (not likely)
B- the tack shop (only slightly more likely)
C- leftover inspection sticker from when it was first issued. Since it never bothered me when I wore it & it might be original to the jacket I decided to leave in place for the next owner.
There are no signs of any patches having ever been sewn on. I had some Velcro professionally stitched in place for my name plate by a tack shop. I think they did a decent job, but the Velcro is slightly uneven (not noticeable with the name plate in place. Probably the most significant "battle damage" are both cuffs being torn. I don't think any part of the jacket looks "bad" per se, but the left shoulder/ sleeve/ cuff/ pocket shows most of the wear. Some of this damage was already in place when I bought it, but I'm certain I've added a little "character" to it as well.
It has no odors or stains and has been stored in a smoke-free pet-free home for most of its service. While it could use a little TLC, it is fully functional as is.
I'd be happy to answer pertinent questions and additional hi-res pictures are available to interested buyers.
Thanks for taking the time to look.

This message has been edited. Last edited by: Modern Day Savage,