In an effort to not post a huge listing, I made the faux pas of not re-reading the rules and posted multiple ads. My apologies to the forum and the admin that give us a fantastic place to share information and our SIG passion.
To help another project move along, I'm letting a few in my little collection go to good homes on the forum. I've tried to price them fair right off the bat. Add $25 for shipping from my FFL.
W. German P225. Frame is in excellent condition, slide has wear from a leather holster I'd guess. Includes NOS factory grips, SRT and (2) P6 mags. No box. $575. Optional threaded barrel. $100. Hogue grips, no screws. $45.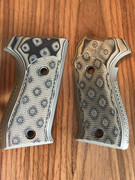 P227 in excellent condition with factory box etc. It will come with (2) 10 round mags and the NOS grips I added. It will also come with the original grips suited for the longer mags.
$775.
And finally a NOS (2017) 1911 Nightmare Fastback in .357 SIG. Comes with all the factory items. $1100.
Thanks for looking and again for grace with my newbie mistake.
This message has been edited. Last edited by: EUROFAN,


NRA Life Member/GOA Life Member