My email address is in my profile for contact.
Seiko 6105-8110 $1,200 shipped.
This watch was restored by Spencer Klein in 2016. All original except for the crystal and bezel insert.
I purchased this watch years ago, the case had dings , later I purchased a NOS Sample case, these are cases with faces, and no movements, salesmen would show retailers. Mr Klein transferred the movement into the Sample case when he restored it. I have only worn this watch maybe a dozen times since it was restored. Watch has been relumed during restoration.
I will include the work order invoice Mr Klein gave me , when someone speaks for this watch. It is basically like new, comes with a reproduction rubber strap, and Nato strap, it has the correct "fat" spring bars.
These watches keep increasing in value, I think my price is reasonable in regard to similar watches from overseas, most have not been serviced. I am selling this watch for just what I have in it. I can supply other pictures if you request. Money orders, personal checks only, Sales to CONUS.
Seiko 6309-8119 (Turtle) original, not receent issue $250 shipped
When I purchased this watch, it had been modded with new face. I had IWW International Watch works, restore the watch to the orignal configuration. Aftermarket dial, (correct face) case, bezel insert, cyrstal. Poor lume. You could have this watch relumed, and have an excellent Turtle. Case is like new, keeps good time.
The Turtle is on the right in photo. Comes with rubber and Nato strap. I can supply other pictures if requested. Please email me if you have any questions on these watches.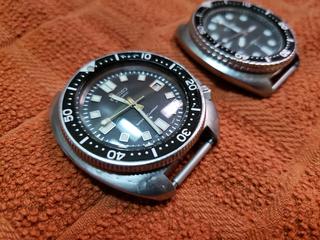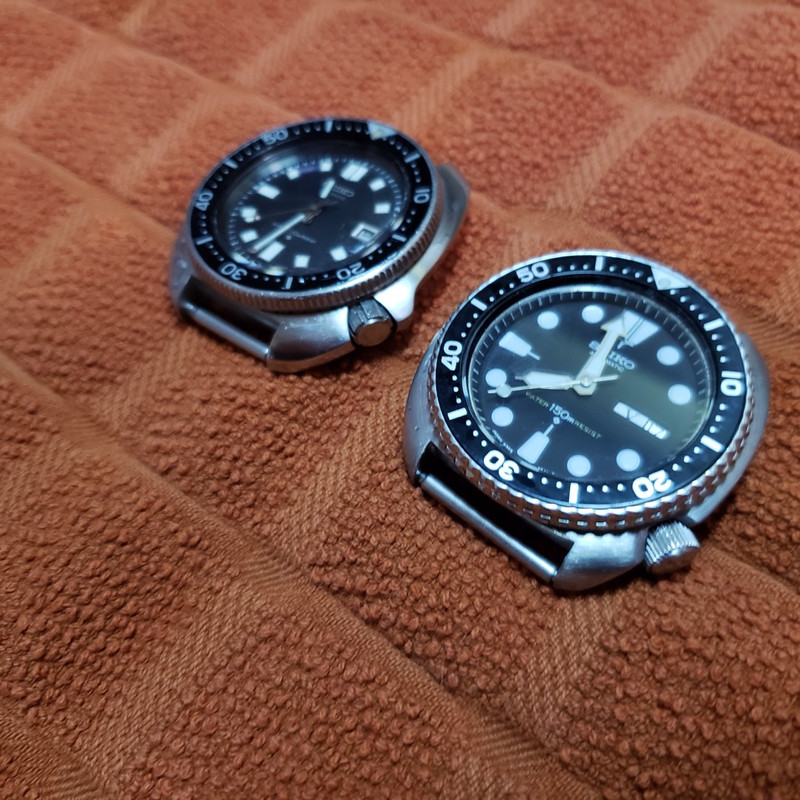 Browning Hi Power 40/357 Sig $1095 Shipped (SOLD)
Browning Hi Power 40 SW with 357 Sig Olympic Arms conversion barrel. 4-10 round magazines, 1 set Lok grips, 1 set VZ grips , 1 set Hogue wood grips, otiginal factory plastic grips, and Hogue rubber grip.
Slide, one barrel (357 Sig) and small parts were finished in Ion Bond Matte Black, the frame was finished in House Black Cera Hide by CCR.
The 40 caliber Browning barrel was hardchromed in Mahovsky's Metalife.
All springs were replaced after the refinishing. I also installed the SFS safety system, and have the original hammer for cocked and locked. The SFS hanner and parts are not in Ion Bond.
I also will include a spare unaltered Olympic Arms 6" barrel I purchased as a spare in 357 Sig.
I will post further photos of the pistol and accessories in the next day or so.
This pistol has not been fired since being reassembled after refinishing. No original box or manual since I ourchased this pistol used, comes in a generic plastic case.
Please email for further information.
[IMG]IMG]
No sales to states or localities thar have magazine capacity restrictions. Know your laws.
Continental USA sales only.
This message has been edited. Last edited by: Sunset_Va,


美しい犬