This is a sweet rig (IMHO), but I need the money :-(.
Price reduced to $1000
AR Pistol:
Radical Firearms 10.5" 1:7 barrel twist, Quad Rail, with Sig Brace 5.56, metal 30 round magazine [bought for $600].
Accessories (Bought separate from the pistol):
(1) Aimpoint Carbine Optic #W3906195 [bought for $393];
(2) Smith Enterprise Vortex G6A3 Flash Hider 1/2"-28 Thread AR-15 Matte [bought for $60];
(3) Troy Industries Magazine Release AR-15 Ambidextrous Matte [bought for $66];
(4) BAD-CASS-SA-ST Short Throw Combat Ambi Safety Selector - AR15 / AR10 [bought for $95];
(5) BCMGUNFIGHTER Grip Mod 2 (Modular) - Black [bought for $30];
(6) Lancer L5 Advanced Warfighter Magazine, L5AWM 30-Round Smoke (quantity two (2)) [bought for $44];
(7) Magpul RVG - Rail Vertical Grip 1913 Picatinny [bought for $25];
(8) BCMGUNFIGHTER Ambidextrous Charging Handle, (5.56mm/.223) w/ Mod A44 (Ambi), Mod3 (large latch) [bought for $73];
(9) KAK SUPER SIG SB-15 Pistol Buffer Tube with KAK SIG TUBE LENGTH ADJUSTMENT KIT (KAK SIG LAK) [bought for $54];
(10) Original parts and a few extras
TOTAL bought for $1440.
*I will sell the whole package for $1050*
*I pay for my FFL transfer fee; you pay for your FFL fee*
Condition: ALL Components like new (AR Pistol NEVER fired); the quad rail, buffer tube nut and locking plate have a few scratches and dings.
**Note: If you remove the KAK buffer tube and install the original one, you will need to remove the vertical Magpul grip to comply with federal law.**
[IMG:left]
[/IMG]
[IMG:left]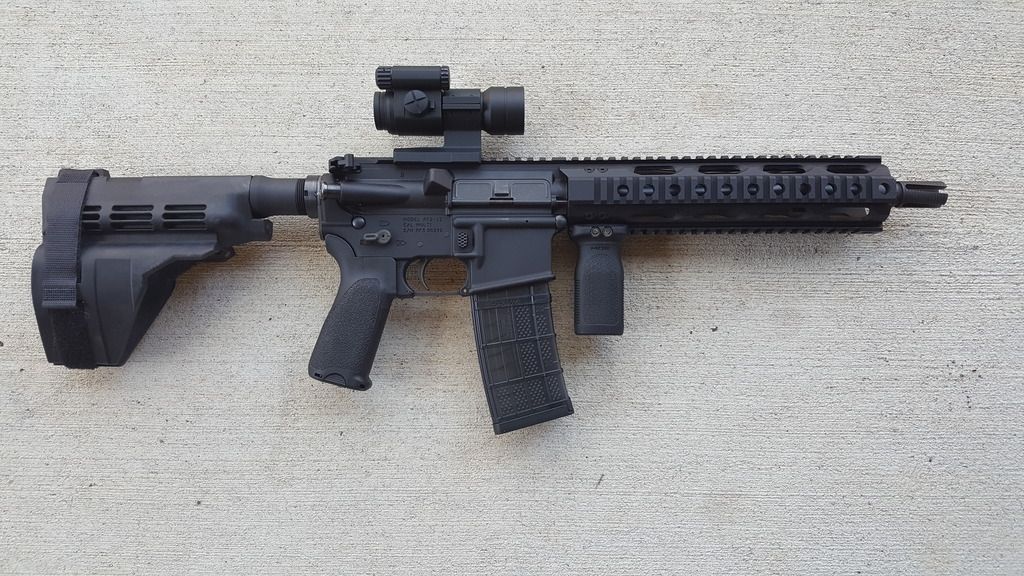 [/IMG]
[IMG:left]
[/IMG]
This message has been edited. Last edited by: gentleone,