LifeChoice ActivOx Portable Concentrator
Factory Refurbished Sieve Beds w 90 day warranty
Quick Overview
• Pulse Dose 3ltr
• 4.3 Pounds with Battery
• 12 Hour Battery Life
• Includes the ActivOx, AC and DC adapters, 4 way carrying case, shoulder strap, cannula, and manual.
• Charges while operating in vehicle or home
LifeChoice ActivOx Portable Concentrator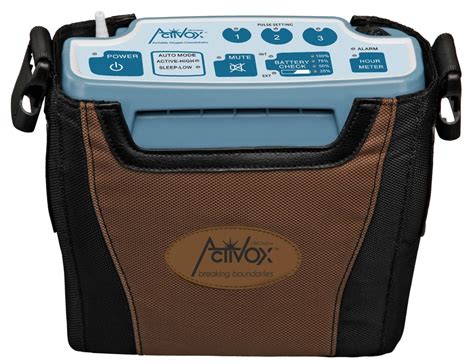 Description
The LifeChoice ActivOx by Inova Labs is a robust mobile oxygen concentrator that is one of the smallest on the available, and it features one of the longest lasting internal batteries. It unit had a sleep mode with technology the ensures the user always breathe the amount of oxygen you need, especially when you need it the most. This portable oxygen concentrator was made with the active user in mind, who needs no more than pulse dose oxygen on the setting of 3 LPMeq. The ActivOx frees you up to go pretty much anywhere.
With the minuscule size and weight of something like a canteen or a purse, the ActivOx is easy to carry while you are doing all manner of activities, such as horseback riding, jogging, golfing or just having lunch with friends. It's only 4.3 pounds, 7.9 inches tall, 9 inches wide and 4.5 inches deep, and can be carried 4 different ways with the help of its handy carry case and straps. It can be worn on your back like a backpack, across your body, over your shoulder, or by hand.
The ActivOx's internal battery can last for up to 12 hours on the setting of 1, 7 hours on the setting of 2 and 5 hours on the setting of 3, which is the highest setting. This battery duration surpasses all others in its class and makes it easy for you to go about your day without worry of needing to recharge. The external battery can also add another 3 hours on top of that. The LifeChoice ActivOx external battery can worn around your waist and weighs just 2 lbs.
This small but hardy portable oxygen concentrate has a maximum and minimum operational temperature of 104 degrees and 41 degrees Fahrenheit, which means it will work just as well up to these temperatures. It also has a maximum operational elevation of 10,000 feet above sea level.
Power of Portability
• Up to 15 hours of battery life at 1 LPMeq, external battery lasts up to 3 hours, and internal battery lasts up to 12 hours
• Powered and recharged by AC/DC adapter for in-home and mobile use
Power of Simplicity and Easy to Use
• Soft on and off touch buttons
• Mute feature to disable audible alarms
• 41 decibels when running at 1 LPMeq
Power of 24/7 Therapy – Day and Night
• Automatically adjusts to your oxygen therapy needs with breath detection that is more sensitive during sleep
• PULSE-WAVE™ delivers oxygen continuously during inspiration
• A temporary stationary treatment option that also functions as a lightweight POC
Product Specifications
Product Features Weighs 4.3 pounds
No carts or tanks required
Provides up to 3 LPMeq
FAA-Approved
Certified for use up to 10,000 feet
Dimensions 9.05 inches Wide x 4.38 inches Deep x 7.9 inches High
Product Weight 4.3 pounds
Warranty 90 Warranty on the unit
Alarms / Alerts Oxygen Concentration Sensor Alarm: Less than 82%
Battery Charging Time Internal Battery = 4.5 hours
External Battery = 3 hours
Battery Duration Internal Battery
1 LPMeq = 12.5 hours
2 LPMeq = 7.25 hours
3 LPMeq = 6.25 hours
External Battery
1 LPMeq = 3 hours
2 LPMeq = 3 hours
3 LPMeq = 2 hours
FAA Approved Yes
Manufacturer Inova Labs
Maximum Oxygen Output 480 ml/min PulseWave
Noise Level 1 LPMeq = 41dB, 2 LPMeq = 44dB, 3 LPMeq = 46dB
Operating Ranges, Intended for Use 15% to 95%, Non-condensing
41ºF to 104ºF (5ºC to 40ºC)
10,000 feet (3 km)
Oxygen Concentration 90% (+/- 5%)
Storage Ranges, Intended for Storage Up to 95%, Non-condensing
-25ºF to 140ºF (-32ºC to 60ºC)
Power AC 100-240 VAC; 50-60 Hz Cycles;
DC 12-19 VDC or Battery 12-16.8 VDC
These units are typically $2000-$2500 each
$900 each shipping included
Check MO or CC
This message has been edited. Last edited by: downtownv,