I have a late-2017 13 inch MBP non-touchbar with 8GB RAM / 128GB SSD for sale. This is still the current model as the lower end MBPs were not refreshed in the latest cycle.
These still retail new for $1149 (at best), I'm asking $900 shipped and insured via FedEx.
It is in mint condition and comes with charger and original box, also both in mint condition.
Battery has had 47 load cycles and is still at 96.5% of original capacity. Details included in attached pictures (Coconut battery was used for those stats).
Discreet Paypal please. I've sold at least 3 previous Macbooks on SF and will be happy to provide references.
Contact me at the email address on my profile if interested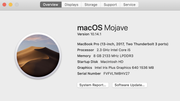 _________________________
Waters never part until our feet get wet.