***** NETGEAR CABLE MODEM *****
Buy your own modem, stop paying your ISP to rent theirs. This is a Netgear CM500 16x4 DOCSIS 3.0 Cable Modem. Advertised as rated for 300mbps download speeds. That is, this modem has the processing power to provide 300mbps downloads provided that your ISP is capable of providing that bandwidth to you.
Same as the one listed here:
https://www.amazon.com/NETGEAR...vision/dp/B06XH46MWW
I don't have the original box, but the device is in great condition. Let's say $40 shipped, conus?
***** VELOP ROUTERS *****
TL;DR: 4-pack of Linksys Velop Mesh Routers. Most powerful Velop routers by Linksys before going into their newest WiFi-6 mesh routers. $350 shipped conus. Current street price is $480 for the 4.
Hello Friends!
I've putting up for sale my fairly new (less than 1 year old) Linksys Velop Mesh system.
It is a boxed set of 3 nodes (each node a fully independent AC2200 router with dual ethernet), plus a loose single node that I added for a total of 4 nodes. Linksys would describe it as an AC8800 system for the 4 nodes, but I think that's a little deceptive...it's four nodes at AC2200 each.
All four nodes are Tri-Band (867mbps + 867mbps + 400 mbps), with one of the 5ghz bands assigned as a dedicated backhaul (this is good). My understanding is that you can use a wired back haul if desired.
Each node has 6 directional antennas for pretty good range.
The 3 pack is black. The loose single node is White. If you want to comparison shop, please ensure that you are looking at the higher speed WHW0303 models. Linksys makes several Velop branded routers and combos them into less powerful kits (e.g., an AC2200 router with a less powerful AC1300 node as an extension, rather than 3 full speed AC2200 nodes).
I'm asking $350 shipped conus for the set of 4. This should get your coverage for pretty much any size house.
These are in very good condition. One or two of the black routers have a little bit of wear marks being moved around on the book shelf, but nothing that would constitute a scratch. These were fully functional and used without defect for about 6 months before I reset to factory default and packed them up.
I switched back to Asus branded routers as I appreciate the more robust configuration abilities. The three pack was given to me by my father in law as a house warming gift, and while I appreciate it, these routers are more aimed at "typical consumers" and are intended more for ease of use and setup rather than depth of configuration.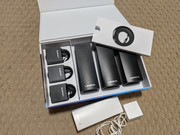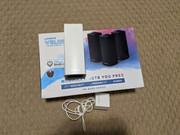 This message has been edited. Last edited by: Aeteocles,