Back-story: Going on a trip to a place where the knife laws are a bit less forgiving than my usual stomping grounds, so I wanted a knife that was
well
within their knife laws but was still what I regard as "usable." I define "usable" as: Can get and maintain a good grip on it, open and close one-handed, has a blade lock and decent blade steel.
Wanted something not
too
expensive, in case somebody in the TSA got light-fingered or the local constabulary found cause to confiscate it. (Hopefully without confiscating
me
along with it!)
Settled on the
Spyderco Cat G-10
Purchased from Amazon Prime. Arrived just a couple hours ago.
Initial impressions: I have large hands. (That's "large" as in long-fingered and wide, not fat.) I wear XL gloves and sometimes even they are a bit small. This knife is (well,
was
) very easy for me to operate one-handed and feels quite secure in the hand. It's pretty stiff, opening and closing. I'm going to work it a bit, then give it a bit of lube in a few days, but not one-handed...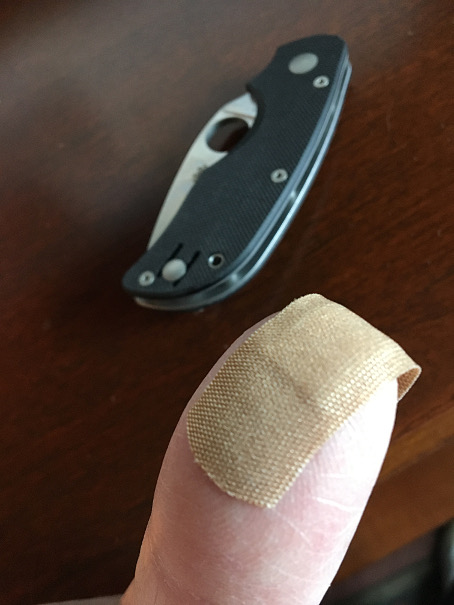 Yeah, the little bastard's sharp

Been a while since I've done that. Guess I was about due. (That happened when I was closing it one-handed and incautiously raised my thumb from the liner lock, brushing the edge, while writing this report.)
Is the BD1 steel. (They were originally 440C.) Doesn't have the jimping the newer ones allegedly have. The lack of jimping I don't think will be an issue. Edge is sharpened the entire length. (Some early ones were not.) Liner lock is positive. Pocket clip is nice and secure, both on the knife and in the pocket. Un-clips and drops into the pocket w/o seeming bulky or weighty. Some people have complained about overly-sharp finished edges on these knives. My specimen is fine in that respect.
All-in-all I'd have to say I'm satisfied with my purchase, so far.
---

"America is at that awkward stage. It's too late to work within the system,,,, but too early to shoot the bastards." -- Claire Wolfe
"Whenever somebody uses 'liberal,' when what they really mean is 'leftist,' they immediately lose my attention." -- Me