Chesterfield Sen. Amanda Chase announces run for governor
BY JUSTIN MATTINGLY Richmond Times-Dispatch 8 hrs ago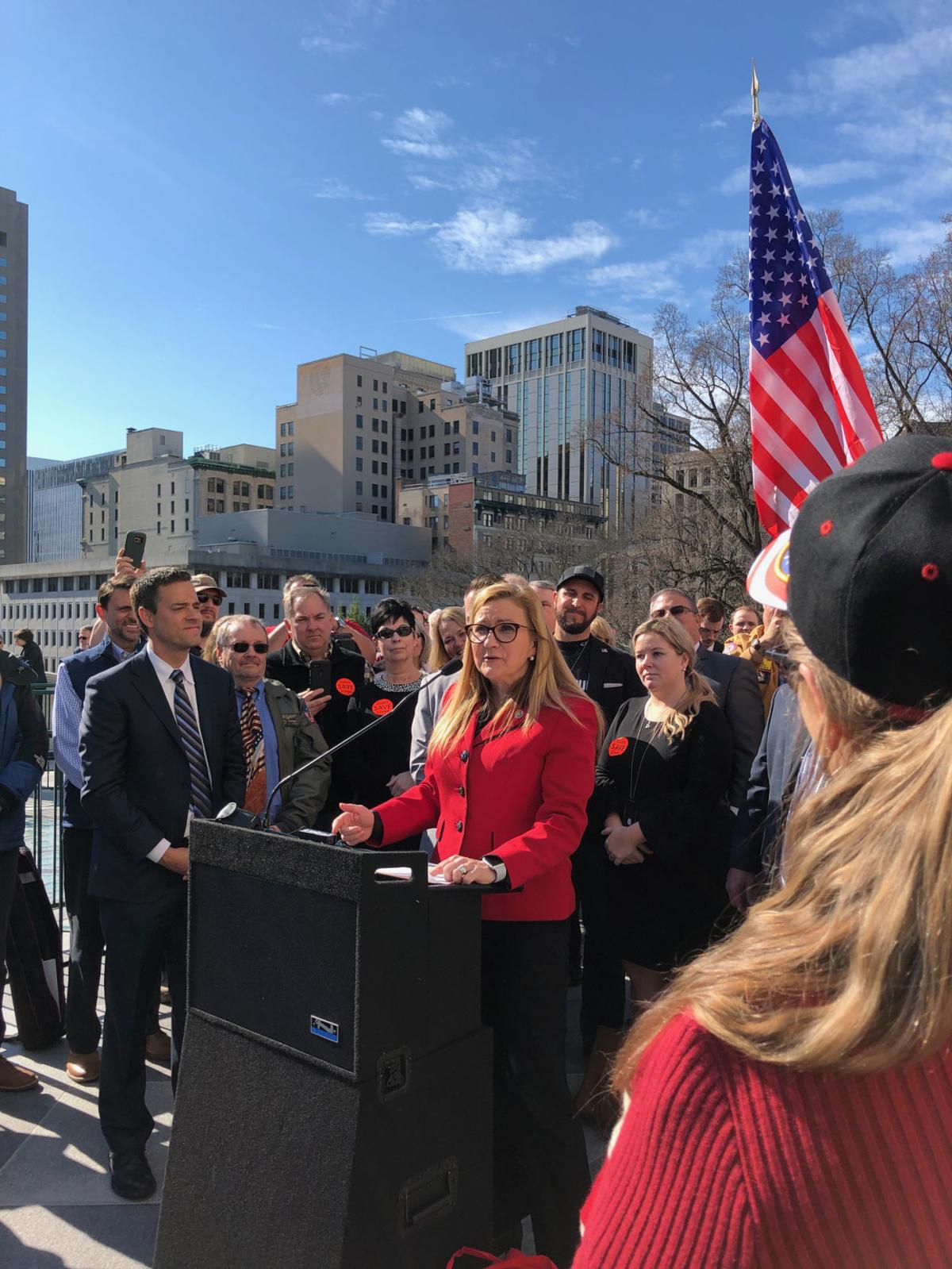 BOB BROWN/RICHMOND TIMES-DISPATCH Sen. Amanda Chase announced her run for governor outside the state Capitol, surrounded by gun rights supporters.
Amanda Chase, the
gun-carrying Republican state senator

from Chesterfield County, is running for governor.
Chase made the announcement Monday afternoon outside the state Capitol after a weekend filled with speculation. Chase had shared a video on Facebook Friday saying she planned to make a "HUGE ANNOUNCEMENT" on Monday.
The second-term senator cited Democratic gun control proposals as the reason for running for statewide office.
"I can't take it anymore," Chase said on the Capitol steps, referring to "liberal ideals."
"Virginians deserve better."
The Chesterfield Observer had reported in October that Chase planned to run for governor in 2025. Instead, the 50-year-old financial planner, who represents Amelia County, Colonial Heights, and part of Chesterfield, will seek the office four years earlier.
Chase, first elected to the Senate in 2015, has made headlines for her roles in a number of controversies. She announced in November that she was leaving the Senate Republican Caucus after Sen. Tommy Norment, R-James City, was re-elected as the Senate Republican leader. In September, Chase was kicked out of the Chesterfield County Republican Party after she publicly attacked Republican Sheriff Karl Leonard.
In March 2019, Chase was seen on video berating a Capitol Police officer who refused to let her park in a secure area near the Capitol. She started openly carrying a pistol last year and has continued to carry a gun inside legislative buildings despite new rules barring firearms from the buildings.
During last year's General Assembly session, Chase used Capitol Police for transportation so frequently that the agency's chief asked the House and Senate clerks to remind legislators about accepted procedures.
Her close ties with the guns rights community were on display Jan. 20, when an estimated 22,000 people rallied in Richmond in support of the Second Amendment. Chase spoke at the rally and drew loud cheers from the crowd when walking on Bank Street.
Her gubernatorial announcement came two days after presidential candidate Mike Bloomberg came to Richmond to make his case to Virginia Democrats, touting his efforts to back General Assembly candidates who support gun control measures. His appearances, first at a Richmond brewery and then at the Democratic Party of Virginia's annual gala, drew protests from gun rights proponents.
"Bloomberg is interested in restricting law-abiding citizens' ability to protect themselves," Chase said in an interview on "Fox & Friends" Monday morning. "I am willing to lead the effort to fight this attack on our constitutional rights."
https://www.newsvirginian.com/...fb-5c19d0e44fb6.html


41