Thank you Para for the page header also.
For me I was a few days into my freshman year of college in Milwaukee. Someone mentioned a plane crash at one of the World Trade towers as we boarded the elevator that morning for class. My first thought was something small, definitely not commercial, and a bad accident much like the B25 that crashed into the Empire State Building.
It was only after getting to my class that word spread of a second crash from someone else in the room and before the session was over news that one of the buildings had collapsed. The reality that of this being an attack and an evil on at that quickly sank in.
Classes ended up being cancelled for the rest of the day and most of the rest of it was spent glued to the TV coverage and checking in with loved ones. I still recall how perfect the weather was that day in Milwaukee, sunny, bright clear blue sky and warm...much like NYC that day also.
It was the events of that day that made me more aware of the actions of firefighters, other than riding around in shiny firetrucks and ultimately led me into my path in the fire service and now as a full-time firefighter myself.
Over the years I have made my way to ground zero which was a humbling experience. For as much as we may de-ride NYC and all of their liberal BS, it is worth a trip to the memorial, though I strongly suggest bringing Kleenex.
Outside of NYC, the most moving memorial I witnessed was back in Milwaukee on the 15th anniversary of 9-11: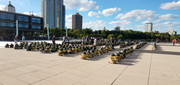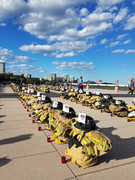 343 sets of turnout gear with each set memorializing a member lost on that day, simple yet powerful to say the least.
I have never forgotten even as all these years have passed, hard to believe it was 18 years ago already.
Thank you for allowing me the opportunity to contemplate the meaning of this day.