Back a few months ago I ordered a new holster from Ryan and Kay. It's one of Ryan's specialty holsters, the "War Pig". It's an OWB that has loops that can be attached to make it an IWB if necessary.
I have an old War Pig for my P228 and love it. So I picked up one for the Kimber Micro 9.
This one was kind of a special one as my wife and I just moved and changed our lives around a lot. So I had it made with Horsehide and accented with Elephant.
Ryan picked out a damn fine piece of horsehide with exceptional marbling. It was dyed to a perfect shade of light brown, and the black elephant looks amazing.
It holds the gun quite nicely, and when worn OWB, it completely disappears. When my wife came home I hopped in the car and we went grocery shopping. She had no idea I was carrying.
Ryan does fantastic work and I just wanted to share my experience with everyone here.
Ryan and Kay, if you read this, thank you very much for another amazing holster. God Bless.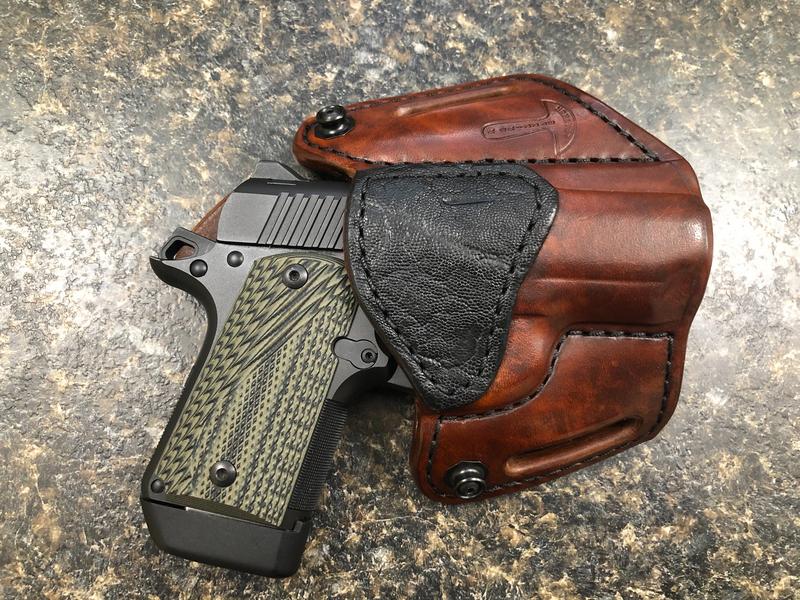 ---


Imagine if everyone refused to accept mediocrity. Imagine if everyone gave their best, and refused to settle for half assed crap.