That's it - Merkel was just sworn in again after being re-elected chancellor with 364 out of the new grand coalition's 399 votes, against 315 nays and nine abstentions in the Bundestag earlier today. It's not unusual for those coalitions to stay well short of their total membership in votes, since their large majorities allow deputies some leeway for dissent without bringing the government down; in 2013 Merkel lacked 42, in 2005 51. In the conservative-liberal coalition of 2009 it was only nine, but the margin was much tighter with only a 20-seat government majority.
The new cabinet ministers will follow shortly. Beyond the tug of war around future health minister Jens Spahn mentioned earlier, there are few surprises. CSU head Horst Seehofer takes interior and homeland, and is planned to hand over the Bavarian state minister presidency to Markus Söder on 16 March. Putting the leadership quarrel between those two to rest should do more to calm national politics than all other measures combined. Unless Seehofer intends to keep stirring shit from Berlin as party head, which is a definite possibility. Hamburg Lord Mayor Olaf Scholz will be finance minister and vice chancellor for the SPD. There are some internal rochades on the Social Democratic side, too; previous family minister Katarina Barley becomes justice minister, while incumbent Heiko Maas, father of the recent controversial law forcing social networks to act faster against possibly defaming and inciting content, is to become foreign minister. God help us. Even if you're not down with the whole "censorship" hysteria over that law, this guy is a hot-air blowhard of the first order.
One of the few newcomers is Anja Karliczek, 46, for education, previously one of the CDU Bundestag group's deputy whips; two others for the SPD are previous Berlin-Neukölln borough mayor Franziska Giffey as family minister (she fulfills multiple quotas of being East German, female and young; didn't know much about her otherwise, unlike her predecessor Heinz Buschkowsky, whom she has named as her role model and who was outspoken on the problems of that "colorful" borough, but managed to stay just this side of populism); and Svenja Schulze, currently North Rhine-Westphalia state chapter secretary general and former state education minister, as minister of the environment. As an aside, the SPD needs to increase diversity between all those Schulz, Scholz and Schulze types ...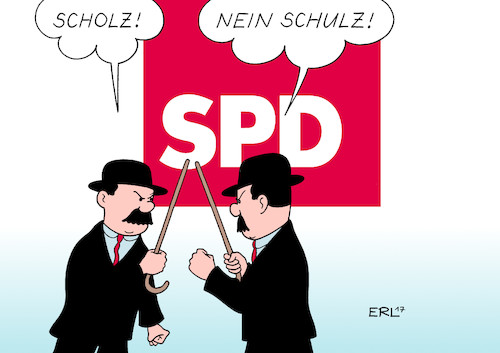 Meanwhile following assent to the coalition agreement, poll numbers seem to have snapped back to normal. Well, the new normal, which is CDU/CSU 32-34, SPD 17-19, AfD 12-15, Greens 11-13, Left 9-12, FDP 8-10. For those who happen to understand German, public broadcaster ARD has
a very prompt documentation on the lengthy process since the election
, which among other things highlights under which circumstances Martin Schulz vowed not to enter a Merkel cabinet, and how too much publicity weighed on the Jamaica talks.