quote:

Originally posted by barndg00:
I've been following this thread and would be interested in your opinion. I've got a 1 acre lawn, like the fancy stripes, and do fertilize. I mow regularly in season, but sometimes get delayed due to work schedule. What would you recommend?
quote:

Originally posted by kingfish007:
No fancy stripes needed. I will fertilize the area around the house only, not the entire lot. Will mow as needed (probably every other week or weekly during the summer).
Well, I'll give a couple different suggestions then.
Take this knowing the fact that I mow for a living. Half of my lawns are fertilized, half aren't. I mow 40 lawns per week. I'd say I do a little over what a homeowner does in one year every week. I would eat up a homeowner model mower in a month or two. They are also agonizingly slow after riding a pro version for so long.
Considering the suggestion to buy a used professional mower, I'd say don't. I'm going to be straight with you, we use our mowers up. We ride them hard and put them away dirty and wet. We wrench them only as needed and, while the oil is changed regularly, there's just not a whole lot of life left in them if we are selling them.
If you can swing it, get a brand new pro mower, mowing only your property once per week means it's going to last you for a long, long, long time. Parts are easy to get and replace and you get a warranty. All the big manufacturers offer special financing. You can get one for monthly payments of $200 with no interest.
Walker was mentioned, they do hold to the hills nicely and they are quick but I don't like their quality of cut. It seems to have something to do with the deck not being well baffled. Toro/Exmark also offers a standing mower that has all the benefits.
A stander is probably not what you're going for though. Especially if you want a bagging system for fall leaf pickup.
For brand, in my professional opinion, I choose Toro. The Turboforce deck is simply the best on the market. You can get the same deck on the Exmark (it may be a little different) but it's just more loot for no real benefit. The Turboforce deck has an adjustable discharge flap that seems to me to be marketing hype. The difference seems negligible and dubious.
Concerning the Toro with the Turboforce deck, if they still make them
AVOID THE 40" DECK
. It's a horrible design. If it had two 20" blades it would probably work, but the three 14" (or whatever they are) blades do not have enough lift and it simply leaves a mess. Avoid the 40" with extreme prejudice.
I use a 52" Z Master and a 21" Toro walk behind for the smaller stuff. The 60" will cut some time off of your mowing but for one lawn the difference won't matter as much.
If you really are going to get a pro mower, realize that you are going to get sticker shock. We're talking $8k + $2600 for a bagging system.
For the stripes, I don't use a striping kit, I just have the deck pitched forward properly and it gives great results from the stock Turboforce deck. The technique is as important as the equipment. Practice keeping it straight and overlap as little as possible. You're not going to get great stripes on warm season turf as you can on cool season turf. You also have to mow at the proper height to get the stripes. Too low and it won't show very well.
For a homeowner model, you can look at the Toro Timecutter homeowner models but it's not going to be anywhere near the speed or cut quality of the Z Master series. For homeowner models you can also look at something like Simplicity, they stripe nice because I believe they all come with a roller behind the deck.
For pro stuff I always suggest Toro. If you have a bumpy lawn some will suggest Ferris for the suspension but you're not going to notice so much mowing one lawn as I would mowing all day. They're a good secondary suggestion.
If you don't care about stripes or quality of cut, you just want a quick mow and go, something from Snapper Pro (they also have suspension) or just about anything.
I think I've been a bit random on this post but you can ask specific questions here or drop me an email.
This was with a Toro Turboforce 36" walkbehind: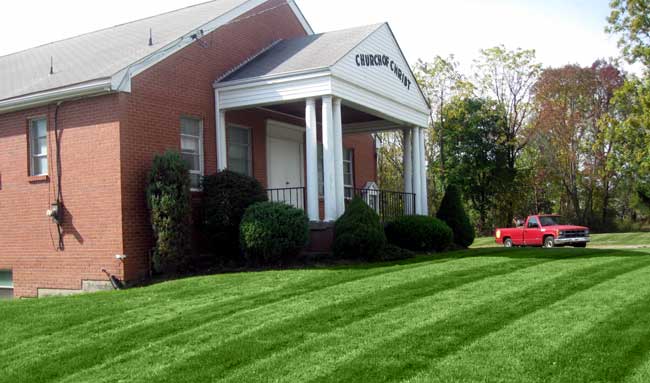 This was with a Toro Turboforce 52" Z Master: