I'm in for the karma. I will have to think of a story. I just hit 5 years so I don't have a ton of them (relatively speaking).
A couple of my favorites, not because they're funny but because they're just neat: when I was a new guy (like 2 months out of the academy) I stopped a Dodge Durango with Illinois plates for a busted headlight right before it got onto I-80 to leave town. Gal had her four kids (ages 9 months-4ish years) in the car, none of them properly secured. She was in the process of moving from Illinois to Colorado. Hit her with a boatload of tickets, photographed the kids just in case, and moved on.
A week later, I heard a reckless driver broadcasts on the state patrol frequency with her license plate. I couldn't figure out the location, and when I put it together, I realized it was way out in the western part of the state, 150* miles away. There was no reason for us to give gotten that transmission, although we occasionally got radio skip from this tower. In most cases, it was garbled and broken. In this case, it was as clear as our own radios.
The next day, this photo went viral.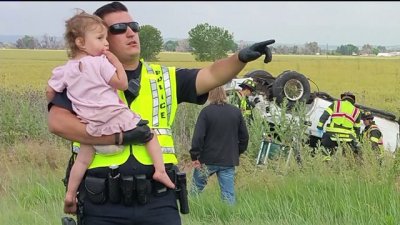 I recognized the kid from my traffic stop. Turns out the idiot mother had been driving to CO when her tire blew and her Durango rolled. Ejected everyone, killed her boyfriend, seriously injured 3 of the kids. I reached out to the agency with my photos and they had already found the tickets. My documentation allowed for more serious charges to be filed against her. The totality of the circumstances in that case, particularly the clear-as-day radio skip, was weird.
Another one: had a noise complaint at my last agency for people hanging out in a garage being obnoxious. Went to handle it and ID'd everyone there to give them noise warnings. One guy's name did not come back on file. While we were trying to sort it out, i referred to him by name to his girlfriend. She had only been dating him for a month or so and did not know him by that name. I ran the name she gave me, and got no return. I called him on it, and he gave me a third name. No return.
Cuffed him up for the time being and then noticed he was wearing dog tags. They had the third name and his SSN on them. Figuring I had his real name, I uncuffed him and told him he could leave, but he stuck around. I started asking him questions about where he said he was from (Odessa, TX) but he couldn't answer them. Also couldn't explain why he had a California SSN prefix when he claimed he had never been there before.
While I was playing this game with him, girlfriend came stomping out of the house with his California birth certificate after going through his luggage. Turns out he was a wanted predatory sex offender out of Oregon. In my subsequent interview, we talked about guns and stuff and he told me all about the XD-S he had in the house that he loved. Bad news for him is I knew he was a convicted felon, but he forgot about it apparently. Got a search warrant for the house, got the gun, and it was stolen. He ended up going to prison over it, which I thought was a great outcome for what was going to be a noise warning.


******************************

May our caskets be made of hundred-year oak, and may we plant those trees tomorrow.