I've mentioned Signal Private Messenger in-passing several times. Given all that's going on I thought now was an especially appropriate time to bring it up, explicitly.
My wife keeps having family members and friends ask her to install WhatsApp. I keep telling her "It's your phone. Do what you want. I
strongly
recommend against it." So she's resisted. Meanwhile, she's continued to use Facebook Messenger against my advice. I just showed her this graphic: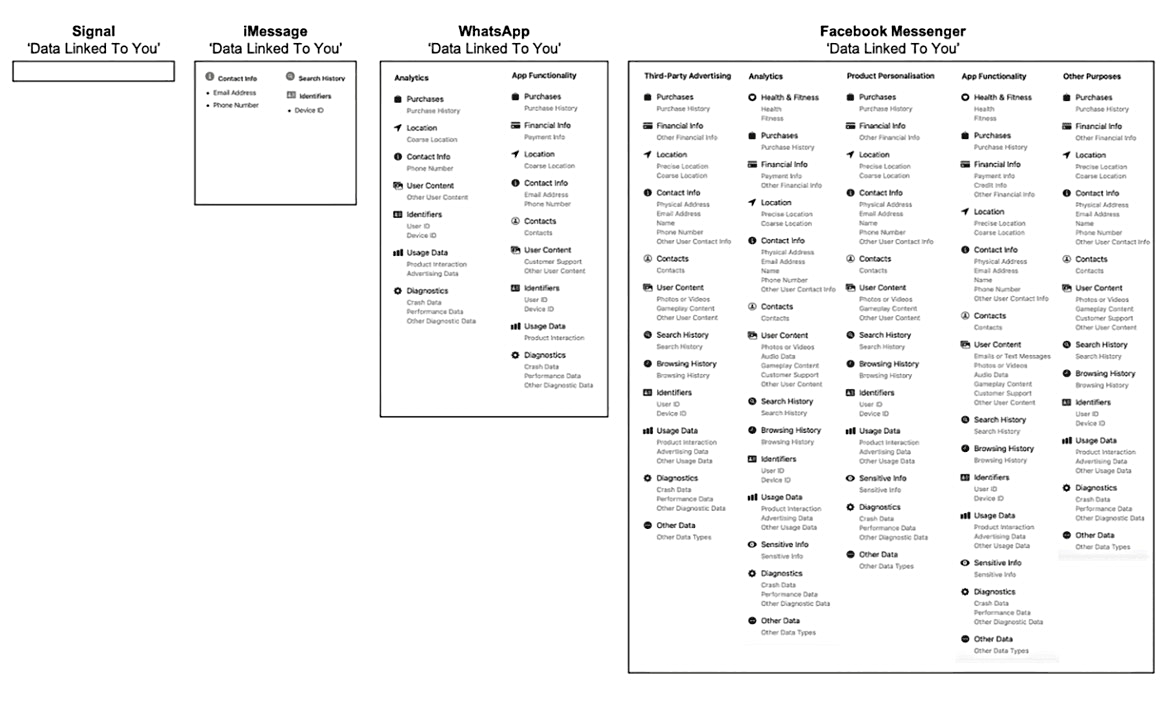 (Sorry for the size, but it's hard enough to read, as-is, w/o me shrinking it.)
from
WhatsApp Beaten By Apple's New iMessage Privacy Update
"Hmmm...", she said. "I'm going to have to try harder to get friends and family to switch."
The big story here, IMO, isn't so much how little metadata Apple's iMessage sends along, but how
much
even WhatsApp
does
--never mind Facebook Messenger. If you read the related article: It's even worse than what the graphic suggests.
Maybe WhatsApp was a viably secure messaging platform before Facebook acquired it, but not anymore, IMO.
A final note: Re: The metadata iMessage sends along: Apple has an unambiguous, strong privacy policy, unlike other tech companies I could name.
---

"America is at that awkward stage. It's too late to work within the system,,,, but too early to shoot the bastards." -- Claire Wolfe
"If we let things terrify us, life will not be worth living." -- Seneca the Younger, Roman Stoic philosopher
"The dominant media is no more ``mainstream`` than leftists are liberals." -- me