This is a post about Samantha Power (Obama's rep to the UN in his second term)
I despised Samantha Power.
Various aspects of this are being reported by Sara Carter, OANN, and PJ Media.
Some time ago, during congressional testimony, Samantha Power was asked why she ordered about 300 cases of unmasking of U.S. citizens from the NSA database. By ordering the unmasking, she found out who the U.S. person was that was captured in a foreign communication such as a phone call. The normal procedure is that the U.S. person is not identified.
S Power denied she had done that many. The big question, that never got answered, was "Well, who did order the unmaskings if Power did not do it" .
The new story is that one of the things AG Barr is looking at is those Samantha Power unmaskings.
According to OANN's Jack Posobiec, Power was targeting calls made about Israeli settlements.
Jack Prosobiec (OANN):
Samantha Power targeted any call made about Israeli settlements for unmasking. When she found Gen Flynn making calls she opposed, she passed information to Sally Yates who opened Logan Act investigation. DNI Coats has now reviewed all unmaskings
White House plans to declassify documents showing that Samantha Power was on a "one-woman crusade" for the Palestinians and against Israel in 2016. Repeated unmakings were used to ensure her effort did not fail
https://pjmedia.com/trending/r...e-related-to-israel/
During the transition period in 2016, incoming Trump officials disagreed with the Obama administration's policy on Israeli settlements and made phone calls to world leaders regarding an upcoming vote in the United Nations to condemn Israel.
Information about these calls was leaked to the media.
Foreign Policy reported in February of 2017:
Nearly a month before Donald Trump was sworn in as president, Michael Flynn, his national security advisor designate, and other members of the president's transition team launched a vigorous diplomatic bid to head off a U.N. Security Council vote condemning Israeli settlements.
The effort represented a fitful first foray into global diplomacy by Trump's transition team, bearing hallmarks that have become familiar in the weeks since he took office. Their efforts were marked by a brusque disregard for diplomatic protocol and a hasty pressure campaign that changed few, if any, minds.
[...]
In Washington, Trump aides pressed allies, including Egypt and Britain, who both played critical roles in helping the Palestinians draft the measure, to oppose the resolution.
"We were all under pressure" from either Israel or the Trump administration, said one Security Council diplomat.
Nikki Haley, the president's pick to serve as U.N. envoy, sought frantically to reach Samantha Power, then still serving as U.S. ambassador to the United Nations, calling her office and cell phone number, a U.S. official told Foreign Policy. Power's advisors suspected Haley would try persuade Power to veto the resolution, and she did not take the call.
In New York, Flynn himself placed calls to foreign ambassadors on the U.N. Security Council, including those from Uruguay and Malaysia, the latter one of four countries that put the resolution to a vote.
In December 2015, the Obama administration was caught spying on Israeli Prime Minister Benjamin Netanyahu and his government and sweeping up the content of their private conversations with U.S. lawmakers.
https://www.powerlineblog.com/...tart-with-israel.php
Power was not an intelligence official, she was the U.N. Ambassador. Why was she unmasking anyone, let alone making hundreds of such requests? And why would she keep up this feverish pace right up to the moment she departed the White House?
The context was U.N. Security Council Resolution 2334, which stated that Israel's settlements on the West Bank are a "flagrant violation" of international law with "no legal validity." The incoming Trump administration was urging the Obama administration to veto the resolution. In addition, it appears that members of Trump's team were lobbying allies to defer the vote, or to vote against the resolution. It sounds as though the Obama administration was lobbying allies in the other direction, trying to undermine the policy of the new administration, although this isn't entirely clear.
In the event, the resolution passed 14-0 on December 23, 2016, with the U.S. abstaining.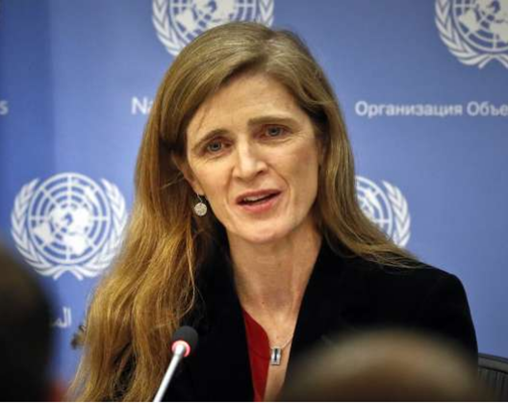 Samantha Power
xxxxxxxxxxxxxxxxxx
UN Resolution 2334 passed in the UN on 23 Dec 2016.
Originally initiated by Egypt, the resolution was co-sponsored by New Zealand, Malaysia, Venezuela and Senegal, who stepped in a day after Egyptian President Abdel Fattah el-Sissi withdrew the measure amid pressure from Israel and President-elect Donald Trump.
a number of high-profile Democrats issued public statements urging Obama to veto the resolution.
Most notably, New York Sen. Chuck Schumer, one of the most prominent Jewish members of Congress and the new Senate minority leader, said he had "spoken directly to the administration numerous times" and "in the strongest terms possible" urged them to veto.