BREAKING: Trump Asserts Executive Privilege Over Unredacted Mueller Report – Democrats Hold Barr in Contempt
President Trump on Wednesday asserted executive privilege over the full, unredacted version of Mueller's report and the House Dems voted to hold AG Barr in contempt of Congress for refusing to give Congress the full report and underlying grand jury material.
The Dem-controlled Judiciary Committee chaired by Rep. Jerrold Nadler (D-NY), held a vote Wednesday morning and voted on party lines — 22 Dems to 12 Republicans.
The measure will then move to the full House for a vote later this month.
"The Attorney General has been transparent and accommodating throughout this process, including by releasing the no-collusion, no-conspiracy, no-obstruction Mueller Report to the public and offering to testify before the Committee. These attempts to work with the Committee have been flatly rejected. They didn't like the results of the report, and now they want a redo," White House Press Secretary Sarah Sanders said in a statement.
"Faced with Chairman Nadler's blatant abuse of power, and at the Attorney General's request, the President has no other option than to make a protective assertion of executive privilege," she added.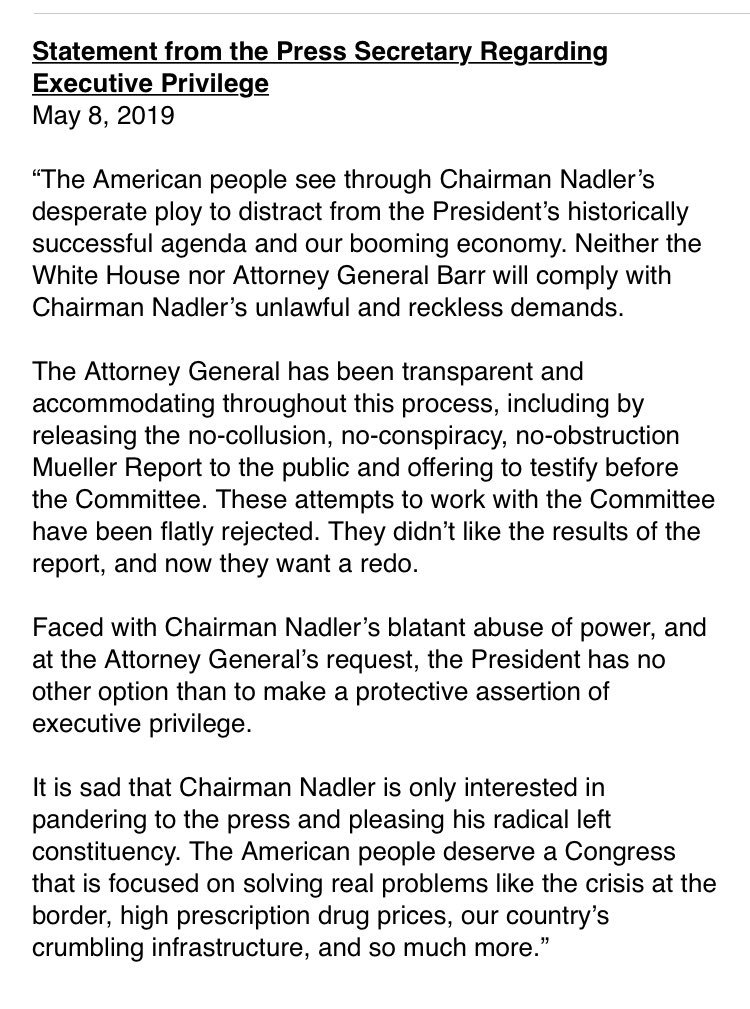 House Judiciary Chairman Jerry Nadler made his move to hold Barr in contempt on Monday.
"The attorney general's failure to comply with our subpoena, after extensive accommodation efforts, leaves us no choice but to initiate contempt proceedings in order to enforce the subpoena and access the full, unredacted report," Chairman Jerry Nadler (D-NY) said Monday.
"Attorney General Barr failed to comply with the committee's request for these documents and thereby has hindered the committee's constitutional, oversight, and legislative functions," the contempt citation states.
Nadler gave the Justice Department a 9 AM Monday deadline to comply with the committee's new offer, which includes allowing more members of Congress to look at a less-redacted version of Mueller's report. Nadler also wants Barr to seek a court order to grant lawmakers the right to view the underlying grand jury material — Barr blocked the grand jury material from the public and Congress to protect innocent people who have not been indicted – and Barr held his ground.
Under special counsel rules, Attorney General Bill Barr didn't even need to release Mueller's report to the public or to Congress. The unredacted version of the report is in a SCIF [Sensitive Compartmented Information Facility] for certain lawmakers to view, however, only two lawmakers have actually viewed the less-redacted version of the report.
Nadler and the Dems want a copy of Mueller's full, unredacted report so they can selectively leak damaging material to the public — the Dems can't currently leak the material because the report is safely sitting in a SCIF.
https://www.thegatewaypundit.c...ld-barr-in-contempt/
---
NRA Life Member - "Fear God and Dreadnaught"