Originally posted by bean357:
We lost our 14 1/2 year old GSP Fritz.
SOOOO sad. He was the best dog ever.
This our new energizer dog Scout.
1 1/2 yr old GSP.
He is a doll in the house!
Holy cow is he a bundle of energy once outside!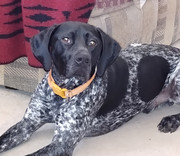 He got surrendered back to the breeder. He is settling in well. It is taking some work. We are happy to work with the little guy!

Click on pic, it shows up blurry otherwise. He is a beautiful boy! He is great at dragging in mud, the silly boy!