May 15, 2020, 12:36 PM
Belwolf
Postmates
Postmates is a delivery service a la GrubHub and the like. Using it as a delivery service for food is sort of OK (but not good, others are better)since there is not enough coverage in my area and too many orders canceled (by them or restaurant) with no explanation.
Despite these early recognized issues I signed on to be a driver for some part time funds. I did not have high expectations, but wow.
I previously drove passengers for Uber a few years ago which was not too bad but not too good. I made some sort of OK part time money but stopped doing it mainly due to dealing with drunk idiots and too many "entitled" millennials (AKA the "whine" generation). (One thing I noticed- boomers and GenXers were always great passengers and always tipped).
Postmates- big mistake, seriously, this company sucks.
First clue is email saying they will send a tracking number for a Postmates credit card and a tote bag. Never got a tracking number, the card shows up 2 weeks later and never got a bag.
Second clue is trying to register card per their instructions fails three times till it works two days later. After finally getting it done I enter my bank card info to get immediate payment per their system and rules.
Third clue is logging on app on a Friday evening for 3 hours with no calls for deliveries.
Fourth fact is on Sunday I go online and 3 opportunities come through. I look at the first one that chimes in and do not accept it because its too far. I never swiped it, per their app instructions, to accept it. No issue, right? Another chimes in and I accept, I drive to restaurant and make the order (which I have to pay with the postmate card) and wait 25 minutes for them to cook food because in this case the app does not notify the restaurant. I deliver the food to correct address following the customer's instructions and take pic to verify. $10 to me before tip so, hey, not bad.
I go back home and another comes through, really close and quick. I accept it, go pick up order (its already paid and bagged) and deliver it with pic for proof. $3 and change, meh, but it was only about a total 3 mile drive.
As I am leaving the drop off app chimes that its been shut down due to possible violation of fleet agreement. What?
I need to search internet to find a customer service number because the app wont let me contact and website has "contact" forms but choices do not cover the issue. After finally finding the number I get a hold of some foreigner or someone in the US with screwed up English. From what I gather I canceled an order, he couldn't say which one, but he puts it in for review and assures me it will be turned back on in a day.
Next day- not turned back on. I call and talk to a nice lady who also cannot speak normal English. She informs me she cannot tell me due to "security reasons" why my account was deactivated but assures me its being reviewed but to enter my bank info so they can pay me the $10 and change. I tell her the app kicks me out and I cannot log on to website because it loads and loads but does not connect.
Later that day, I get another email from another flunky saying account was suspended because I did not finish the "aggregate" orders I accepted (they still cannot identify which order was canceled) though I only accepted 2 and delivered 2 (and neither were canceled by the customers).
Huh? but whatever, my patience has ran out.
Another round of emails concerning entering a bank account from another flunky (in which they have the gall to ask me to give a positive review for said flunky, I did not waste my time). Still cannot log into website to enter a bank account and at this point I can care less, my last response told them to keep the 10 bucks and change and shove it.
Well, lesson learned, this will be my last foray into the "gig" world. It's simply not worth the trouble for what little money you possibly may earn.
---
"Posterity! You will never know how much it cost the present Generation to preserve your Freedom! I hope you will make good use of it. If you do not, I shall repent in Heaven, that I ever took half the Pains to preserve it."
― John Adams

"Fire can be our friend; whether it's toasting marshmallows, or raining down on Charlie."
- Principal Skinner.




May 15, 2020, 12:50 PM

Kevmo

Not sure which service it was for but I recall seeing a video online where a driver filled his tank and then logged an entire day of deliveries, tips and miles then topped tank off at end of night...I think when i was all over it worked out to about $5.00/hr?

May 15, 2020, 05:18 PM

Rotndad

I'll help you out. Go to Liborios, 8210 Causeway Blvd, Tampa, FL 33619, and bring us, in Land O' Lakes, a large cuban sandwhich (no tomatoe, extra Swiss cheese) cold (not pressed),a large order of Chicarrones and a large flan. If the Chicarrones are still hot I'll paypal you a WHOLE DOLLAR tip.

Seriously, I'm sorry you had issues. But, thanks for the heads up We'll be sure not to use that service in protest. Also, if you haven't tried Liborio's you should. They have great authentic Cuban food with reasonable prics and large serving sizes. If you don't beleive me go there at lunch or dinner time.
---


Dripping water hollows out stone, not through force, but through persistence.
-Ovid

NRA Life Member
NRA Certified Basic Pistol Instructor

May 15, 2020, 07:45 PM

braillediver
quote:

Originally posted by Kevmo:
when it was all over it worked out to about $5.00/hr?
Probably missed counting maintenance on his vehicle and I wonder what his insurance company thinks of him using his vehicle commercially.


____________________________________________________

The butcher with the sharpest knife has the warmest heart.
May 16, 2020, 09:00 AM
Edmond
The gig economy is a money losing gig except for the companies who developed the app and the businesses. The people delivering probably aren't making much after accounting for vehicle expenses.
I used to see Uber and Lyft drivers brag on FB about how they made $120/day but didn't say how much gas they spent or how much wear they put on their vehicles or how many hours they had to drive.


_____________


May 16, 2020, 08:18 PM
Skins2881
Just got this text from my car. I never heard of this company til today.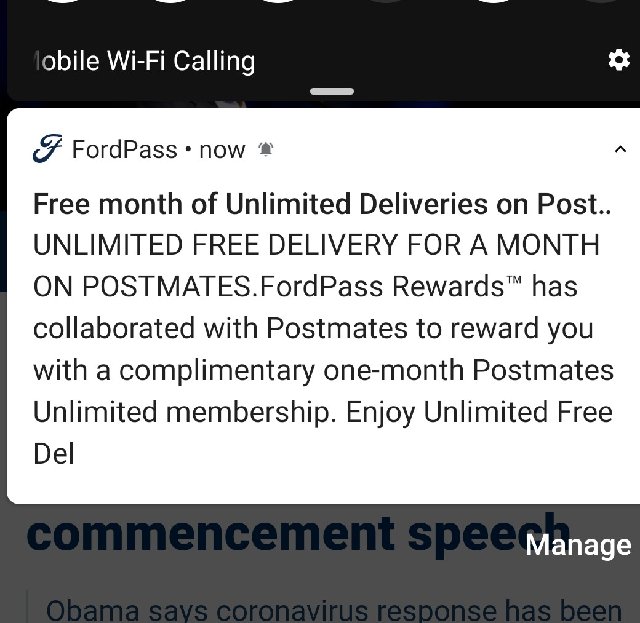 ---
Jesse

Sic Semper Tyrannis

May 16, 2020, 09:39 PM

lkdr1989

Postmates just added curb side pickup as a service; too many drivers, lots of business, low pay, lots of revenue for the companies.

In my area, alot of the Uber drivers are also Lyft drivers

---

...let him who has no sword sell his robe and buy one. Luke 22:35-36 NAV

"Behold, I send you out as sheep in the midst of wolves; so be shrewd as serpents and innocent as doves." Matthew 10:16 NASV

May 17, 2020, 01:48 PM

Kskelton

Yeah I don't know exactly how the "gig" business works as far as pay, but I assume these people that make $100 a night or whatever they make aren't factoring taxes either. So after taxes, gas, repairs, etc it's really a losing proposition for the drivers..

It's unfortunate a lot of these drivers are going to have a rude awakening with they get their end of the year form from Uber/postmates/whoever for taxes and realize they haven't paid a dime in taxes and now they owe that money.